Français
D'abord, avant de commencer cette nouvelle pause self care (la première ICI), une petite précision. En effet, je crois que le self care n'est pas seulement le fait d'appliquer un masque visage tous les deux jours ou prendre le temps de suivre une routine beauté de manière assidue. Je vois cette notion comme quelque chose de plus large qui englobe toutes les actions qui nous permettent de nous sentir bien avec nous-mêmes ; un moment réservé à lire dans son coin ou porter un vêtement qui nous fait nous sentir à l'aise avec nous-mêmes (ie méga canons, bitches). C'est donc dans ce sens que j'ai décidé de te présenter les boxes Le Bonnet Paris. En effet, avec ce concept, un abonnement mensuel à une box de lingerie t'es proposé. Or, tout le monde ici connaît le dicton suivant : « qui se sent bien dans sa culotte, passera une journée qui dépote. ». P.S. : reste jusqu'à la fin nous avons un code promo pour toi !
English
As a start, for this new self care post on the blog (the first one HERE) here are few precision. Actually, I feel like selfcare is not only thinking about applying a face mask every couples days or not forgetting about a rigorous skin care routine. In fact, I guess self care is a larger idea which also includes things as making a pause to read a book by ourselves or wearing something that is making us feel confortable with ourselves (aka smoking hot, girlies). So, it is with this idea that I want to introduce you Le Bonnet Paris. In fact, it is a concept offering a monthly subscription to an underwear box. Yet, everyone here knows this adage : "feeling good in your panty, feeling great through your journey.". P.S. : promo code at the end !
Comment ça fonctionne ? / How does it work ?
Français
C'est depuis mai 2020 que Le Bonnet Paris propose un système d'abonnement mensuel. Celui-ci permet de recevoir directement chez soi un ensemble de lingerie ou de home wear. Dans la box, se trouvent aussi des goodies tels que des produits de beautés ou des produits lifestyle. Dès lors, tous les débuts de mois avec ce concept, tu reçois des articles de qualité, choisis avec soin et à ta taille directement chez toi ! De quoi te sentir mise en valeur dans de la nouvelle lingerie. Tout ça, sans avoir à te bouger les fesses en magasin ou à perdre du temps à explorer internet à la recherche de quelque chose qui risque de te plaire et de t'aller !
English
In fact, it is only since may 2021 the Le Bonnet Paris offers us the possibility to subscribe to their monthly box. Actually, inside you can find a lingerie or a home wear set with some goodies, as beauty or lifestyle products. Indeed, owing to this concept owning quality underwear, chosen carefully and at your size is an automatism ! Moreover, you are receiving them at home. So, no need to go to the shop or wasting time on the internet ! A good way of showing off in new lingerie just like that !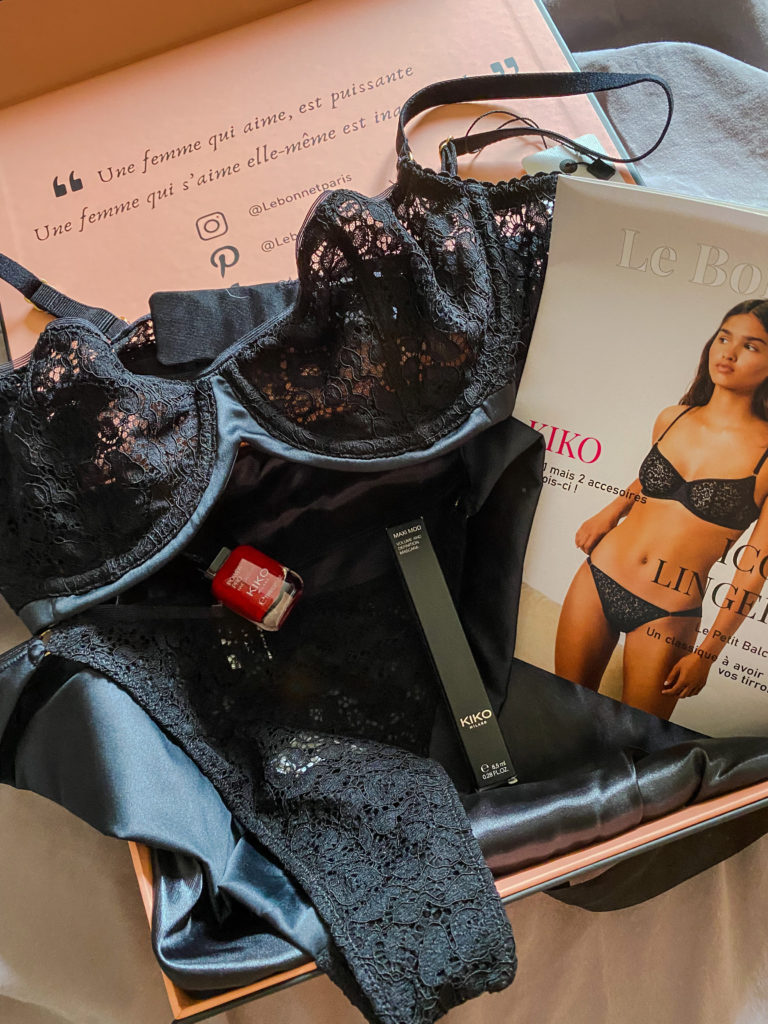 Mon point de vue / My opinion
THE bonne affaire / THE good deal
Français
D'abord, je trouve que cette box est une bonne alternative quand on adore se sentir encore mieux à l'aide d'une jolie lingerie ou d'un beau vêtement d'intérieur. En effet, nous n'avons pas forcément la foi et les moyens d'aller en boutique ou sur internet pour trouver des ensembles à notre goût. D'ailleurs, je parle de moyens car l'abonnement à la box est de 49,90€ par mois – sans engagement et frais de port inclus. En réalité, le contenu des boîtes reçues mensuellement est systématiquement plus cher pour le public. Par exemple, la première box contenait un ensemble de la marque italienne Cosabella accompagné d'un chouchou fait main de la marque Lou & scrunchie. En réalité, la valeur totale de ces produits était de 106€. Soit une économie de 56,10€ !
English
Firstly, I feel like this box is a great opportunity for people who love using cute gorgeous lingerie and cute home wear to help them feeling better. In fact, maybe we do not have the energy or the money to go shopping or surfing specific websites to find thing they like. Actually, that is why I think this subscription is useful as it is monthly in your mailbox ! Also, I am talking about money here as the subscription is 49,90€ monthly. Yet, the inside of the boxes costs way more in shops. For example, the first box was a set from the Italian brand Cosabella with a handmade scrunchy from Lou & scrunchies. In fact, ireal life, it would have cost 106€ but with Le Bonnet Paris you just paid the subscription 49,90€ – no engagement and shipping fees included !
Découverte et surprise / Discovery and surprise
Français
Ensuite, ce que j'aime avec Le Bonnet Paris, c'est que tous les mois, je suis assurée de découvrir de nouvelles marques de lingerie, de beauté ou d'autres goodies. Le plus ? Les marques sélectionnées sont françaises, italiennes ou espagnoles pour des produits fabriquées avec des matériaux trouvés en Europe. Des produits, de qualité et de proximité donc. Dès lors, le contenu de chaque box n'étant pas révélé en avance, la surprise est entière quand elle arrive chez nous ! Et ça, c'est vraiment génial : le petit suspens du mois ! Est-ce que ça sera un ensemble de lingerie ? Un pyjama ? Une nuisette ? Un body ? Un kimono ? Et les accessoires ?
English
Then, I really love Le Bonnet Paris because every month I am sure to discover a new lingerie, beauty or any goodies brand. In fact, the selected brands are French, Italian or Spanish for products manufactured with European sourced fabrics. So, the boxes are full of quality and nearby products. Also, as the inside of the boxes is not revealed before D-Day, the surprise is true when they arrives in our mailboxes ! So, will it be a lingerie set ? A babydoll ? Pyjamas ? A body ? A kimono ? A swimsuit ? And what about the accessories ?
Flexibilité / Pliability
Français
Enfin, l'avantage de cet abonnement, c'est aussi qu'il est sans engagement. En effet, il est possible de l'arrêter à tout moment. Mais tu peux aussi tout simplement faire une pause de trois mois maximum (un peu comme Rachel et Ross finalement). Quoi d'autre ? Tu peux aussi offrir cet abonnement pour faire plaisir à ta pote, ton amoureuse, ta sœur, ou qui tu veux ! Enfin, si entre temps tu décides de changer la taille des produits qui te sont envoyés dans les boxes Le Bonnet Paris, pas de prise de tête, cela peut être effectué directement à partir de ton espace personnel !
English
Finally, one of the main benefit of the subscription is that it is without obligation. In fact, you can stop this whenever you want. Also, you can be on a maximum three months break (a bit like Rachel and Ross you know). What else ? The Le Bonnet Paris' boxes can be offered. Actually, you can make whoever you want happy with this system : your girl mate, your sister, your lover, whoever ! Nonetheless, if you need to change the size of the products received via the boxes, it is possible from your personal Le Bonnet Paris account without an ounce of headache !
En résumé / To sum up
Français
Pratique pour prendre soin de toi sans y penser, les boxes Le Bonnet Paris sont de réelles bonnes affaires. En fait, elles te permettent de te faire une surprise mensuelle à moindre coût – quand tu regardes le prix réel de leur contenu. Et ça, avouons-le, en plus de te permettre de te sentir belle et mise en valeur dans tes dessous – pour toi avant tout – c'est tout bénéf ! En plus, même si l'abonnement mensuel est à 49,90€ sans engagement et frais de port compris, avec Le Bonnet Paris, nous te proposons un code promo qui te permet d'obtenir -10% sur ta première box. Pour cela, il suffit d'utiliser le code « MARIE05 ». Alors, que penses-tu de ce concept ?
English
In fact, useful to take care of ourselves without even thinking about it, Le Bonnet Paris boxes are real good deals. Actually, this subscription is a good way to make ourselves a monthly surprise for a little as possible. Especially when you look at its price and compare it to the real price of what is inside. So, you should admit it can only be enjoyed besides the fact that it is a good way to make us feel beautiful and enhanced in our underwear – just for ourselves. Moreover, even if the subscription is 49,90€ without any obligation and shipping costs included, Le Bonnet Paris and me allow you to get a -10% discount on your first box ! Simply use the code "MARIE05" ! So what do you think about this concept ?
Le Bonnet Paris : lebonnetparis.fr
Le Bonnet Paris sur Instagram : @lebonnetparis
Ma page Instagram : @marieliiily