Cette semaine retrouvons-nous pour un nouveau « une pièce plusieurs possibilités » ! Pourquoi ne pas voir ensemble des idées de looks avec un top très tendance depuis l'été dernier : le top à épaulettes. Pour la mi-saison – et dans cet article – il sera à manches longues et en velours. Difficultés de ce top ? En plus des épaulettes qui donne une sacrée dimension au top, le velours ras lui confère une ambiance plutôt soirée que journée ! Conjurons ce sort ensemble en trouvant des idées de tenues simples pour lui éviter de prendre la poussière !
This week, let's go back to our dear "how to wear ?" ! Let's find some ideas to wear a famous trend that appeared last summer : the shoulder padded top ! During this mid season period – and in this post – we are gonna choose it with long sleeves and made of velvet. Why is it a trendy but tough and risky choice ? The padded shoulder give the top different dimensions that what we are used to. Moreover, the fabric with this cut drive the clothes in the evening section more than in the casual daywear one. But nothing will resist us ! We will find casual outfits ideas together to let us wear this top so much that it won't be forgotten in the cupboard !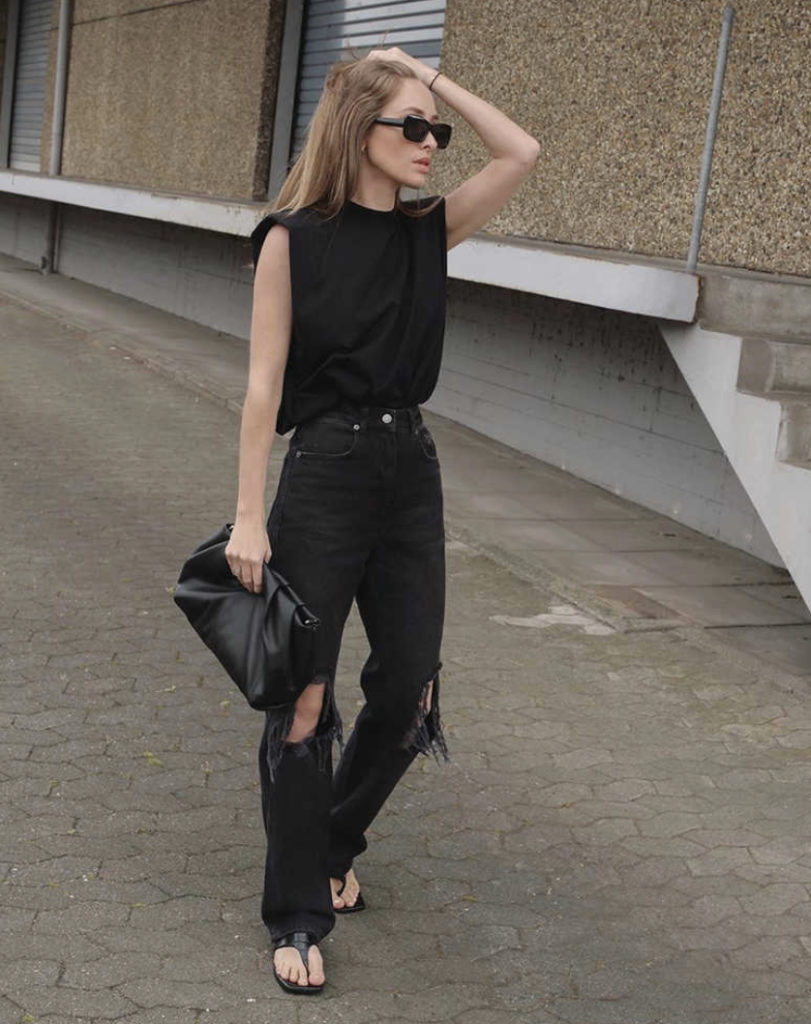 Le top en question / The said top
Top en velours à épaulettes Saint Laurent loué avec Une robe un soir.
Saint Laurent shoulder padded velvet top rented with Une robe un soir.
Back to black
Pantalon en similicuir Mango via Vinted, bottines H&M (anciennes) et sac Yves Saint Laurent via Vestiaire collective.
Mango faux leather pants via Vinted, boots H&M (old) and Yves Saint Laurent bag via Vestiaire collective.
Born to be wild
Jupe H&M (ancienne) et cuissardes et boucles d'oreilles Fendi via Vinted.
H&M skirt (old) and knee high boots and Fendi earrings via Vinted.
Day'n'night
Day
Jupe en cuir vintage, doudoune H&M (ancienne), basket New Balance et sac Chanel via Vestiaire collective.
Vintage leather skirt, H&M puffer jacket (old), New Balance sneakers and Chanel bag via Vestiaire collective.
Night
Blazer et bottines H&M (ancienne).
Blazer and boots H&M (old).
Blue jeans
Jeans Rouje, mocassins Prada vintage via Vinted, boucles d'oreilles Louis Vuitton via Vide dressing, bracelet 26juin bijoux et bague Stellar via La Frange à l'envers.
Rouje jeans, vintage Prada loafers via Vinted, Louis Vuitton earrings via Vide dressing, 26juin bijoux bracelet and Stellar Paris ring via La Frange à l'envers.
Geek in the pink
Manteau H&M (ancienne), bottines Dior via Vestiaire collective et ceinture Rouje.
Coat H&M (old), boots Dior via Vestiaire collective and belt Rouje.
Pour pouvoir sortir mon top à épaulettes à ma guise sans le limiter à son aspect grand soir, j'ai décidé de le traiter comme un haut noir basique pour l'assortir avec tout et n'importe quoi. J'ai voulu jouer avec son côté velours en l'assortissant à du similicuir, très tendance lui aussi. Un petit côté rock en est ressorti. Bien sûr, pour des tenues plus casual, miser sur une paire de jeans et des baskets marche aussi tu as vu ! Merci d'avoir lu cet article ! A la prochaine !
In order to wear this shoulder padded top more often without thinking about it only to go out, I just pretended it was a casual black basic top. With this idea, I was able to wear it in any kind of outfits. Of course, this velvet fabrics with faux leather looks so good and rock that I have played with this aspect – remember the leather is very trendy too. But as you can see, it is more than possible to wear this top with a pair of jeans and sneakers to look really relaxed. Thanks for reading this post ! See you !
Ma page Instagram pour plus de contenu / my Instagram to see more : @marieliiily