L'heure de notre rendez-vous mensuel a sonné ! Récapitulons ensemble nos achats du mois de février 2022 p'tit pote ! Ont-ils été faits sur le marché parmi des options mode responsable ? A quel pourcentage ? Ont-ils été en nombre raisonnable ou avons-nous craqué notre slip de bain ? Les réponses tout de suite !
English
The time for our monthly meeting has come, lovely ! It is the perfect moment for our monthly recap of all the purchases we have done last month. Have them been made among the slow fashion options ? How much are sustainable ? Have we bought too much or have we been reasonable ? Let's have some answers now !
Cropped chemise de Handcycling lab (offerte)
Français
Handcycling lab récupère des pépites vintage pour les upcycler en de nouvelles pièces plus modernes. Des cropped tops, des cropped chemises, des ensembles twistés et plus encore ! Pour ma part, j'ai eu la chance de recevoir la plus cute des chemises cropped : une chemisette imprimée vichy. Le bonheur avec cette merveille, c'est qu'en plus d'avoir donné une seconde vie à un vêtement qui allait finir par être gaspillé, je peux la porter pendant toutes les saisons. Un sous pull et hop, son côté printanier laisse place à une pièce réchauffée pour l'automne et l'hiver !
English
Handcycling lab get her hands on vintage clothes in order to upcycled them and make them more contemporary. In fact, you can find cropped tops, cropped shirts, twisted sets and more. Indeed, as for me I had the chance to receive the cutest gingham printed cropped shirt. What's perfect with it, is that with only a turtleneck, tadaa you can make it from summer to winter in the most stylish way !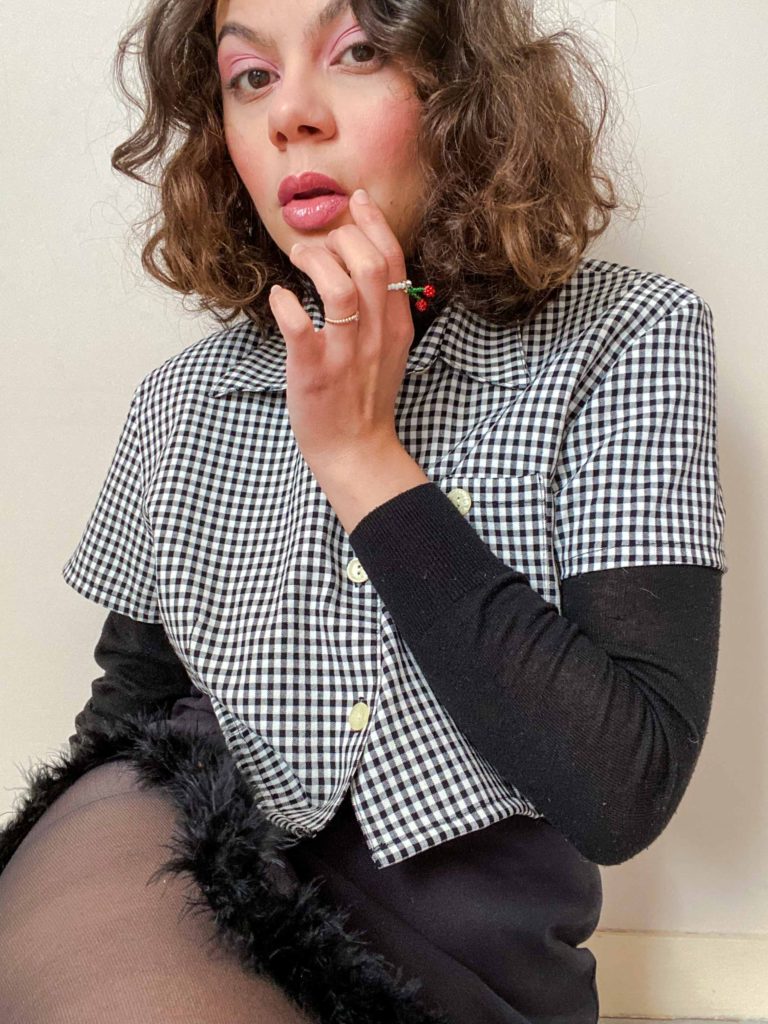 Un pantalon vintage chez Jeannette shop
Français
Ok. Le voilà l'achat craquage de la wish list ! Je sais, si tôt dans une année de douze mois ! Mais il s'agit bien d'un craquage chez Jeannette shop : ce splendide pantalon vintage ! Je veux dire, jambes évasées, parfait style vintage… Comment résister à une coupe qui, j'ai commencé à le comprendre récemment, me va quand même super bien ! Du coup, je tiens bien le porter jusqu'à être beaucoup trop tassée pour le mettre sans qu'il ne traine par terre (haha) !
English
Ok, here we go : that's the unexpected purchase from the wish list ! Indeed, maybe it is a bit early in a twelve months year, but of course it was made at Jeannette shop ! In fact, how could I resist these perfect wide legs and vintagy pants. Well, I mean, now I am really self-aware that this shape is great for me. So, I also want to let you know I will keep it and wear it until death tears up apart.
Le top 3 en 1 de Aptaé Paris (offert)
Français
Aptaé Paris récupère des tissus de stocks dormants afin de les transformer en vêtements. Première étape pour la marque dans sa démarche responsable. Deuxième étape ? Les vêtements Aptaé sont conçus et fabriqués en France. Ok, autre chose à ajouter pour rendre cette marque encore plus slow fashion ? Et bien oui : les vêtements sont réversibles ! Oui, p'tit pote, tu as bien entendu. En clair, un seul vêtement peut se transformer et devenir plusieurs autres. Plusieurs pièces en une seule, soit moins de vêtements à produire et à acheter, plus d'économies et un dressing moins rempli. Par exemple, j'ai reçu le top 3 en 1 – toujours disponible dans les seconde chance sur le site. Du coup, il peut être un top cache coeur, mais aussi un haut décolleté dans le dos et un cropped top. Sache qu'il existe d'autres modèles, particulièrement la jupe Rachel – trop cute – qui peut se retourner pour laisser place à une autre couleur, donc un autre style.
English
Aptaé Paris is a brand choosing dead stocks fabrics in order to make clothes out of them. Indeed, here is the first step the brand is taking on her sustainable way. Second step ? Aptaé clothes are made in France. Is that enough here or can the brand go further in its slow fashion process ? Yes it can with nothing but multi-purposes clothes. Indeed, lovely, you can read it well : multi-purposes clothes ! One item can become several ones with different styles. Then less clothes needed to manufacture and to buy, less spendings and more space in our wardrobe. For example, I received the 3 in 1 top – still available in the second chance's section on the website. Indeed, from a wrapped top, it can become a backless one and a cropped top. Nonetheless, Aptaé Paris has imagined more clothes like that. In fact, as the Rachel skirt transforming from one colour to another for more styles with only one skirt.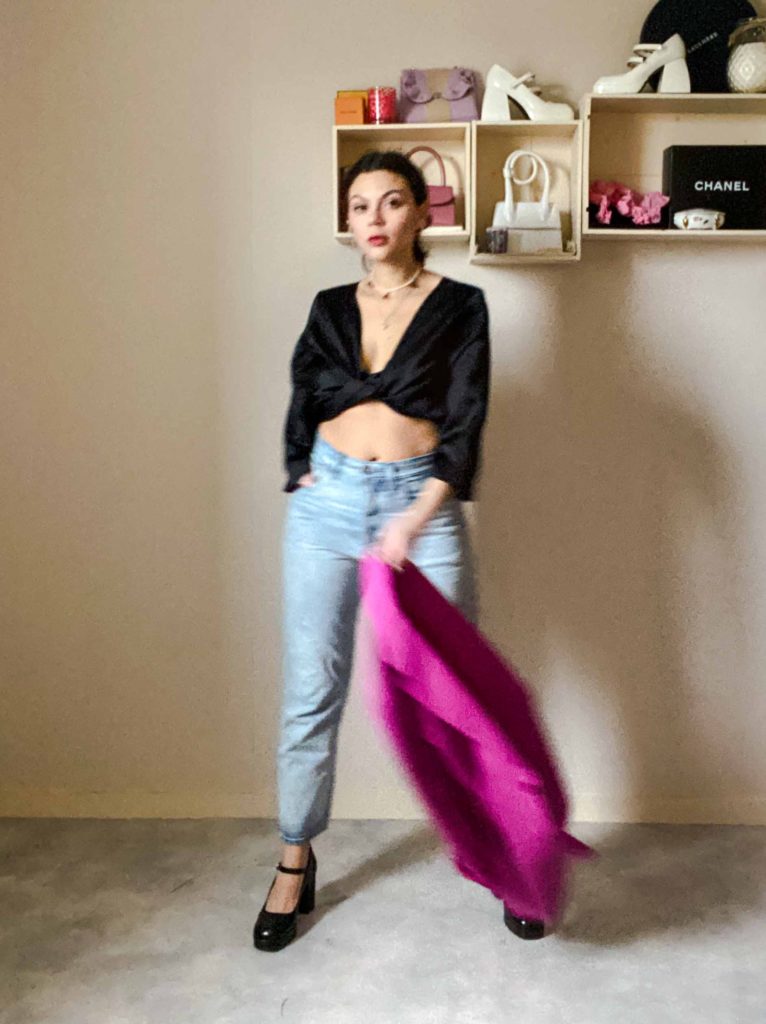 Un cardigan Maison Cléo
Français
Sincèrement, je ne vais pas perdre plus de temps à propos de cet achat, p'tit pote. J'ai rédigé tout un article à propos de mon expérience avec la marque Maison Cléo, je te laisse donc le lire JUSTE LA si ça t'intéresse !
English
Really, I am not in the mood for spending more time on this purchase. In fact, I already have wrote a whole post as my customer experience with Maison Cléo. Indeed, lovely, if you want to, I will let you read it JUST HERE.
Un sweatshirt fait main Sainte Marco (offert)
Français
Avec une conception en France et des fournisseurs français et européens, Sainte Marco est une marque qui a également fait le choix d'utiliser des matières 100% naturelles, sans fibre synthétique. Pour ma part, j'ai reçu le joli sweat-shirt Joy fait main dans du coton Oeko-tex standard 100. Encore une sweat-shirt tu vas me dire, mais non parce que d'abord il est fait main en France et ensuite est-ce que tu as bien vu ces détails avec les manches structurées ? Je suis trop fan de ce twist de la situation grâce à ça !
English
With made in France clothes and French or European suppliers, Sainte Marco is a French brand which chose to use only 100% natural fabrics with 0 synthetic fibber. Indeed, as for me I received the Joy sweatshirt handmade with Oeko-tex standard 100 cotton. Well, maybe you will tell me "Ok, a sweatshirt again". But firstly, this one is hand made in France and then : did you see the perfect sleeves details ? In fact, I am such a fan of this style twist !
En résumé / To sum up
Français
Ok, je crois que dans la vie il faut célébrer chaque petites victoires, non p'tit pote ? J'ai envie d'officiellement annoncer que ce mois-ci nous faisons face à l'une de ces petites victoires : un seul achat dans le mois et, en plus, il était bien prévu sur la wish list du début de l'année – en plus d'être de seconde main ! Et toi, p'tit pote, raconte moi ce que tu as acheté ce mois-ci en commentaires ! Et, encore une fois, merci à toutes les marques qui m'ont fait confiance en m'envoyant leur vêtements responsables !
English
Well, I think that every victory in life should be celebrated, even the smaller one, right lovely ? Then, I want to celebrate this one : only one purchase during this month and it was clearly mentioned in my yearly wishlist – besides the fact it is preloved ! What about you lovely ? What did you purchase ? In fact, I would like to thank the brands that trusted me this month by sending me their sustainable clothes !
Ma page Instagram : @marieliiily
Ma page YouTube : Marieliiily
Ma page Tik tok : @marieliiily