Suis-je légèrement en retard pour la publication de mes achats du mois de juin ? Il se peut que oui ! Mais, je peux très bien faire passer ça pour une action totalement délibérée visant à augmenter mon temps de réflexion pour donner mon véritable avis sur les produits achetés… Ça passe ? Hum… Dans tous les cas, il est temps de lister nos derniers achats afin de prendre du recul sur notre consommation de mode et essayer ensemble de la rendre plus responsable !
Am I a bit late to talk about my last month purchase with you ? Well, maybe… Or, maybe it is totally deliberate. In fact, I may have wanted to increase the time I have to give you my real opinion about the things I bought… Is it believable ? Hum… Anyway, let's see what we chose to buy last month to take our responsibilities about our way to consume fashion and trying to make it more sustainable together !
Récupération du pantalon Maison Flore
Pourquoi ? / Why ?
Français
En fait, après mon article de présentation de la marque Maison Flore Paris (ICI), je ne suis pas sûre d'avoir encore besoin de justifier mes achats chez Flore. Mais soit ! J'ai voulu acheté le pantalon au doux nom de Tulipe dès l'instant où je l'ai vu. En réalité, pendant ma première commande j'ai hésité entre le short Myosotis (ICI) ou le pantalon Tulipe. Ce pantalon est fait dans un merveilleux drap ancien en lin chantilly, avec des volants aux chevilles. Bien sûr, il est sur élastique : bénédiction ! Aussi, il st au prix de 125 euros et peut être réalisé taille haute ou taille normale.
English
In fact, when reading the post I wrote about Maison Flore Paris (HERE), I am not sure any explanations to any new purchases from this brand is needed. But still, if you insist ! At first, I wanted to bought this Tulipe pant when I made my first order on Flore's website. In other words, I hesitated between the Myosotis shorts (HERE) and the Tulipe pants. Still, these pants are made from old linen bedsheets in a cream shade. Moreover, there are ruffles on the ankles and an elastic around the waist which is a true benediction ! Finally, it costs 125 euros and it can be sewn high waisted or normal waisted.
Et finalement ? / And finally ?
Français
Comme je suis allée voir Flore à sa boutique 45 rue Charlot (75003), j'en ai profité pour récupérer mon pantalon Tulipe commandé en Mai. Il s'avère que j'étais tellement excitée que je ne l'ai pas essayé avant de quitter la boutique, mais il semble évident qu'il allait m'aller et qu'il me va ! Après cela, je l'ai porté une semaine durant (haha). Il va avec tout et s'accorde à tous les styles. En fait, à la base c'est un pantalon homewear, mais franchement il est si peu transparent que je le mets dehors ! En résumé, encore un achat Maison Flore Paris amorti dès les premières secondes, tu l'auras compris !
English
In fact, I planned to go to Flore's shop 45 rue Charlot (75003), so I collected my pants there. Indeed, I ordered it during May and then collected it in June. Well, after that I wore it one week straight (haha). Actually I can match it with a lot of clothes and give a lot of styles to it. Still, it is conceived as a homewear piece but as it is not see through I am also wearing it outside ! So, to sum up it is a well made and fully payed back purchase !
The Inez de Réalisation
Pourquoi ? / Why ?
Français
Alors, celle-ci, je pense que je la recherche depuis un an ! En fait, c'est l'année dernière, en contemplant la jupe The Naomi sur le site Réalisation par que je suis tombée sur cette robe à l'imprimé fraises. Il s'avère que j'étais aussi à la recherche de robes de style nuisettes – toujours tendances et, pour moi, intemporelles. Mais, comme mon pacte avec moi-même de ne plus acheter neuf était à son level le plus sévère à ce moment là, j'ai essayé de la rechercher sur le marché de seconde main directement. En vain ! Du coup, avec son apparition soudaine sur Vinted en ce mois de juin, son achat imprévu était inévitable.
English
First of all, truly, this one was on my wishlist since last year. In fact, as I was documenting on The Naomi skirt by Réalisation par I saw this The Inez dress with strawberries prints on the website. Moreover, it was the exact babydoll dress style I was looking for – a huge trend I consider as a timeless piece. But, unfortunately, my agreement about not buying brand new stuff sealed with myself was at its strictest level. That's why I tried finding it on the preloved market… Still, without any success. So finally, when I saw it on Vinted during June, trust me, this unexpected purchase was unavoidable !
Et finalement ? / And finally ?
Français
Est-ce que j'ai du prendre une taille S alors que j'ai tendance à faire du M au niveau des fesses ? OUI ! Mais est-ce que j'ai aussi tendance à faire du S au niveau de mon buste ? OUI ! Attention : la robe est plutôt courte. Mais, quand on regarde, de manière générale, les robes Réalisation par sont toujours très courtes. Est-ce que ça me gêne ? Pas vraiment, je mets toujours un cycliste court sous mes robes et jupes. Est-ce que j'adore cette robe ? OUI ! La matière est géniale puisqu'il s'agit de soie ! En plus, je suis trop ravie d'avoir enfin cet imprimé fraises ! En fait, je pense même essayer de la mettre aussi en hiver avec un col roulé en-dessous !
English
Well, did I bought a size S while I am a size M for the bottom ? YES ! But am I also a size S for the top ? YES ! Watch out : the dress is quite short. In fact, when you are looking at the skirts and dresses of the brand, you can see they are all very short. Is it a problem for me ? Actually, not really, as I knew it and as I am always wearing a boxer under my dresses or skirts. Do I love this dress ? YES ! Indeed, it is silk made and I am so happy to finally have this strawberries print in my wardrobe ! In fact, I am thinking about wearing it during winter with a turtleneck underneath !
Réception du body Make my Lemonade
Pourquoi ? / Why ?
Français
Je ne vais pas te mentir, l'achat du body Marta créé par Make my Lemonade est clairement impulsif et non nécessaire. Néanmoins, sa coupe, son tissus et le coloris rose proposé en précommande dès le mois d'avril ont su me séduire ! En plus, la qualité des vêtements Make my lemonade n'étant plus à démontrer je n'ai pas trop réfléchi à l'achat de ce basique du dressing.
English
In fact, I won't lie to you, the Marta body designed by Make my Lemonade was clearly an impetus purchase, and not really needed. Still, its shape, its fabric and the baby pink showed by the brand during the April preorders really convinced me ! Moreover, the quality of Make my Lemonade clothes is clear, no need to question it anymore ! So, finally, I bought this wardrobe's basic.
Et finalement ? / And finally ?
Français
Finalement, j'ai reçu le body en juin, comme prévu à l'achat. Très clairement, il est aussi canon que sur les photos de la marque et la silhouette qu'il fait est clairement dingue avec son encolure ! Aussi, et surtout, la couleur est juste parfaite ! Le fait que ça soit un body est réellement un plus, car il peut se glisser dans n'importe quel bas ou combinaison ! J'ai d'ailleurs publié une vidéo « Une pièce plusieurs possibilités » avec ce body sur ma page Instagram (ICI).
English
Finally, I received the body during June, as it was told during the preorders. Indeed, it clearly is as stunning as it was on the pictures and the shape it makes is just gorgeous ! You should see the collar ! Furthermore, you already know about the colour : this pink is simply beautiful ! In fact, as it is a body, it is possible to wear it with anything ! As a matter of fact, I published a "How to wear" video with this beauty on my Instagram page (HERE).
Sac au crochet @Emma_Marymai (gifted)
Français
C'est sur instagram que la créatrice Emma Marymai m'a contactée pour me proposer une de ces belles créations. Emma propose des sacs à main faits au crochet à la commande. Aussi, différents modèles existent soit avec des couleurs acidulées ou d'autres plus douces. Pour ma part, j'ai choisi le modèle Lily, adoré dès sa sortie. En plus, il est lilas et beige avec des détails volantés. De surcroît, comme pour tous les modèles, la bandoulière du sac est amovible pour le transformer en pochette. Enfin, les sacs sont doublés et certains ont même des détails bijoux, comme les modèles Constance ou Rose-May. Sincèrement, je tiens à remercier Emma, car j'adore ce sac ! Depuis le temps que je le vois en photo, j'étais trop excitée de finalement le recevoir en vrai ! D'ailleurs, je ne peux pas m'arrêter de le porter car cette couleur est parfaite en ce moment ! Je te suggère vraiment d'aller faire un tour sur sa page pour aller voir ses créations. Le travail fourni est vraiment impressionnant de minutie et de beauté !
English
At first, Emma Marymai reached me on the Gram in order to offer me one of her beautiful design. In fact, Emma sells hand made crochet bags. Moreover, her different designs exist in several shades either zingy or soft. As for me, I chose the Lily bag as I fell in love with it right from its released ! It is lilac and cream and has some ruffles details. Also, its strap can be detached – and thats the case for every designs – in order to make a pouch out of the bag. Finally, the bags are nicely lined and some of them have cute jewels details, as the Constance or the Rose-May. In fact, I truly want to thank Emma again as I was so excited to finally own the bag ! Actually, since I received it I cannot stop using it as I find its colours perfect for the season !
Commande sur Takk Paris
Pourquoi ? / Why ?
Français
En fait, je n'arrête pas de parler de Takk Paris et de faire des sélections sur cette boutique en ligne de seconde main, mais je n'y avais jamais vraiment passé commande. En effet, j'avais gagné un concours sur la page Instagram Takk et en avait profité pour choisir mon gilet Musier Paris en rose, mais à part ça je n'avais jamais commandé ET payé. Ainsi, dans le but de continuer mes articles à la découverte de nouvelles boutique de seconde main, j'ai décidé de passer une commande sur le site sans vraiment avoir d'idée en particulier. C'est donc avec plaisir que j'ai farfouillé et trouvé des pépites !
English
In fact, I am always talking about Takk Paris and selecting pieces from this preloved shop website, but I have never really ordered anything there. Indeed, I once won a contest on Takk's Instagram page and chose my Musier Paris pink cardigan, but besides I did not place an other order AND paid. That's why I wanted to try the website properly to continue my posts about preloved shops, without having any particular purchase ideas. So, I rummage through the website and found some treasures and good deals !
Et finalement ? / And finally ?
Français
D'abord, inscris sur mon ultime wishlist, j'ai réussi à trouver l'introuvable béret en cuir Polène ! Oui, ce béret étant à la base un cadeau destiné aux créatrices de contenus, il n'est pas proposé à la vente et est donc difficilement trouvable sur le marché de seconde main. Aussi, j'avais besoin d'un sérum à la vitamine C et c'est sur le site de Takk Paris, qui propose aussi des cosmétiques neufs, que j'ai trouvé celui de chez Youth to the People, une marque que j'adore. Enfin, je cherchais des choses que je pourrai emporter pendant mes vacances d'été. Alors, en parcourant la catégorie robe du site, j'ai trouvé une beauté de chez Réalisation par : The Venus. Les pièces sont arrivées très rapidement à mon domicile, leur prix était largement raisonnable et, en cas de problème, le remboursement était totalement possible !
English
Firstly, I found a Polène leather beret during my researches and it was totally random ! In fact, I wanted this one for so long, but it was so hard to find it as it is initially a gift for content creator. Then, I needed a vitamin C serum so I guess it was the perfect occasion to try a brand new preloved cosmetics sold on the Takk website. In fact, I found the serum by Youth to the People online, and it is truly a brand I love ! Finally, I wanted things to take with me during my summer vacations. Happily, I saw a beautiful Réalisation par dress : The Venus. Actually, the items were sent and received very quickly, the prices were really affordable for the products and if needed returns and refunds are possible !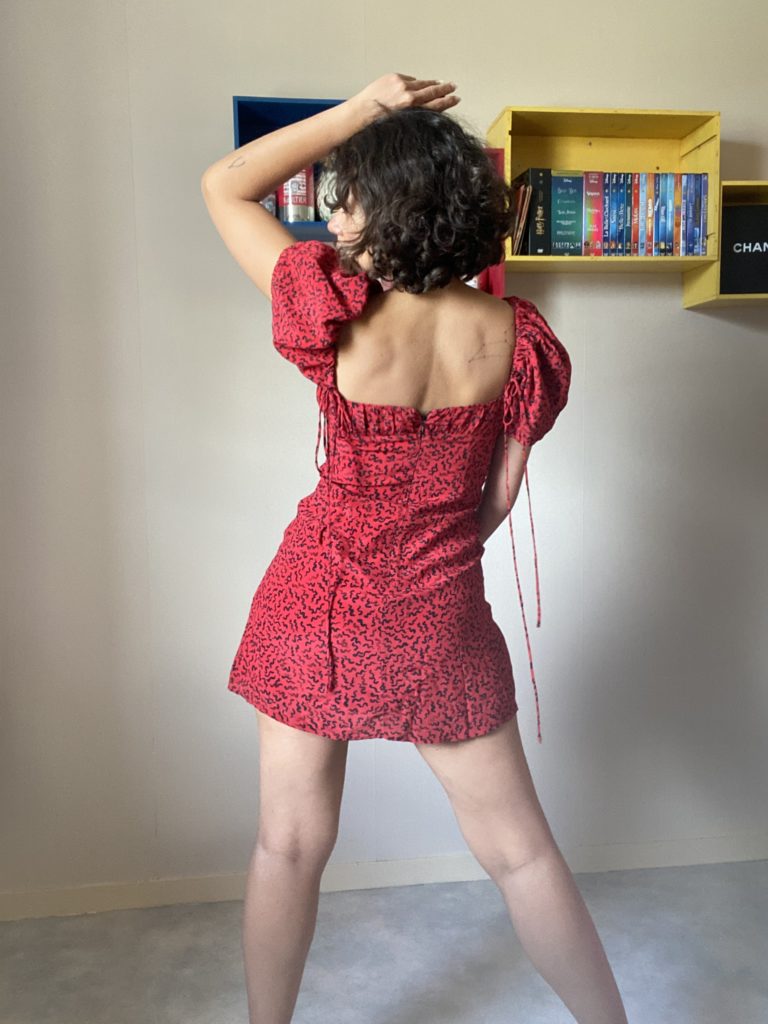 Jupe trouvaille chez Jeannette shop
Pourquoi ? / Why ?
Français
C'est au mois de juin que j'ai assisté à un pop up Système solère afin de faire une visite sur le stand de Jeannette shop. Au départ, je n'y suis pas vraiment allée pour acheter quoique ce soit. Mais, arrivée vers Joséphine et ses pépites, j'ai détecté une jupe aux imprimés fleuris qui se cachait sous une veste rose flashy.
English
In fact, I went to a Système solère pop up in Paris during June in order to say hello to Jeannette shop. At first, I did not go to buy anything. But, when I saw Joséphine's stand and the treasures there, I detected a floral printed skirt hidden behind a flashy jacket.
Et finalement ? / And finally ?
Français
Cette jupe est trop trop belle ! Avec l'imprimé, les couleurs et le drapé devant ! D'ailleurs, tu peux la voir sur ma page Instagram (ICI). Elle est juste parfaite pour apporter la dose de couleur nécessaire pour passer une excellente journée ! Et bonus : elle me fait des supers fesses !
English
In fact, this skirt is so beautiful ! Actually, I love the print, the colours and the fold of fabric on the front… Simply gorgeous. As soon as the summer temperatures hit, I'm here for this skirt and its amazing colours to spend an amazing day ! Bonus : it simply makes an unreal booty. By the way, you can see it on my Instagram page (HERE).
La robe Tina chez Frankie shop
Pourquoi ? / Why ?
Français
Je ne sais pas si tu te souviens mais, dans CET ARTICLE, je t'ai parlé des articles qui étaient sur ma wishlist responsable de l'été ! Il s'avère que la robe Tina par la marque The Frankie shop y figurait. C'est donc tout naturellement que je l'ai commandée dès que je l'ai trouvée sur Vestiaire collective ! D'ailleurs, si tu souhaite passer une première commande sur l'application, sache qu'avec le code EUC19D tu auras 30€ de réduction pour un achat minimum de 150€ !
English
In fact, I do not know if you remember my sustainable summer wishlist post HERE, where I told you I wanted The Frankie shop Tina dress. So, of course when I saw it on Vestiaire collective I immediately ordered it ! By the way, if you want to make you first purchase on the Vestiaire collective app, you can use the EUC19D to get 30€ off on a minimum 150€ purchase !
Et finalement ? / And finally ?
Français
Très sincèrement ravie d'avoir enfin déniché cette robe de seconde main ! Elle est si confortable, sans aucune prise de tête et avec des poches ! C'est la robe idéale à porter en été, qu'on sache ce qu'on veut mettre ou non elle est si stylée avec ses épaulettes !
English
Finally, I can wear this dress and I do not regret this purchase ! Actually, it is so confortable, so easy and so handy with pockets ! In fact, this is the ideal dress for the summer, whether you know what to wear or not, it is so stylish with its shoulder pads !
Ma box Le Bonnet Paris (gifted)
Français
Ce mois-ci, la box Le Bonnet Paris était sur le thème « ambiance chill ». Dans la box, se trouvait alors un ensemble homewear de la marque Fillandises : le caraco Anaïs et le pantalon Martine. La tenue est fluide et légère et se porte aussi bien à l'intérieur qu'à l'extérieur ! En bonus : une bougie Ava & May et un masque en tissus fabriqué en France. En tout, le contenu de la box avait une valeur réelle de 71€ pour le public. Du coup, n'hésite pas, si le concept d'une box de lingerie/homewear mensuelle te plaît, mon code promo est toujours valide ! En effet, avec le code MARIE05, obtiens une réduction de 10% sur ta première box. Rappel : l'abonnement mensuel et sans engagement est à 49,90€ !
English
This month, Le Bonnet Paris chose the "chill" theme for its box. That's why I received an amazing home wear set from the brand Fillandises in a rose gold colour. In addition, an Ava & May candle and a mask made in France ! In fact, I loved this box as the set is perfect to wear at home, but also outside as it is loose and light !
Commande Lane8store
Pourquoi ? / Why ?
Français
Pour tout te dire, cela faisait un petit moment que je voyais passer les créations faites main de Lane8store sur Instagram. Des petites assiettes trop kiki, des bougies et coup de grâce quand une paire de boucles d'oreilles en collaboration avec Atelier Zayeh est sortie ! Du coup, forcément j'ai passé commande puisque, comme si les boucles d'oreilles n'avaient pas pu me convaincre à 100%, il a fallu que des assiettes astrologie soient lancées ! J'ai donc choisi une assiette fleurie, une assiette « Leo » à fleurs et une paires de boucles d'oreilles en rose !
English
In fact, it has been a while since I first saw the Lane8store handmade designs on the Gram ! Whether it is their so cute plate, candles or earring with Atelier Zayeh, the final blow ! That's why I ordered a few things as, in addition of the earrings, there were small plate on the astrology theme. Finally I chose a flowers and a "Leo" with flowers plate and the earring in pink.
Et finalement ? / And finally ?
Français
J'ai reçu les assiettes et les boucles d'oreilles en deux à trois semaines. Je suis absolument ravie de ma commande puisque j'utilise les assiettes pour mettre mes bijoux (d'ailleurs il me faudrait d'autres assiettes). Aussi, je mets mes boucles d'oreilles très souvent, car elles sont vraiment parfaites pour ajouter un je ne sais quoi à toutes les tenues ! Aussi, la qualité est incroyable et tout est fait à la main ! Bravo !
English
Actually, I received the plates and the earrings within two or three weeks. In fact, I am just so happy about this order as I am using the plates for tidying my jewels (and I need other plates by the way). Moreover, the earring are just stunning and I am wearing them very often as they add a je ne sais quoi to my outfits ! Finally, the quality is just amazing as everything is handmade ! Bravo !
En résumé / To sum up
Finalement, ce challenge de réduire mes achats mensuels n'est toujours pas prêt de se réaliser avec le mois de juin (oups) ! Deux articles précommandés et reçus ce mois-ci et deux produits offerts en moins, il reste tout de même sept articles achetés en juin ! Néanmoins, aucun achat n'est regretté, même si seule la robe The Frankie shop est réellement prévue ; dans le sens où elle figurait sur ma wishlist. Finalement, cette dernière était une bonne idée mais elle ne m'a pas permise de me limiter pour l'instant ! Et toi, tu avais fait une wishlist ? As-tu réussi à t'y tenir ? Dis moi en commentaire quels ont été tes achats de juin !
Finally, my main goal to reduce my monthly purchases is harder than I thought, as you can see during June ! In fact, two preordered items and two gifted ones later, I bought seven goods ! Still, none of my purchase is regretted even if only the Frankie shop dress was on my summer wish list ! In fact, this list was a great idea, but it did not help me to buy less until now. What about you ? Did you make a wish list and respected it ? Tell me in the comments' section bellow what you purchased during June !
Ma page Instagram : @marieliiily