Aujourd'hui, essayons une pause lifestyle sur le blog avec un intermède jamais testé auparavant : le carnet de voyage ! Étant partie en vacances il y a quelques semaines, j'ai pensé qu'il pourrait être sympa de faire une rubrique où je vous parle de mes lieux préférés parmi ceux que j'ai visité. Entre deux discussions chiffons responsables (haha), pourquoi pas ?! Pour commencer, je vais te parler de l'Île de ré – en Charente maritime – puisque c'est là-bas que j'ai posé mes valises durant une semaine cette année, et bien des années avant celle-ci aussi ! Ainsi, je vais partager mes incontournables de l'île et quelques photos de ses magnifiques paysages avec toi !
Here we are with a new lifestyle post on this blog ! However it is a concept I have never tried before, as I am gonna try a section called "On the road". In fact, I left for vacations few weeks ago. So, I thought it would be great to share with you my favorite spots to go in each places I visited before. That's why we are gonna make a quick break between to sustainable things related discussions ! As a start, I would like to talk about my beloved Île de ré, in France, as it is where I went on vacations this year and the years before ! Indeed, I am gonna share with you the unavoidable places to go on the island and few pictures of its gorgeous landscapes !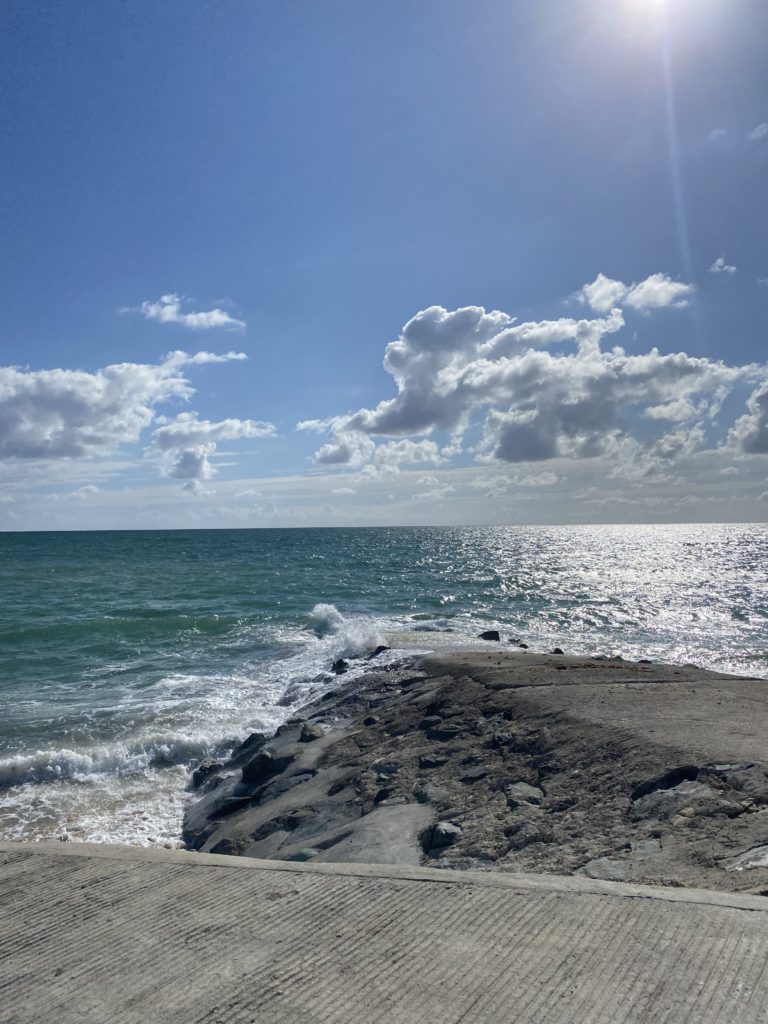 Au Phare des Baleines / To the Phare des Baleines
Français
Situé à Saint-Clément-des-Baleines, le phare est l'un des endroits incontournables de l'île. En plus d'être précédé de nombreuses boutiques de souvenirs – sel, caramels, bières, vêtements et déclinaisons du fameux âne en culottes – un mini musée sur le phare est accessible (payant). Puis, en sortant du parc entourant l'édifice, il est possible d'observer des écluses à poissons et de longer la côte allant jusqu'aux Portes-en-ré, dernière commune à l'extrémité de l'île. Bonus : parmi les échoppes et restaurants tu peux trouver le fameux glacier « La Martinière ». En effet, l'artisan de Saint-Martin-en-Ré a installé depuis peu de temps une de ses boutiques de glaces à Saint-Clément. Kiwi, violette, passion, pomme de terre de l'île, huîtres et caviar, vanille, nombreux sont les parfums ! Enfin, pour le côté pratique, un parking gratuit est prévu avant d'accéder au site. Toutefois, il faut se méfier car il est rapidement plein en cas de forte affluence. Aussi, le car de l'Île fait un arrêt à cet endroit.
English
Located in Saint-Clément-des-Baleines, the lighthouse of the island is one of the unmissable spot. In fact, we can find some shops there selling salt, beers and caramels from the island, clothes and multiple forms of the famous donkey with pants. Also, you will be able to visit a museum about lighthouses there (not free). Indeed, after a little stroll in the park surrounding the structure, you will be able to observe fish locks ; a particular method that used to be build in order to collect fishes. Then, why not having a walk on the beach ! Bonus : the famous island ice-cream maker has opened a shop in Saint-Clément. Indeed, "La Martinière" is installed among the shops and it is the greatest news ! Kiwi, violet, passion fruit, potatoe from the island, oyster and caviar, vanilla, there are so many flavours ! Finally, for the practical side, a free car park is provided but it can be full very fast during the summer vacations season. Still, the island coach stops on the site.
Les plages / Beaches
Français
Sur l'île, il y a beaucoup de plages (pour une île, c'est normal tu me diras haha). Certaines sont praticables pour la détente et la baignade, quand d'autres sont plus adaptées pour la pêche à pieds. Dès lors, nous ne nous attarderons que sur celles où la baignade est possible et confortable. Parmi mes préférées, la plage de Rivedoux se situe au début de l'île. En effet, Rivedoux est la première commune de l'île en arrivant par le pont. De plus, une portion de la plage de Rivedoux est surveillée. Ensuite, il y a la plage de Trousse chemise. Par contre, à l'opposé, celle-ci se situe après la commune des Portes-en-Ré, l'autre extrémité de l'Île de Ré. Celle-ci aussi est toute de sable recouverte et il y a très peu de galets lors de l'entrée dans l'eau. Pour les deux plages, des parkings gratuits sont prévus, eux aussi vite remplis lors de la haute saison. Aussi, pour ces deux plages il y a des sanitaires, point pratique non négligeable !
English
In fact, on the island, there is a lot of beaches (I know it is an Island). Still, not all of them are comfortable enough for relaxIng and bathing. Indeed, some beaches are only made for shore fishing. Then, among my favourite ones, the Rivedoux beach is located at the beginning of the island. In fact, Rivedoux is the first village after the bridge. Moreover, a bit of this beach is under watch. Finally, my second favorite is the Trousse chemise beach. Indeed, this one is at the other extremity of the Island, after the last village called les Portes-en-Ré. In fact, these beaches are recovered from sand and there is only few shingles in the water. At last, both of these beaches are accessible by a free parking lot and both have sanitary facilities nearby !
Saint-Martin-en-Ré
Français
Saint-Martin-en-Ré, ville portuaire entourée de remparts du XVIIe siècle. C'est une commune très animée avec des restaurants, des boutiques, des hôtels, des bars, un musée et un cinéma qui entourent le port. Également, il est possible de monter en haut de l'observatoire du clocher (payant) afin d'avoir une magnifique vue du village. Berceau de la Martinière, de nombreux parfums de glaces sont disponibles à la boutique originelle, mais aussi d'autres mets sucrés. C'est un lieu incontournable de visite qui est très vivant et typique de l'île. En effet, c'est une très belle commune fleurie qui était jadis le passage obligatoire pour l'acheminement des bagnards (point festif, haha). Enfin, pour la note pratique, il y a plusieurs parkings gratuits, mais ce sont ceux qui se remplissent en premier ; il ne faut donc pas tarder si tu souhaites une place de voiture.
English
Saint-Martin-en-Ré is a port town surrounded by fortification dating back from the XVIIth century. In fact, the village is very lively with restaurants, shops, hotels, bars, a museum and a cinema around the port. Furthermore, you can see a beautiful panoramic view of the town by climbing at the top of the bell tower observatory (not free). In fact, the ice-cream craftperson of La Martinière opened its first shop here, as the name can tell. That's why, in the Saint-Martin shop you can find many ice-creams flavours and more delicious sugary snacks. To sum up, you definitely have to visit the flowery town as it is unmissable and typical from the island. In fact, it was once a compulsory step during the convicts' transport (not so fun fact). Finally, in a more practical note, there are many free parking lots to access the village but they are the first to be fully booked !
Les marchés sur l'île / Markets on the island
Français
Enfin, nombreux sont les marchés sur l'île, puisqu'il y a autant de marchés que de communes. Tous n'ont pas lieu tous les jours, mais ils sont nombreux en pleine saison. Dans la plupart des cas, il y a aussi des halles à côté des marchés extérieurs. Les seules communes où ceci n'est pas le cas qui me viennent à l'esprit sont Sainte-Marie-en-Ré, Loix et Les-Portes-en-Ré. Aussi, marché incontournable à Bois Plage puisque le parking, même payant, y est toujours pris d'assaut ! Petite note aussi pour le marché des Portes où le stand de la marque de merveilleux maillots de bain et vêtements éco-responsables Passerose s'installe certains jours !
English
Finally, there are a lot of markets on the island as there are as many markets as there are villages. Still, every markets are not opened daily but they are numerous during summer vacations season. Moreover, in many cases a covered market is also open near. Indeed, the only places where I do not think it is true are Sainte-Marie-en-Ré, Loix and Les-Portes-en-Ré. As a matter of fact, the most famous market seems to be the Bois plage market as every car park places, even the charged ones, are fully booked ! Also, special mention for the market at Les Portes, as the sustainable and beautiful swimwear and clothes brand Passerose is frequently installed there !
En résumé / To sum up
Nombreuses sont les activités possibles sur cette île aux paysages fleuris et typiques. L'endroit est aussi parfait pour les randonnées, aussi bien à pieds qu'à vélo. D'ailleurs, l'Île de Ré est dotée d'un très bon réseau de pistes cyclables avec des indications claires pour que les cyclistes puissent relier chacune des communes. L'île a différentes spécialités. Entre autres tu pourras y trouver : du sel, les bières de l'Île de Ré, des spiritueux tels que le vin et le pineaux – avec une coopérative située à Bois-Plage-en-Ré – des huîtres avec des parcs à visiter et les ânes en culottes. L'écosystème de l'île est aussi mis en avant dans un parc naturel sur la route des Portes-en-Ré. Alors, cet article t'as donné envie de partir sur l'Île de Ré ? N'hésite pas à me dire en commentaires si tu y es déjà allé(e) !
In fact, there are a lot of activities to choose on this flowery and typical landscapes. In other words, the place is perfect for trekking, on foot or by bike. Indeed, a lot of cycle paths are set up on the island in order to link every villages. Also, the island has many specialties. You will find salt, beers, alcohol as wine and pineau with a cooperative at Bois Plage, oysters with parks to visit and donkey with pants. The island's ecosystem is also highlighted in a natural park near Les-Portes-en-Ré. So, did this post make you want to go to the Île de Ré ? Have you ever been before ? You can tell me in the comments section below !
Mon instagram : @marieliiily