Pantone l'a enfin décrété : les couleurs de l'année 2021 sont le gris souris et le jaune soleil. Alors pourquoi ne pas en parler sur le blog en alliant deux tendances de 2021 ? J'ai donc nommé la couleur jaune et l'ensemble de jogging ! Par la même occasion, nous pourrions en profiter pour parler d'une marque éco-responsable, non ? Du coup, imaginons ensemble des manières de porter, le set de jogging jaune de chez Après sunday pour le faire voyager au-delà de notre porte d'entrée !
Pantone finally decided : Ultimate grey and Illuminated are the colours of the year 2021. Then, we should talk about it on this page, shouldn't we ? And why not considering this 2021 trend with an other one : the jogging set ! Furthermore, I'm 100% we could also introduce a sustainable brand here : Après sunday. The brand is specialised in home-wear sets, made as well for female and male. So, lets imagine outfits to wear these three combined trends and make our joggers travelling further than our doorstep !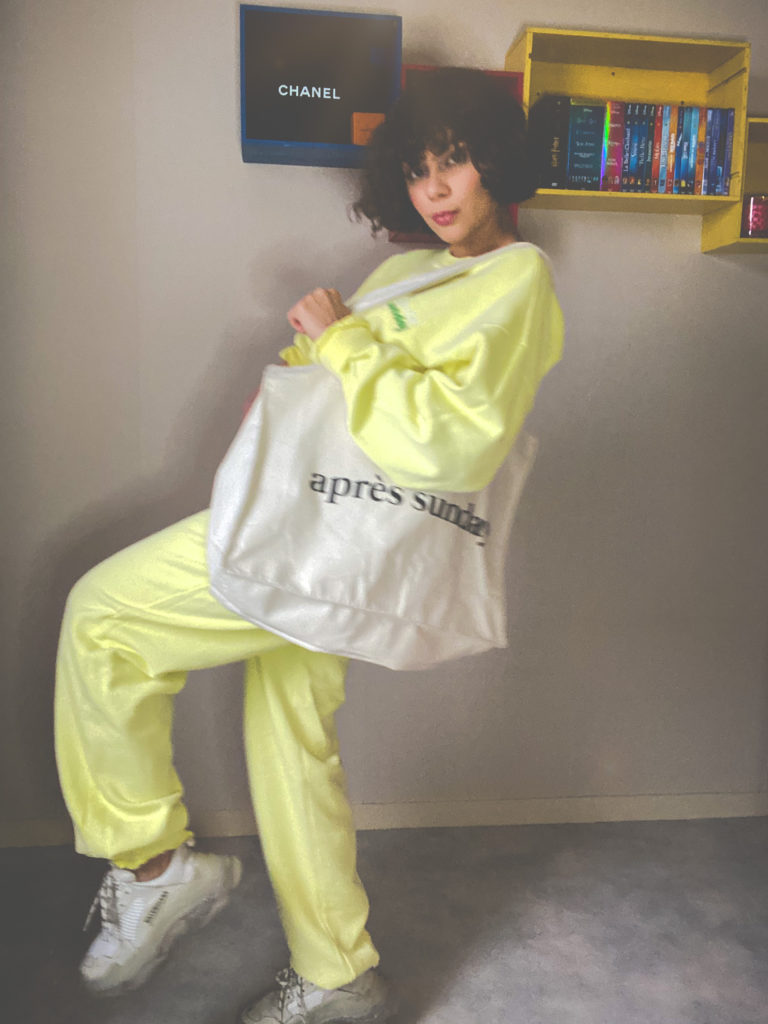 La marque/The brand : Après sunday
En quelques mots/Few words
Après sunday est une marque de vêtements produite au Royaume-uni et créée par @eloiserita_. Au départ, deux sets de jogging mixtes sont proposés : un lilas et un jaune pastel. Ils sont tous faits de coton bio ou de matériaux recyclés. Les avantages de tels matériaux résident dans leur production : moins d'émission de gaz à effet de serre, aucun pesticide utilisé pour la pousse de la matière première et moins d'eau et d'énergie consommés. De plus, la créatrice envoie elle-même les colis dans des emballages totalement recyclables. Lancée en août 2020, la page de la marque propose aujourd'hui trois nouveaux sets en précommande, ceux-ci répondant toujours aux exigences initiales de la créatrice.
Après sunday is a sustainable clothing brand. Created by @eloiserita_, the first products sold are two sets of joggers : a lilac one and a buttercream one. While they're imagined for both female and male, the clothes are also sustainable and made from 100% organic cotton. The pros of this fabric lay in its production : less greenhouse gases, no hazardous and harmful pesticides and less water or energy used. Moreover, the owner and designer of the brand sends the sets in eco-friendly packaging. Launched in august 2020, the Instagram page of the brand now shows three new sets available for pre-ordering.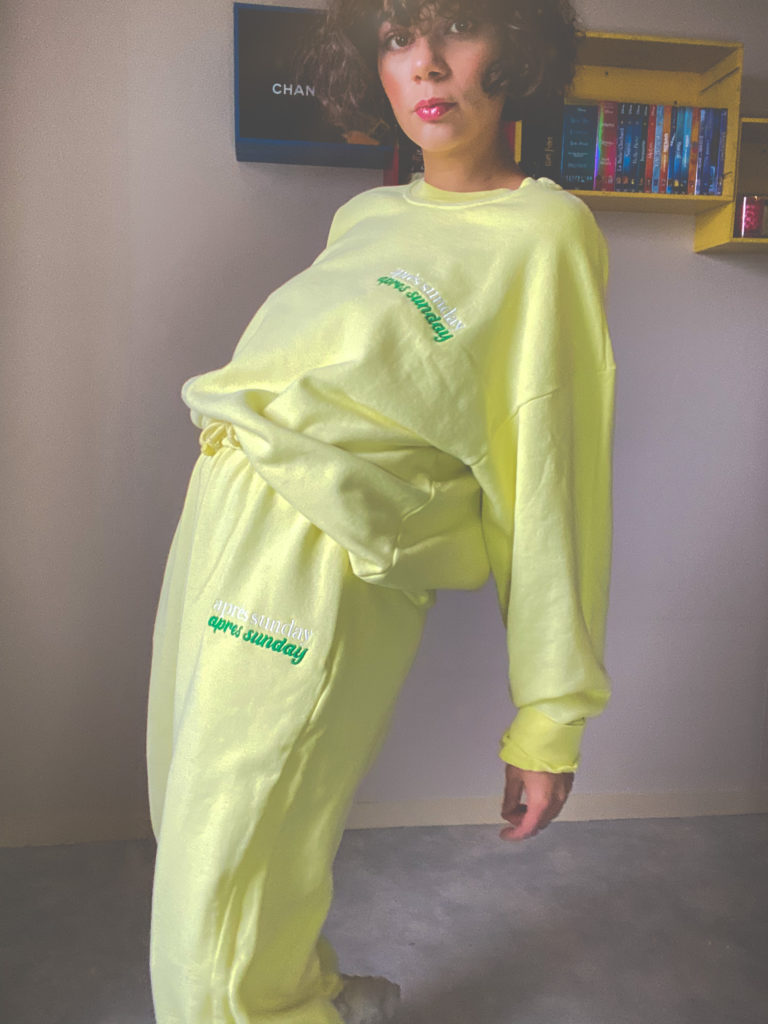 Qualité des produits/Products' quality
Alors que l'époque est définitivement aux joggings et autres vêtements confortables, Après sunday propose des produits qui, en plus d'être responsables, sont beaux. En effet, dans une pure esthétique des années 90, les couleurs proposées sont parfaitement dans la tendance. La silhouette est indémodable, légèrement oversize. La qualité du tissus est indéniable, avec une forme et des couleurs qui tiennent malgré les lavages. Enfin, le sweatshirt comme le jogging procurent un confort optimal, permettant de vivre dedans. Au niveau des prix, les hoodies sont à 85 euros et les sweat-shirts et joggings à 70 euros. Certes, ces sets ont un prix. C'est celui de leur qualité, la responsabilité de leur confection et production au Royaume-Uni et celui du soutien fait à une entreprise qui débute en voulant faire les choses biens, pour le consommateur et pour la planète. P.S : pour l'achat d'un set, un tote bag est envoyé !
While we definitely entered a jogging and comfy clothes area, Après sunday ones are sustainable and beautiful. Indeed, with their 90s aesthetic, the colours retailed are perfectly trendy, as their silhouette, slightly oversized. The fabrics are undeniably high standard, with shapes and colours that last, even after the machine washing test. Finally, the set is so comfortable that you can literally live inside. Let's talk about prices now. Hoodies cost 75 pounds, when sweatshirts are 62, 5 pounds, as the joggers are. Then, it comes to a price when buying these sets, the value of their quality and of their sustainable making and production in the UK. It's also about supporting a young small business which purpose is to make things right, for the customers and for the planet Earth. P.S : when you buy a set, a tote bag is sent.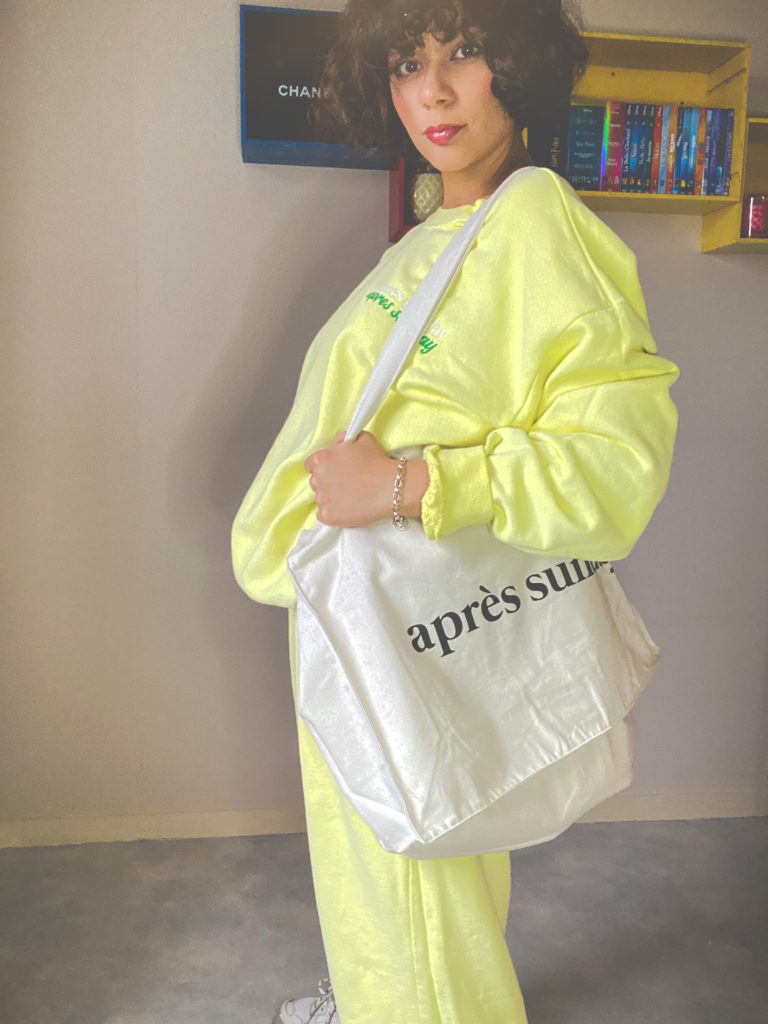 Les idées de tenues/How to wear
Si, à cause des circonstances, nous avons définitivement adopté le jogging pour rester chez nous, comment bien amortir cet achat en le faisant voyager en dehors de notre cocon ? Pour répondre à cette question, quoi de mieux que le set confortable Après sunday dans un joli jaune pastel. Nous ferons ainsi d'une pierre deux coups, puisque le jaune est une des deux couleurs tendance de l'année, d'après Pantone.
Because of the circumstance, we have definitely made of the joggers set a real basic of the wardrobe. So, if we really want to made of this investment a good one, let's see how to wear it, even outside of our cosy homes. Furthermore, we could totally kill two birds with one stone by choosing the buttercream Après sunday's set, as Pantone decided yellow was one of the colour of 2021.
Jeu, set et béret/Game, set and béret
Sunflower
Fireworks
Baby, let me upgrade you
Heads will roll
Last of the English roses
Spice up your life
Vous avez dit jaune ? Vous avez dit ensembles de jogging ? Je vous dis oui, je vous dis Après sunday, je vous donne six idées de looks pour faire de tout ça une réalité aux yeux du monde entier (et extérieur) ! Le jaune tous les jours cette année grâce à Pantone, c'est une dose de bonne humeur assurée. Et ajoutons y un peu des années 90 avec les sets Après sunday pour rendre nos journées confortables et tendance ! Petite anecdote sur la marque : les sets sont faits par l'entreprise ayant imprimé le très connu ensemble « Sloppy joe », porté par la princesse Diana elle-même dans les années 90. Alors, qu'attends-tu pour craquer pour cette marque responsable – faite aussi bien pour homme que pour femme ? Intemporelle, tendance, versatile et à propos, je te laisse l'adresse du site internet de Après sunday à la fin de cet article !
Did you say yellow ? Did you say joggers set ? I say yes, I say Après sunday, and I show you six outfit ideas to make it real for the whole world (especially the outside world) ! Yellow, all day, every day and all year long this year owing to Pantone, it's a good way to stay in a good mood. Let's add a bit of nineties vibes with the Après sunday sets to make our days cosy and trendy ! Fun fact : the business who print the famous "Sloppy Joe" set worn by Princess Diana in the nineties also made the Après sunday sets. So, what are you waiting for adopting the brand's set – made for both male and female ? Timeless, trendy, versatile and right for the current situation… I'm writing the brand's website address down at the end of this post.
Page Après sunday : apressunday.co.uk
Instagram : @apressunday