Il y a quelques semaines, la marque Maline m'a proposé de choisir un ensemble parmi leurs maillots de bain ou leurs sous-vêtements. En fait, il s'agit d'une marque responsable qui propose des produits qui subliment les femmes en étant faits à partir de matières recyclées. Du coup, j'ai immédiatement accepté la proposition ! Donc, j'ai décidé de vous parler plus en détails de cette marque, ses engagements et la matière qu'elle utilise ! Surtout reste jusqu'à la fin, puisqu'avec Maline nous te proposons une surprise !
Few weeks ago, Maline offered me to chose a set among its underwear or its swimwear. In fact, it is a sustainable brand selling garments made to enhance every women and made of recycled fabrics. That's why I immediately said yes ! Then, I decided to write this post in order to introduce you the brand, its commitments and the fabric used ! Moreover, you should read this post until the end as a little surprise might be found !
Maline en quelques mots / A few words about Maline
C'est en Avril 2020 que Pauline lance Maline. Son but est de créer une marque avec de beaux designs, mais aussi une marque raisonnée et éco-conçue. A la fin de l'année 2020, elle est rejointe par Rachel. Alors, sa mission est plus concentrée sur la partie communication et création de contenu. Aujourd'hui, la team Maline est composée de quatre femmes : Pauline, Rachel, Astrid et Emilie.
First, Pauline started Maline in April 2020 in order to show beautiful design. Also, she wanted to launch a sustainable brand with eco designs. Rachel joined Pauline at the end of 2020 to be in charge of the communication and the content creation. Since, the Maline team is composed of four women : Pauline, Rachel, Astrid and Emilie.
Les engagements Maline : « recyclé et sublimé » / Maline's commitments : « recycled and enhanced »
Maline, c'est une marque aux engagements écologiques marqués, ce qui ne l'empêche pas de proposer des produits faits pour mettre toutes les femmes en valeur.
In fact, Maline is a brand with environmental commitments, but it also offers designs made for accentuating every women' curves.
Une planète préservée / Protecting the planet
Français
D'abord, les produits Maline sont tous confectionnés en France. En effet, si le tissu est fabriqué en Italie, il est ensuite envoyé à 392 et 475 km, dans des ateliers de production en région Rhône-Alpes. Ensuite, une démarche circulaire est adoptée sur la chaîne de production afin de tendre à un processus zéro-déchet. Dès lors, les chutes de tissus sont réutilisées pour fabriquer des chouchous et les chutes de chutes sont conservées. En plus, le plastique à usage unique est réduit au maximum puisqu'il n'est utilisé ni pendant la production des produits, ni lors de leurs envois. En effet, le sur-emballage est bani par la marque. De surcroît, lors de cette étape des envois, seules des matières recyclées et/ou recyclables sont utilisées ; par exemple, les commandes sont enveloppées dans des pochons en coton ou en jute. Enfin, le plus innovant reste la matière dans laquelle les produits sont confectionnés : l'Econyl.
English
First, Maline makes its garments in France. In fact, if the fabric is manufactured in Italy, it is then sent 392 and 475 km away in the production areas located in Rhônes-Alpes. Then, the brand chose a circular approach to produce the items in order to get as close of a no waste situation as possible. That's why Maline uses the scraps to make scrunchies and scraps of scraps are kept. Moreover, the brand reduces one-use only plastics as much as possible. In fact, there are no such plastics used neither during the manufacturing process nor among the packages. About the packaging, only recycled and/or recyclable materials compose them ; for exemple, the garments are wrapped in cotton or jute pouches. Finally, and the most innovative part, Maline chose a very interesting fabric to create its items : Econyl.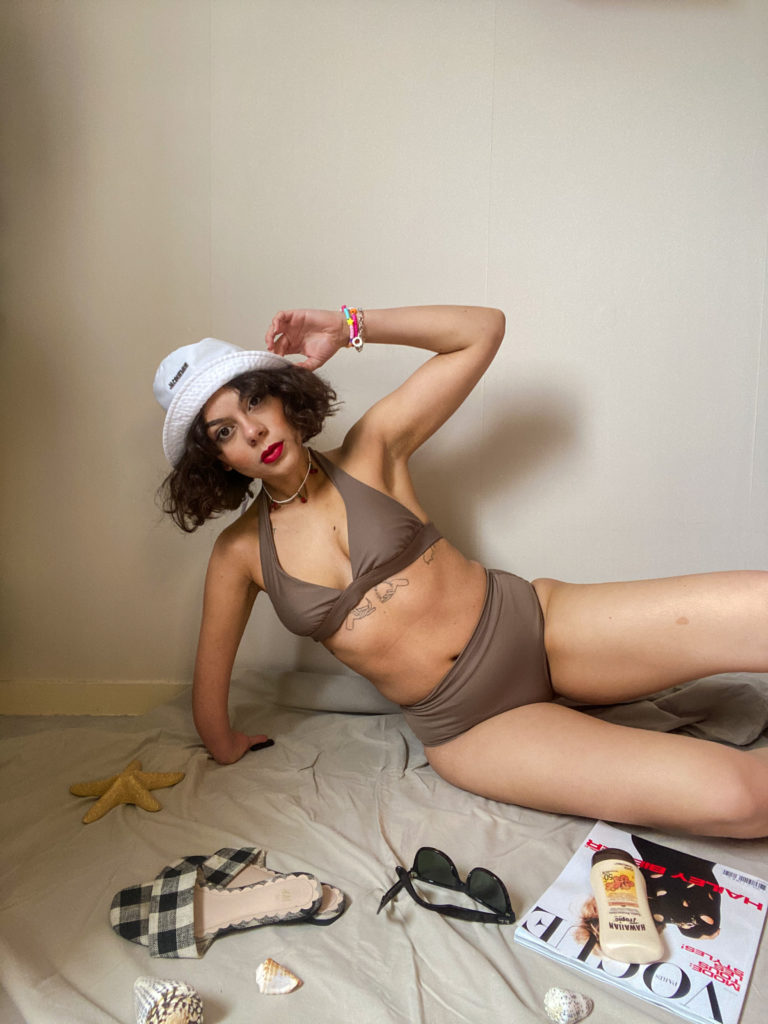 Des corps sublimés / Enhanced bodies
Français
L'idée de la marque est également de créer des sous-vêtements et des maillots de bain faits pour toutes les morphologies féminines. Du coup, la marque a choisi de proposer des tailles qui vont du 34 au 48. Aussi, des questionnaires peuvent être mis à disposition par la marque pour que les produits soient faits de manière participative. En effet, cela permet de répondre un maximum aux attentes féminines en terme de confort et d'esthétique. Dès lors, la marque propose des produits qui favorisent le maintien en haut et la mise en valeur du fessier en bas. Au final, la marque réunit un maximum de paramètres qui permettent d'inclure toutes les femmes afin qu'elles se sentent à l'aise et bombasses dans leurs produits Maline.
English
In fact, the brand's main goal is to create underwear and swimwear made for every feminine body types. That's why Maline chose to offer sizes from 34 to 48. Moreover, we can be asked to fill questionnaires by the brand in order to have garments designed in a participatory way. Indeed, it allows the brand to answer as much as possible to our expectations about comfort and aesthetic. As a matter of fact, Maline offers items with a great support at the top and bottoms that make goddess bums. To sum up, the brand gathers as much factors as possible to make every women slay in their Maline garments.
Une matière révolutionnaire : l'Econyl / A revolutionary fabric : Econyl
Français
L'Econyl est une fibre de tissu plus qu'innovante. En effet, elle est composée a 22% d'élasthanne X-tra Life et a 58% de polyamide recyclé. Ce dernier est composé de fibres obtenues à partir de déchets des fonds marins et de déchets provenants d'autres sites d'enfouissement. De surcroît, le tissu issu de cette fibre révolutionnaire composant les créations Maline est certifié. Il a obtenu les certifications Oeko-tex standard 100 et Global Recycled Standard. La première informe quant à la non-dangerosité des produits en contact direct avec la peau. Tandis que la deuxième est un outil qui encourage les marques à la transparence et à l'innovation. Enfin, en plus d'être composé de matériaux recyclés, le tissu utilisé par Maline est aussi d'une grande qualité puisqu'il protège des UV, résiste au chlore et promet un confort optimal.
English
Econyl is a very innovative fabric fibre. Indeed, it is made of 22% X-tra Life elastane and 58% recycled polyamide. In fact, submarine wastes or wastes from other burying places are the main materials composing the fibres to obtain this recycled polyamide. Moreover, the Maline designs' revolutionary fabric is certified. As a matter of fact, I am talking about Oeko-tx standard 100 and Global Recycled Standard certifications. In fact, the first one is informing us about the non-dangers of the fabrics touching the skin. Then, the second one is encouraging the brands to be open and innovative. Finally, Maline is using a quality fabric as it is UV-proof, resistant against chlorine and very comfy.
En résumé / To sum up
Français
Maline est une marque où l'innovation en faveur de la planète va de paire avec celle qui favorisera notre bien être. En effet, la team Maline a décidé d'ancrer la marque dans une démarche éco-responsable, du stade de la production jusqu'au choix de la matière du produit final. En fait, l'Econyl utilisé permet de recycler des déchets pour en faire quelque chose de nouveau utile : des sous-vêtements et des maillots de bain. Aussi, ceux-ci sont pensés pour le confort de toutes les morphologies. Cela grâce à une écoute maximale de nos attentes vis-à-vis du type de produits proposés : le confort, le maintien et l'esthétique. Si comme moi cette marque t'intéresse pour ses engagements et ses créations, Maline et moi te proposons une réduction de 10% sur ta commande avec le code MARIE10 ! Alors heureuse ?
English
Indeed, Maline is an innovative brand as much for the planet as it is for our well-being. In fact, the Maline team has fixed the brand in a sustainable approach, from the manufacturing of the designs to the choice of the fabric used to compose them. Indeed, the Econyl composing Maline underwear and swimwear is a great way to recycle wastes and make them useful again. Furthermore, it allows us to slay in garments thought for every women. In fact, it is due to the brand's attentiveness to our expectations when it comes to these kinds of items ; comfort, support and aesthetic. So if you are as much into the brand's designs and commitments as I am, Maline and me are offering a 10% discount on your order with the code MARIE10. How does it feel ?
Maline website : maline.life
Instagram Maline : @maline_bodywear
Mon Instagram : @marieliiily