Aujourd'hui, décryptons ensemble une nouvelle tendance : celle du corset ! Oui, tu as bien entendu, le corset ! Ce vêtement que les femmes des siècles précédents ont été ravies de quitter, voire brûler ! Cette pièce est pourtant bien de retour dans nos dressings. Et je vais te montrer aujourd'hui comment le porter, ce qui évitera de faire de cet éventuel achat une erreur à jamais. D'ailleurs, pour cette démonstration, je vais utiliser un magnifique corset vintage de la marque Valentino que j'ai eu le bonheur de trouver chez Jeanette shop !
Today, I would like to show you how to wear one of the last trends : the corset ! Yes, I know this piece of clothes that women from the previous centuries were more than happy to leave, or even burn who knows… In fact, this garment is back in our wardrobes. That's why I want to show you how to wear it nowadays to avoid making this potential purchase a forever mistake ! Moreover, for this post, I am going to wear a vintage Valentino corset luckily found at Jeannette shop !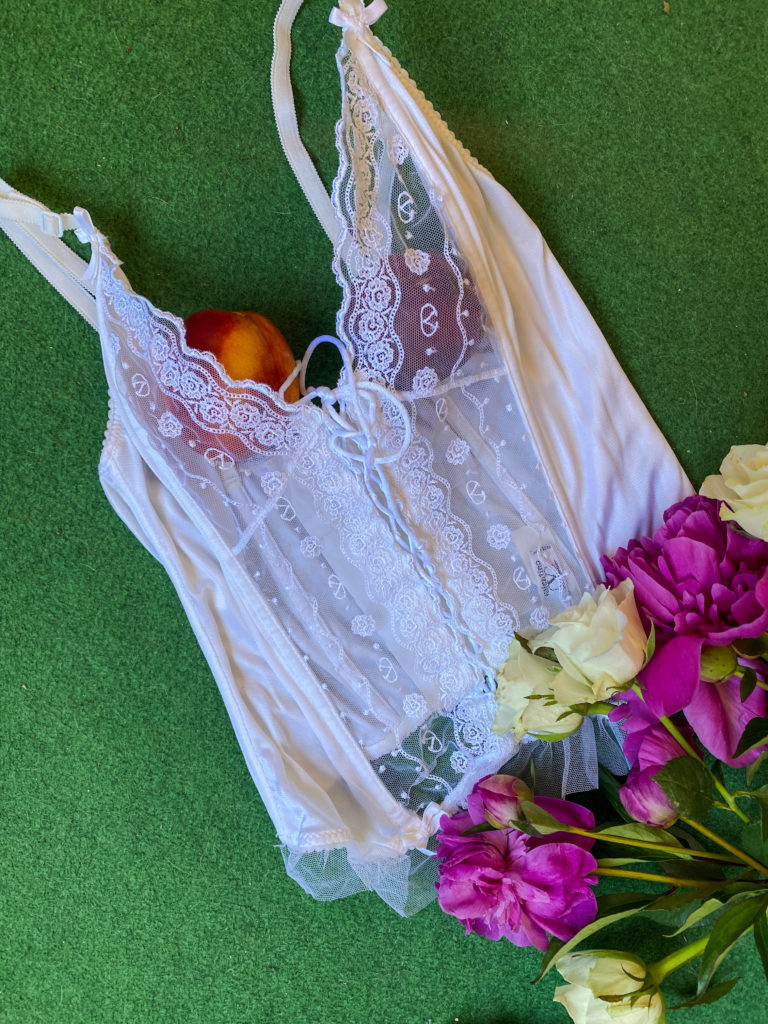 She/Her
Jeans Rouje, collier fait main/handmade necklace Mayd Store & bracelets faits main/hand made bracelets Les Griffes d'Elo.
Make it casual !
Combinaison/overall H&M (old), babies Musier Paris.
Feeling blue
Chemise H&M (old), Jeans Rouje, sac Lady Dior de Dior via Vestiaire collective & mules Mango (old) via Takk Paris.
Work, work, work… with a plot twist
Teeshirt Acne studios via La Frange à l'envers, pantalons/pants Musier via Vestiaire collective, sac Chanel mini square via Vestiaire collective & chaussures/shoes Valentino via Vestiaire collective.
Night owl
Blazer upcyclé peint/upcycled hand painted Aida Martinez.
En résumé / To sum up
En fait, le corset est un nouvel exemple de ces pièces cantonnées à l'intérieur de nos foyers, qui sont finalement adaptées à l'infini à l'extérieur. Comme Madonna et son corset iconique créé par Jean-Paul Gaultier, n'hésitons plus à surfer sur la vague du sous-vêtement à la vue de tous. Immersion directe dans les années 2000 (it's Britney bitch). De l'alternative discrète – apparition sous décolleté – à l'alternative mi-figue mi-raisin – superpositions – il est aussi possible d'y aller franchement en le portant tel un top. Ainsi, cette pièce fonctionne à chaque heure de la journée : jour/nuit, travail/décontractée ou dodo/soirée. De plus, un corset peut être aisément trouvé de seconde main. Aussi, des marques responsable en font leur spécialité. C'est le cas de Vanibe, Remembrance ou encore The French twins. Alors, convaincue par cette tendance ? Dans tous les cas, n'hésite pas à aller sur ma page instagram ou tu trouveras tous ces looks en vidéo !
In fact, the corset is just another example of these garments usually made for wearing home but finally brought outside for more and more outfits options. So, as Madonna and her iconic Jean-Paul Gaultier corset, stop hesitating to embrace this trend of the more than visible underwear. Indeed, it brings us back right to the 2000s (it's Britney bitch). From the discrete option of the corset worn under cute low cut neckline clothes to the one with layering, the versatility of the corset cannot be denied. In fact, it can also be worn as a top on its own. Indeed, it can be worn all day long : day/night, work/casual, sleeping/partying… Then what do you think about this trend ?
Ma page Instagram : @marieliiily