Les voilà : les beaux jours commencent à pointer le bout de leur nez ! Bientôt, viendra l'heure pour nous d'alléger nos tenues et de laisser tomber toutes nos mailles. Il est donc temps de nous pencher sur les différentes tendances vues sur les défilés pour le printemps et l'été 2021. Mais, à quoi bon craquer pour tout ce qui nous est présenté sur les catwalks ? Comme pour l'article sur les tendances de l'automne/hiver 2020 (disponible ici), sélectionnons logiquement celles qui valent vraiment la dépense. Celles pour lesquelles l'investissement sera rentable, car nous mettrons ces « it pièces » pendant longtemps, quelque soit la saison.
Here we are : a ray of sun and a sweet weather are ahead ! Soon, we will have to wear less clothes and put our knits away. It is time for us to look forward and acknowledge the different spring/summer 2021 trends. Of course, we don't have to buy every novelty the designers show us ! As for the fall/winter 2020 trends post (available here), we are gonna think about each trends that really worth it, and invest only in "it pieces" we will be able to wear for ever and ever whatever the season !
Les tendances A/H 2020 à ne pas ranger / Some F/W trends we will continue to wear
Dans le premier article d'analyse des tendances à ne pas zapper sorti sur le blog, nous avions évoqué quatre tendances : article disponible ici. Aujourd'hui, regardons ensemble si celles-ci étaient réellement un bon investissement et si elles sont toujours de mise ce printemps.
In our first post about trends to fall for analysis, we talked about four different trends : post available here. Before any further informations, let's see if they were really a good investment and if we will wear them this spring.
« Neo-shoulders »
Nous nous souvenons très bien de cette tendance des épaulettes. Elles ont été partout cet hiver : les pulls, les tee-shirts, les manteaux, le classique blazer, les robes et les sweat-shirts. Et bien accroche-toi à ta culotte, pas la peine de ranger nos précieuses épaulettes ! Elles étaient encore de sortie pendant la présentation des collections P/E 2021. Tant mieux, nous venons de mettre une saison entière à apprendre à les maîtriser ! Plus qu'à les assortir à nos tenues plus légères et c'est parti ! Bien sûr, ça sera plus facile si tu as craqué pour un tee-shirt ou un sweat-shirt que pour un manteau…
Yes, of course we remember these famous neo-shoulders. They were everywhere this winter : knits, tee-shirts, coats, classic blazers, dresses or sweat-shirts. Well we are not done with them ! No need to tidy them, they are still trendy this S/S 2021. Such a great news as it just took a whole season for to know exactly how to make them match with our outfits ! Now, let's make them match with lighter ones and we will slay ! Of course, things will get easier if you have invested in a power shoulders item which is not a coat or a heavy knitwear…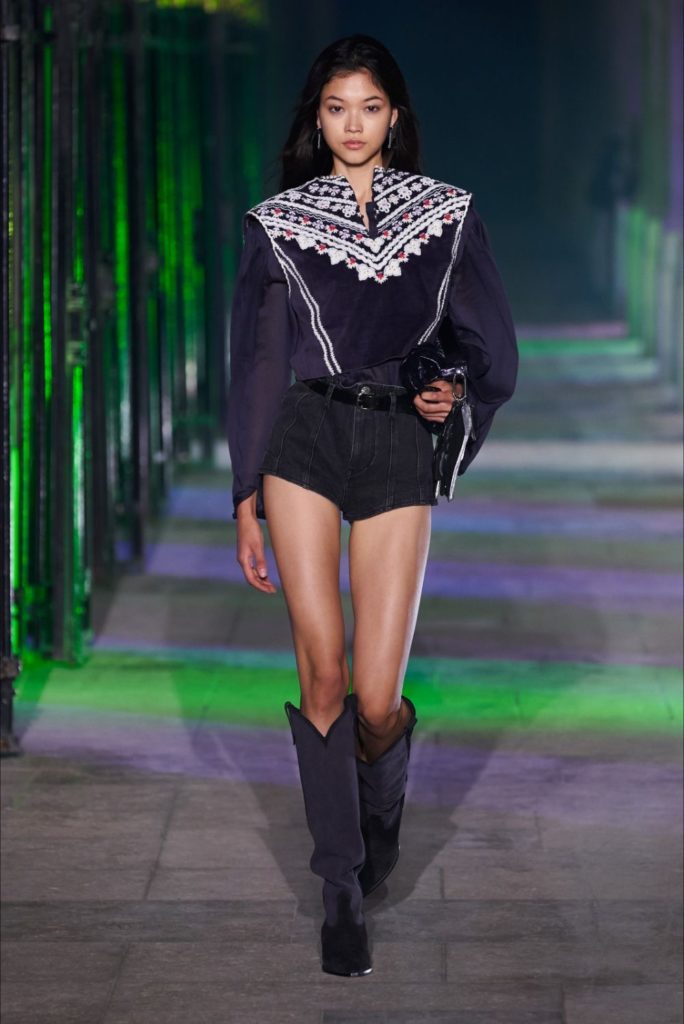 Le tailleur-pantalon / The matching set
Allons-nous nous étendre sur ce classique multi-tâches ? Il permet de répondre à l'appel du blazer (à épaulette tu l'auras compris), tout en ayant un pantalon à ajouter à nos basiques toutes épreuves et en surfant sur la vague (incessante) de l'ensemble coordonné. Bref, cette saison encore, quelque soit sa couleur, il sera possible de réutiliser son ensemble tailleur-pantalon jusqu'à l'usure !
Do we really have to talk about this one any longer ? With this matching set, of course you are on trend, but you can absolutely use the blazer only (most likely a shoulder padded one) or the pants only as an unconditional basic in your wardrobe. Now you know, during this S/S 2021, you will be able to wear this beautiful set you may have bought for the previous season and it is a big Yay !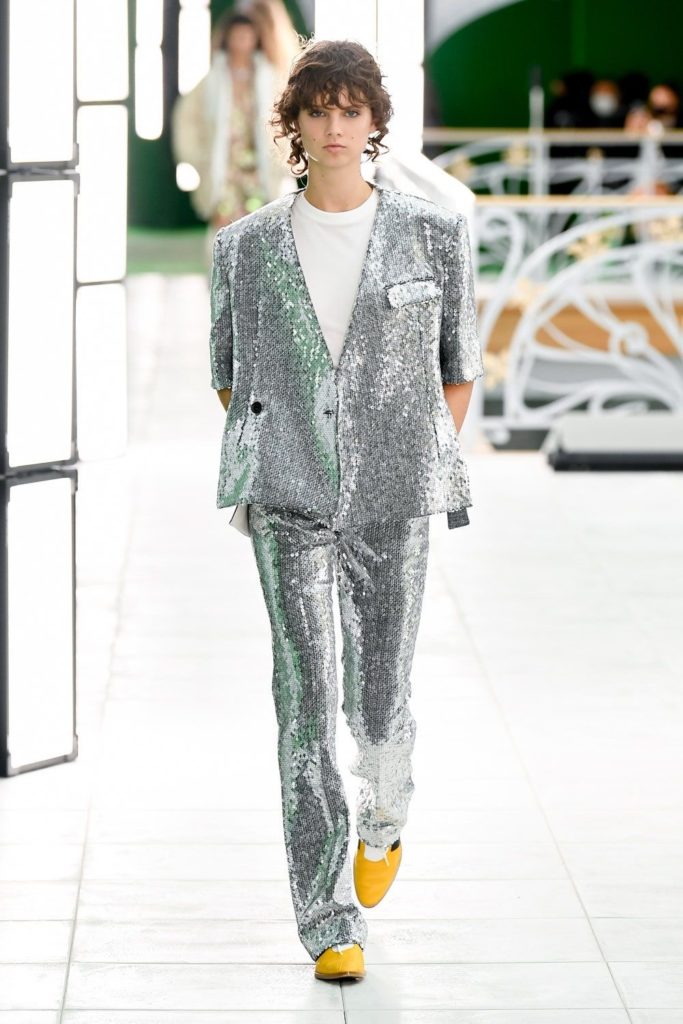 Le cuir / leather
Pendant l'A/H 2020 c'était la star avec son ami le vinyl ! Principalement présent sur une foule de pantalons de toutes formes et sur des vestes et blazers à gogo, le cuir (ou simili nous l'aurons compris) était partout ! Et bien, figure toi que si tu as choisi de suivre les recommandations données dans l'article sur les tendances A/H 2020 tu as tout gagné ! Ce printemps (ça risque d'être un peu plus compliqué en été vu la chaleur), il est toujours de mise ! Le pantalon, le tailleur-pantalon, la jupe, le blazer ou encore la robe en cuir seront toujours au goût du jour !
During F/W 2020 it was one of the inescapable trend : leather on clothes – and its friend vinyl. Mostly worn on pants or jackets, you surely chose at least one items made of leather (or faux leather), especially if you have read the F/W 2020 post on this blog. Well, well done ! You will be able to wear these amazing clothes this spring too (it seems complicated for the summer owing to the hot temperatures). Pants, matching sets, skirts, jackets or dresses made of leather, here we are still rocking it as a good old basic always on trend !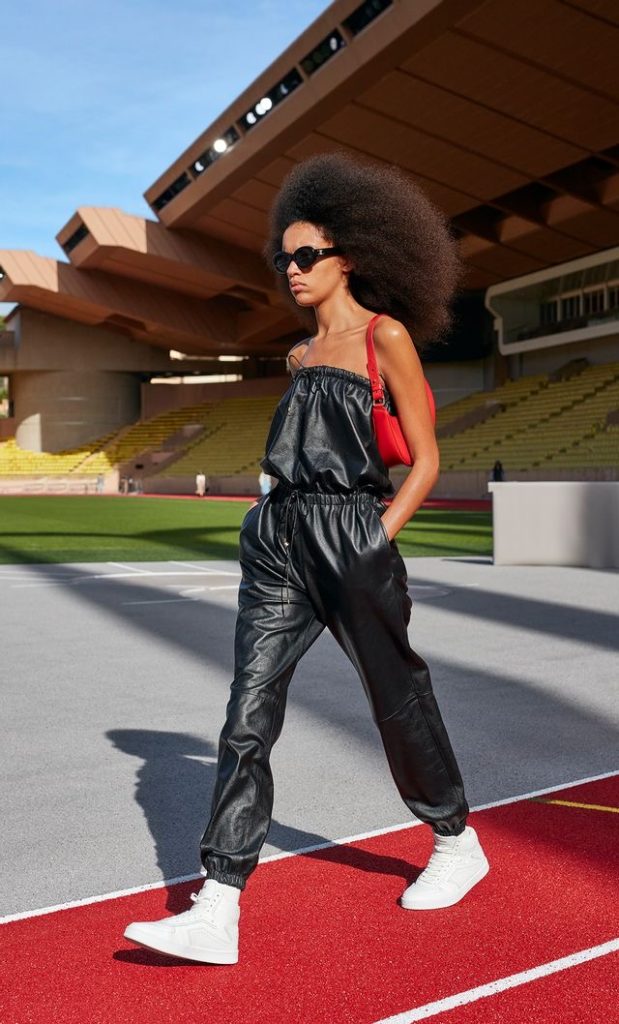 Le Gypset / gypset trend
Souvenons-nous, dans cette catégorie étaient regroupés tous les vêtements avec un esprit bohème. Les robes vaporeuses aux imprimés fleuris, les volants, les franges et les blouses brodées ou en dentelle. Comme chaque été, nous aurons droit à notre lot de robes à fleurs et de blouses en dentelle ou en broderies. Nous ne ferons pas non plus l'impasse sur les pantalons un peu évasés et les matières vaporeuses. Alors, je vous l'avais dit ou non que la robe à imprimé fleuri était désormais un basique incontournable (cf article ici) ?
Within this category we could find every and each boho style clothes. Flimsy flower printed dresses, ruffles, fringes and embroidered or laced top. They are real summer go-to since so long, that this S/S 2021 we will see flower printed dresses and detailed blouses again. Of course, we won't forget our flared pants and made of flimsy fabrics clothes. I did tell you the flower printed dress was now a real wardrobe's basic, didn't I (post available here) ?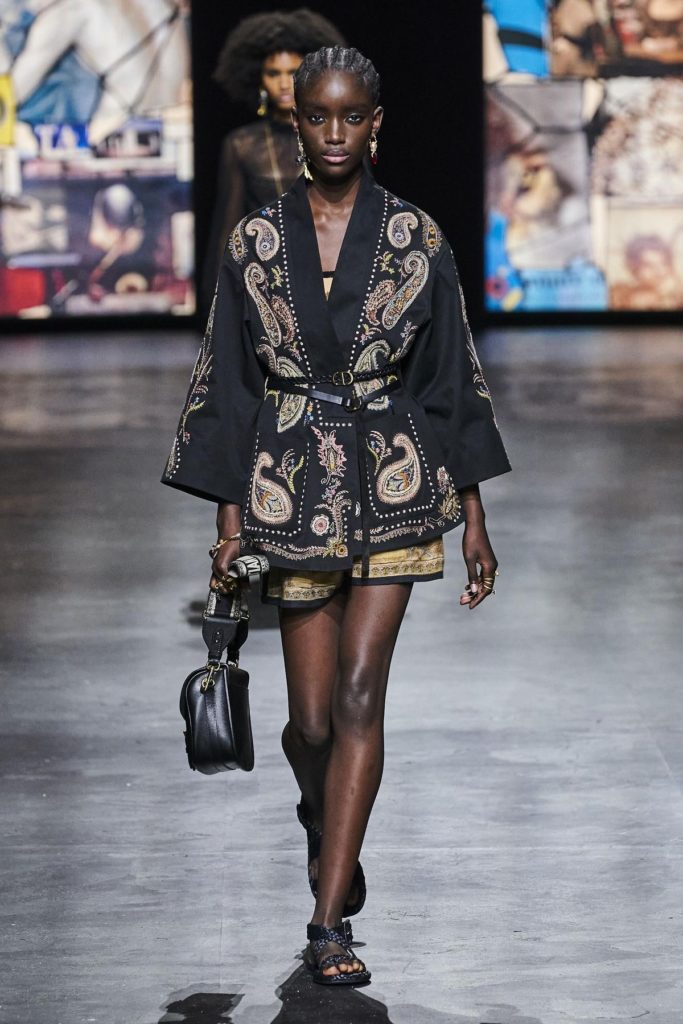 Les nouvelles tendances S/S 2021 qui en valent la peine / S/S 2021 trends that worth it
Strass et paillettes / Glitter everywhere
Sur les défilés / Fashion shows
Il ne faut pas croire que les strass et les paillettes sont réservés aux jours (ou soirées) de fête. En effet, pour la prochaine saison, la brillance et l'éclat sont de mise sur nos vêtements. Sequins, strass, lurex et autres matières qui nous éblouiront au soleil sont le prochain must have de nos garde-robes. Quoiqu'il en soit, il est temps de mettre des paillettes dans nos vies !
The belief that made glittering clothes festive pieces only is done. Indeed, next season, shining and sparkling with our outfits is a must have. Sequins, strass, lurex or any other radiant fabrics dazzling under the sunshine will automatically make a it-piece for our wardrobes. It is time to shine !
Dans la vraie vie / Real life
Il s'agit de traiter le vêtement brillant comme une pièce basique de la tenue, sans toutefois l'accumuler à d'autres dissonantes. Pour celles qui n'ont pas froid aux yeux, une grosse pièce comme un pantalon, une jupe ou une veste fera l'affaire. Pour les moins hardis, un accessoire discret sera un bon premier investissement. Pourquoi miser sur les paillettes ? D'abord, pour la dose de bonne humeur. Ensuite, parce que les paillettes vont et viennent sur les catwalks chaque saison. Le Covid nous empêche de sortir nos tenues de lumière en soirées ? Ok virus, nous les sortirons en plein jour pour t'éblouir : avec un teeshirt en coton, nos jeans préférés ou notre pantalon de tailleur. Nous ne manquons pas d'options pour appliquer cette tendance cette saison et celles d'après !
Just act like the sparkling clothes is a basic piece of our outfit. Beware of not adding a clashing trend to this. If you are brave enough you can choose a piece like a pair of pants, a skirt or a jacket. If you are more a cold feet person, it is ok to invest in a shining accessory for a start. So why should we add this trend to our wardrobe ? Nonetheless it brings good mood but this trend comes and goes every seasons on the catwalks. Did Covid prevent us from going out and wearing our party outfits ? WHAT-EVER ! We are going to slay by day : with a coton teeshirt, a pair of jeans or these trousers from our matching set. And there are so many cute outfits options with these sparkles that we will be brightening during this season and the next ones too !
Le rose / Think pink
Sur les défilés / Fashion shows
Parfois tomber en désuétude, le rose est de retour depuis l'avènement des couleurs pastels. Cette saison, nous le voyons et l'aimons sous toutes ses formes. Le rose pastel, le rose fuchsia ou le sequin rose, il est temps pour nous d'égayer nos tenues et d'accueillir les beaux jours en voyant la vie en rose.
Sometimes seen as totally out, too girly or too much, pink is back since the comeback of baby colours. This S/S 2021, we can see it and we will love it, whatever its shade. Baby pink, bright pink or pink on sequins, it is time for us to say hi to shiny days by seeing "la vie en rose".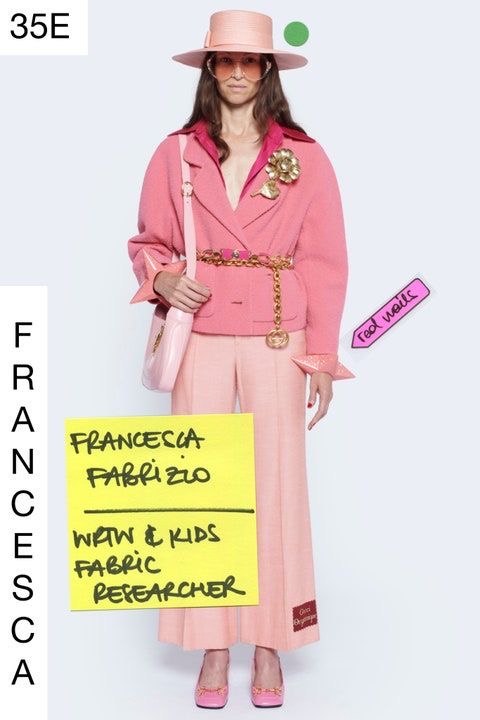 Dans la vraie vie / Real life
Il est parfait pour donner un teint radieux quand il est porté près du visage. Pourquoi ne pas alors investir dans un joli haut basique et de qualité dans cette couleur tendance ! Pour les autres pièces, il s'agit de se demander la facilité que nous aurons à les remettre les saisons suivantes. Le plus difficile semble à mes yeux être le pantalon rose. D'une part, parce qu'en pastel il est plus facile de le salir et plus souvent transparent. D'autre part, un pantalon reste une pièce importante de la tenue et c'est souvent la pièce qu'on aime prendre sans réfléchir. Quand un haut est facilement là pour introduire un peu de fantaisie et de vie près du visage, le pantalon sera la partie sans prise de tête. Quoiqu'il en soit, été comme hiver, le rose près du visage agit comme une BB crème, donnant bonne mine immédiatement.
Perfect for a radiant complexion when worn near the face, pink is a great investment when made in any type of top. Choosing a basic and high quality top is a great idea to keep rocking this trend during different seasons. When it comes to bigger pieces of clothes, the issues is the time you will take to find what will match with it. In fact, it is easier to choose something fancier on a top, because near your face, pink will act like a BB crème : instant bright complexion !
Sportswear
Sur les défilés / Fashion shows
Disons que la pandémie est passée par ici. Sur les défilés, pantalons de jogging flirtent avec blazers et autres pièces du vestiaire « travail ». Un nouvel uniforme est né, celui tout droit inspiré du télétravail : habillé en haut et relax en bas.
It seems like the pandemic just leaves some good things behind. On catwalks, joggings are matching blazers and other workwear pieces. A new uniform is born, directly inspired by this working from home area : dressed on the top and relax on the bottom.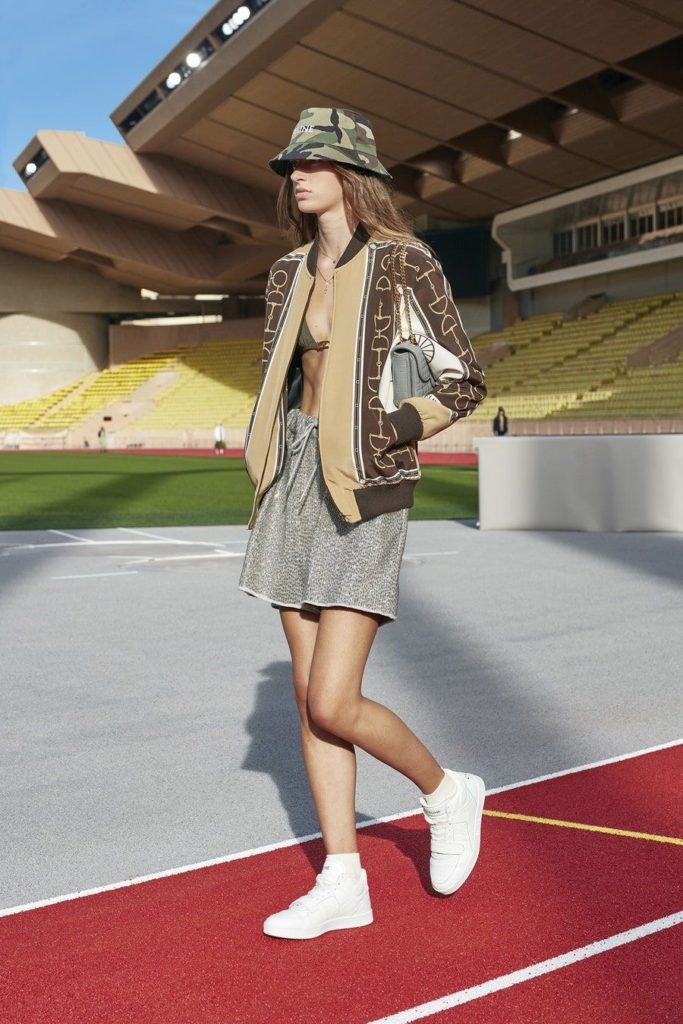 Dans la vraie vie / Real life
Rien de plus simple pour cette tendance, cela fait minimum plus d'un an que nous l'avons adoptée ! Un bas de joggings pour aller avec notre joli ensemble tailleur-pantalon, une veste sportswear avec des jeans, une casquette pour le style ou tout simplement une paire de baskets… Bref, cette tendance a toujours existé, elle n'était juste pas officialisée.
It is the easiest trend ever because we already adopted it for more than one year ! Jogger pants with our matching blazer and pants set, a sportswear jacket with a cool pair of jeans, a cap for more style, simple sneakers… You know, this trend exists for like for ever, it is just more recognized now.
En résumé / To sum up
Simples et efficaces, les tendances dégagées dans cet article nous permettrons de faire fureur avec peu d'investissements et peu de risques. Des pièces qui pourront être réutilisées par la suite, peut-être même des pièces que nous avons déjà dans notre garde-robe. Pas besoin de dépenser trop toutes les saisons pour être à la pointe de la mode. D'ailleurs, nous avons constaté ensemble que les tendances qu'ils ne fallait pas zapper l'hiver dernier (article disponible ici) sont toujours au goût du jour pour la prochaine saison ! Si tu es d'accord avec moi et que tu aimes suivre les tendances ou les découvrir avec moi, laisse un commentaire ! N'hésite pas à aller voir mon Instagram pour voir des illustrations faciles de ces tendances !
As simple as efficient, the trends we talked about in this post will make a difference. No need to spend too much money in new clothes every seasons. The secret is to choose the ones that will last and be easy to wear anytime. Remember one of the previous post about F/W 2020 trends (post available here), we just saw today there are still in ! We will be able to use them again and again during the next seasons, and maybe there are some items already owned in our dressing. If you agree with me and if you like discovering the different fashion trends with me, leave a comment ! You can visit my Instagram page to see how I imagine these trends with easy every days outfits !
Article tendances A/H 2020 / F/W 2020 trends post : ICI
Mon instagram / my instagram page : @marieliiily