Parlons peu, parlons culottes. Un sujet dont nous ne parlons pas assez, mais qui est pourtant important. Nous avons toutes eu cette sensation d'inconfort dans nos sous-vêtements. « Attends, j'ai un problème, ma culotte me rentre dans les fesses. ». « Oh ! J'ai mis une culotte qui me gratte… ». T'as compris, les culottes, les strings, les tangas et les shorties c'est joli, mais il y a souvent un truc qui cloche. C'est pour ces raisons que je te présente Muse underwear : des culottes confortables, saines, flatteuses ET durables !
I decided to talk about panties today. Why ? Because how often are we bothered by the underwear we are in ? It is unconfortable, it is itching, the fabric bothers us… So many reasons that make us think way to much of our underwear while it should be as light as feathers. In order to find a solution to this problem, let me introduce you a new underwear brand : Muse underwear ! Comfortable, healthy, flattering AND sustainable !
La création / Business creation
C'est Clémence, 24 ans, qui fonde Muse Underwear. Après des années à supporter des problèmes intimes qui la mène jusqu'à l'hôpital, elle se voit conseiller de ne porter que des sous-vêtements en coton certifié. Et, un jour, lassée du peu de choix qui s'offre à elle en matière de design pour ce genre de sous-vêtements, un flash lui apparaît : elle ne trouve pas les culottes qu'elle veut, alors elle va les créer ! Son but aujourd'hui ? Partager avec nous toutes cette aventure, entre innovation, bien-être (intime) féminin et respect de la planète.
Clémence, 24, is the creator of Muse underwear. After many years of personal hygiene problems that led her to the hospital, a doctor recommended her to wear only certified coton made underwear. Finally, she got bored of the classical coton panties designs and their prices, so came a brainwave : if she cannot have the panties she wants in stores, then she will create them. Today she has one main goal : sharing with us this adventure. Between innovation, personal hygiene well being and sustainability.
Les particularités / Characteristics
Pourquoi les culottes Muse underwear ne sont pas comme les autres ?
Why Muse underwear panties are unusual ?
Le confort / So confortable
D'abord, elles sont confortables. En effet, grâce à leurs coutures particulières, elles ressemblent à des culottes sans coutures. Et pourtant, aucun risque qu'elles finissent par s'enrouler sur elles-mêmes (tu piges ?). En plus, les élastiques ont été enlevés pour éviter que le sous-vêtement ne serre trop ou ne gêne. Plus de culotte qui rentrent dans les fesses, qui serrent le ventre ou les cuisses ! Liberté ! Et pourtant, ne confondons pas confort et manque d'esthétique. En effet, les culottes Muse underwear sont faites pour mettre en valeur toutes les silhouettes féminines. Une marque inclusive pour que chaque femme plaise et, surtout, qu'elles se plaisent : #beyourownmuse. Ce sentiment est renforcée par la variété de tailles proposées : du 34 au 48 !
First of all, these panties are very confortable. Indeed, owing to their particular stitchings, they look like seamless underwear. But still, they will not coil like usual seamless panties (you know ?). Moreover, they are no elastics so no risks to feel uncomfortable : freedom ! Still, do not mistake this comfort with a lack of attractiveness. Actually, these underwear are made to enhance every single shapes. Indeed, we are talking about an inclusive brand which let us appeal anybody, us first : #beyourownmuse. This inclusiveness is also here when we speak about the different sizes to shop : from 34 to 48.
Des culottes pussy-friendly / Pussy-friendly panties
Ensuite, l'avantage non négligeable des culottes Muse underwear c'est leur matière. En fait, elles ne sont pas faites en coton, mais en Modal. C'est une fibre biodégradable et douce qui permet de limiter le développement des bactéries. En plus, avec cette matière, l'hydratation intime est aussi préservée, ce qui évite des problèmes intimes comme les mycoses, l'eczéma, la sécheresse et tout autre type d'inconfort intime. Enfin, grâce au processus de fabrication de la fibre (made in France), celle-ci est exempte de produits toxiques et c'est certifié Oeko-Tex 100.
Then, the main benefit of the panties, and the most significant, is the fabrics they are made of. In fact, they are not cotton made, but Modal made. Actually, it is a biodegradable and soft fabric which is pussy-friendly. Indeed, the bacteria development is avoided and personal hydration is maintain in order to avoid personal problems as mycoses, eczema or anything else. Finally, the fabrication process of the Modal (made in France) is free from toxic products and it is Oeko-Tex 100 certified.
Une marque pour la planète / A sustainable brand
Enfin, en plus d'utiliser une matière biodégradable et fabriquée en France, Muse underwear a pris d'autres engagements en faveur de l'environnement. En effet, grâce à la transparence stricte que Clémence s'impose, tout le processus de fabrication des sous-vêtements nous est expliqué. Comme ça, nous saisissons que le maximum est fait pour que l'impact de Muse underwear sur la planète soit minimisé.
More than just using a biodegradable fabric, Clémence wants a real transparency. Then we can understand that the best is done to avoid a negative impact on the environment during the underwear's manufacture.
Fabrication / Production
Après la fabrication du Modal en France, le gaspillage du tissu est réduit au maximum grâce à un processus de découpage spécifique. Après cela, c'est une entreprise familiale française qui assemble les parties découpées pour les culottes.
After the manufacture of the Modal in France, a special process is adopted to avoid any fabric waste. Then, a French family business gathers the different panty parts.
Envoi / Packaging
Enfin, pour les colis, l'emballage est recyclé et recyclable. Il y a même une option qui permet de recevoir un emballage réparable et recyclable qui se dépose dans la boite aux lettres. Cerise sur ce merveilleux gâteau: un système de collecte des culottes usagées est mis en place. En effet, comme elles sont aussi composées d'un peu d'elastane pour le confort, elles ne sont pas biodégradables à 100%. Muse underwear réalise une véritable prouesse en étant la première marque circulaire de culottes made in France !!!
Finally, the packaging are recycled and can be recycled too. Moreover, there is also an option that allows to repair and reuse the packaging after letting it in our mailbox. Icing on the cake : we are able to send back our well-worn panties. Indeed, as they are also made of elastane to make them confortable, there are not 100% biodegradable. In fact, Muse underwear is managing a great achievement by being the first totally sustainable underwear brand made in France !!!
Mon expérience / As a customer
J'ai eu connaissance de Muse underwear grâce à Clémence. Elle m'a contactée sur Instagram pour m'informer de l'existence d'une campagne Ulule pour ses culottes. Fort intéressée par l'aspect pussy friendly et éco responsable des sous-vêtements, j'ai immédiatement fait une contribution – en octobre 2020 il me semble. La campagne ayant atteint le budget nécessaire, Clémence a pu ouvrir un site internet pour Muse underwear, désormais disponible. Quant à moi, j'ai reçu mes culottes en février 2021. Le coup de foudre a été immédiat lorsque j'ai touché leur matière. Les coupes sont également superbes et me mettent à mon avantage. J'ai choisi un tanga et une culotte. Les deux sont très confortables et s'oublient rapidement au cours de la journée. Un sous-vêtement, quelque soit le modèle, coûte 25 euros. Des tarifs dégressifs s'appliquent pour l'achat de packs (dont un pack 7 culottes !!!). En plus ces packs sont totalement personnalisables ce qui est plutôt rare !
At first, Clémence sent me a private message on Instagram to tell me a Ulule campaign was online for Muse underwear. As I was looking for pussy friendly panties, the sustainable aspect of the one designed by Clémence really attracted me. I contribute to the campaign in October 2020. As the required budget was reached, the website was then created, and its now live. As for me, I received a tanga and a panty during February 2021. I was directly seduced by the soft fabric. Moreover, the shape fits me so well. Most of all, I forget easily both designs when I were them. One underwear costs 25 euros and the prices decrease when you buy a set (there is one of seven panties !!!). Indeed, these are totally customising packs, which is quiet rare !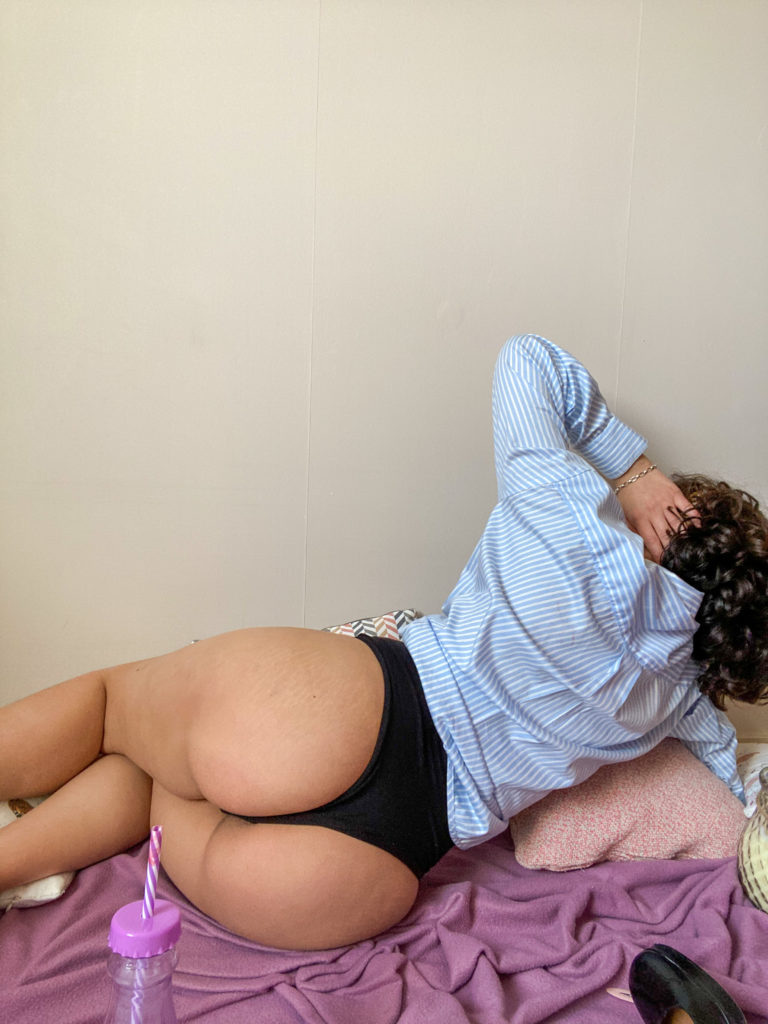 En résumé / To sum up
Les culottes Muse underwear sont clairement les culottes du futur. Elles allient des points essentiels, autant pour notre bien-être que celui de la planète. Leur prix est accessible pour un grand confort et une flore intime préservée. Cette dernière n'est d'ailleurs pas la seule à être préservée puisque, avec le principe de transparence comme clé de la marque Muse underwear, la planète est elle aussi prise en compte. Et, pourtant, toutes ces considérations ne nous conduisent pas à négliger l'aspect esthétique des culottes qui nous iront à toutes, selon les études faites par Clémence. Alors, ces culottes c'est un grand oui pour toi aussi ? N'hésite pas à me le dire en commentaires, une vidéo sera en ligne sur ma page instagram pour que tu les vois en mouvement !
Muse underwear panties are made for our future. In fact, they as good for us as they are for the planet. With their reasonable price, we can be sure wearing them will make us feel confortable without altering our personal hygiene. Furthermore, owing to the transparency principle of the brand, we can be sure that the best is done to make these underwear sustainable. But, still it does not exclude the aesthetic aspect of the underwear, with designs that will make us all sexy owing to Clémence search on the subject. So, isn't it a yay for you too ? Tell me in the comments section, and dont hesitate to visit me on the gram because a video will soon be live for you to be able to see the panties better !
Site internet : museunderwear.com
Instagram : @muse.underwear