Le temps du premier article sur mes achats mensuels est arrivé p'tit pote ! Premier mois de l'année 2022, celui où nous faisons habituellement un bilan, comme une page blanche qui est commencée. Le moment idéal pour repartir sur de bonnes bases en matière d'achats mode pour l'année à venir ! Nous n'abandonnons donc pas notre tradition de listing des achats du mois passé afin de constater leur utilité, leur nombre et leur provenance pour que, ensemble, nous mesurions notre évolution sur l'échelle de la responsabilité mode. Sans plus attendre, commençons !
English
This special time of the first post of the year about the monthly purchases has come lovely ! First month of the year, we are all making check ups and opening like a whole new book. In fact, it is the perfect moment to start fresh on our path to a more sustainable way to live with fashion. Yes, we are not leaving behind our good attentions and our listing of the purchases we make each months. Indeed, we are continuing in order to find out about their real use, their quantity and where they are coming from to see how far we can progress in our sustainable fashion habits. Let's go !
Bottes vintage Gucci
Français
Au début de l'automne 2021, j'ai fait le tour de mon shoesing et je me suis rendue compte que je n'avais aucune paire de bottes. Du coup, j'ai commencé à rechercher des essentiels bottes qui ne seront pas rapidement démodés et/ou abimés. Dans un premier temps, j'ai craqué pour les bottes Musier Paris (j'en parle ICI). Des bottes noires, avec un talon confortable, qui peuvent se porter tous les jours avec tout. Puis, une drôle d'idée m'est venue : des bottes monogrammées. J'ai opté pour des bottes en toile Gucci, dans la couleur classique (marron/beige). Le talon étant assez petit, elles sont faciles à porter et twistent clairement toutes mes tenues. En plus, elles étaient déjà là dans les années 1990-2000, il est donc clairement logique de les mettre dans les intemporels puisqu'en 2022 elles sont encore là plus que jamais (CQFD) ! Bonus, je les ai trouvées à 150€ sur Vinted.
English
First of all, at the start of 2021 fall, I just figured out I did not own any pair of boots. Then, I decided to find some as it is quiet useful for the fall and winter season. In fact, I started with buying a black pair of boots from Musier Paris (presenting them HERE) with heels, but confortable, matching everything. After that, a strange thought came into my mind as I thought I could continue my collection with something unexpected and yet timeless : Gucci monogram boots. Well, I know that's strange to say they are timeless, but look, they where here during the 90's-00's and they back : isn't it what we can call timeless ? Plus : I had them for 150€ on Vinted !
La jupe Fran burlesque chez Yveline Lubin
Français
Écoute, que dire quand tu vas voir les photos de cette jupe je n'aurai pas besoin d'arguments. Repérée sur la page Instagram de Yveline Lubin – qui propose des pièces faites main à la commande dans des matériaux recyclés – j'avoue que de toutes les versions de la jupe Fran, celle-ci avec la moumoute m'a fait battre le coeur très fort. Le truc de cette parfaite jupe noire, c'est la fente sur le côté. J'ai déjà la petite robe noire Vanida de Vanibe dans cette idée, mais cette hiver j'ai eu du mal à la mettre sous tous mes pulls car parfois, le décolleté ne matchait pas. Le problème est donc réglé !
English
Listen, what can I say you will immediately understand the crush when you will see it on the picture ! In fact, I saw the Fran skirt on Yveline Lubin Instagram page – she is making handmade to order pieces with forgotten fabrics. Every versions of this Fran skirt were perfect but of course I had to chose the one with the little fur, I mean. Moreover, this split on the side is just what made my heart beat faster. But, I know what you are thinking as I already own the Vanibe dress with the same split but without the fur. Still, I could not wear it under every knitwear I own as the neckline did not match them all. Here, the problem does not exist !
Chez Esson
Français
Esson est une marque de prêt-à-porter et accessoires upcyclés créée par Naomi. Durant le mois de décembre, j'ai remporté un top Lizata grâce à un concours organisé par We slow sur Instagram. C'est clairement le modèle phare de la marque qui fabrique ses vêtements en France à partir d'anciennes matières non utilisées. A côté, j'ai commandé un cropped top trop cute à imprimé reptilien que j'ai entrevu dans les story Instagram de la marque… Naomi l'a ajusté à ma taille et hop j'ai tou reçu en janvier ! J'adore les cropped top car ils sont stylés avec un pantalon de costume ou un jean taille haute. Bonus : ils me donnent l'impression d'avoir des abdos (haha). En plus, l'imprimé animal ne se démode jamais. Quant au top Lizata ! J'ai craqué dès le moment où Naomi l'a présenté sur sa page Instagram, je suis donc aux anges de l'avoir remporté et de pouvoir te montrer à toi, p'tit pote, le travail réalisé chez Esson !
English
Esson is a brand of upcycled clothes and accessories created by Naomi. During December I won an top Lizata owing to an Instagram contest on We slow page. Then I saw a little reptilian cropped top in Esson's stories so I purchased it to match costume pants and high waisted jeans. In fact, I really like the style it can give to outfits AND I just have the illusion I have abs with it (haha). Plus, the animal prints are still a great trend coming back every year.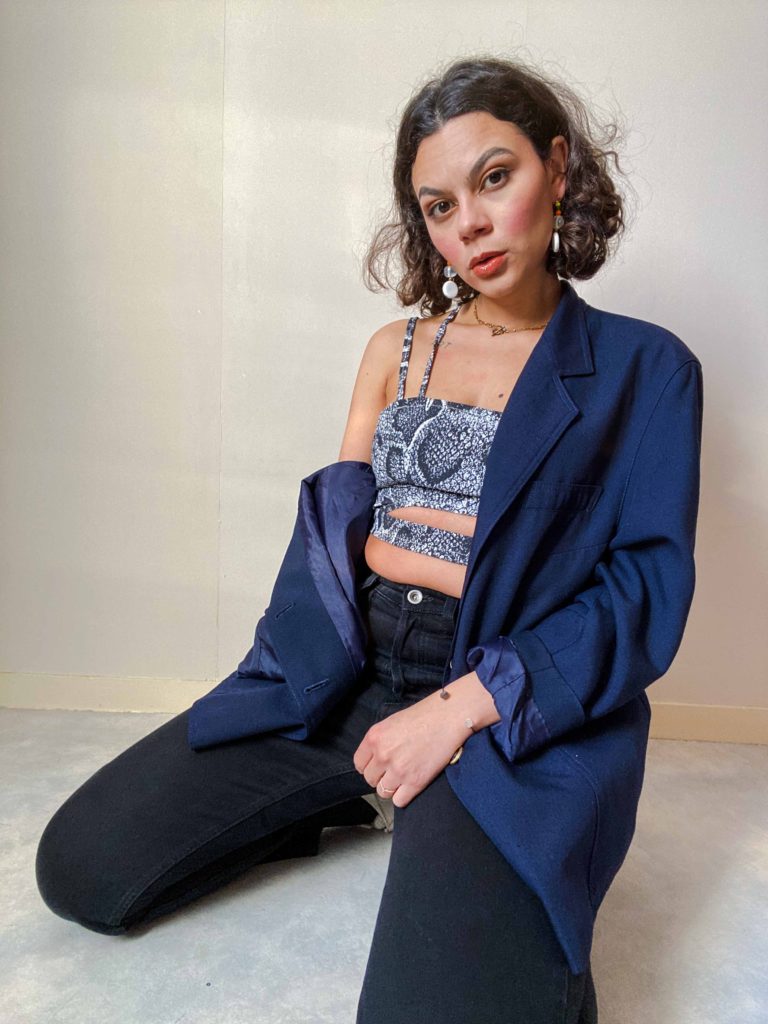 La chemise blanche Poule Mouillée
Français
Attention, dans un instant, révélation : je n'avais pas de chemise blanche dans ma garde-robe ! Oui, je sais, et pourtant c'est une pièce qui est toujours énumérée quand nous parlons des basiques à avoir dans un dressing ! Bah oui p'tit pote nous sommes d'accord ! Et c'est bien compréhensible parce qu'en vrai tu l'as mets avec tout non ? Habillée avec un pantalon de costume, relax avec un jean ou une paire de leggings, sexy avec une jupe ou avec un corset superposé dessus… bref, les exemples ne manquent pas. Alors, j'ai décidé de passer le pas de la chemise blanche avec celle proposée par Poule Mouillée. Faite main en France à partir de tissus oubliés, sa coupe est splendide. Je l'ai pris en L pour pouvoir la porter oversizes, voire en robe tu vois ! Best chemise ever !
English
Well, in a few moment a huge revelation lovely : I did not own any white shirt. I know ! Isn't it one of the basic to own in a wardrobe ?! Of course, we agree ! And that is normal as it match everything : fancy with man trousers, comfy with jeans or leggings, sexy with a skirt or a corset on the top… so many examples. Then I chose the Poule Mouillée one. Hand made in France with forgotten fabrics, the cut is just perfect. Indeed, I pick up a L size to wear it oversize and maybe as a dress.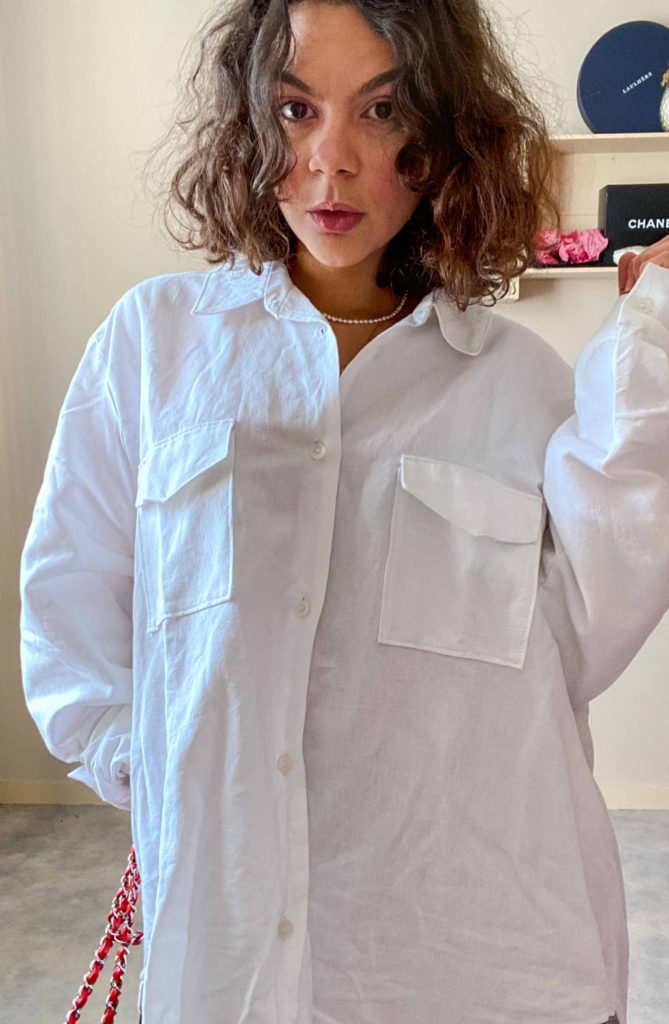 Du Gianfranco Ferré vintage chez Jeannette shop
Français
En réalité, je dois bien l'avouer, j'avais repéré ce tailleur jupe Gianfranco Ferré chez Jeannette shop depuis le mois de décembre… J'ai donc été très sage, car étant donné la force de l'imprimé zèbre, j'ai préféré y réfléchir à deux fois avant de l'acheter pour au final ne pas le mettre. Un mois plus tard, l'ensemble repéré grace à Joséphine (dont je parle ICI) était toujours dans mon esprit et j'étais définitivement prête pour adopter un look digne de Fran Fine. Une qualité incroyable pour des pièces fortes qui twistent les looks les plus basiques, c'est le tailleur jupe qui fait wow ! Encore une bonne pêche chez Jeannette shop.
English
In fact, I should admit I saw this Gianfranco Ferré set on Jeannette shop back in December… Then I was very wise and waited a while before getting it. Indeed it is a strong zebra print so I thought twice to be sure I would find it easy to wear. One month later, this set was still in my mind so I was definitely ready to adopt the Fran Fine look. Great quality and strong pieces that really twist so many outfits. This set is really the wow effect every outfits need. Another great pick at Jeannette shop.
En résumé / To sum up
Français
Verdict pour ce premier mois de l'année 2022 ? Plutôt pas mal pour commencer l'année : cinq achats et une pièce gagnée à un concours. Un combo de pièces faites main avec des matières upcyclées et de seconde main pour composer des tenues canons autour de bons basiques ou de pièces fortes qui donnent l'effet wow à un look. Tu as une pièce préférée dans celle de ce mois-ci p'tit pote ? Et toi, qu'as-tu acheté ?
English
So what is the verdict for the first month of 2022 ? Well, not that bad with five bought pieces and one won during a contest. In fact, a perfect combo with handmade pieces with upcycled fabrics and preloved items to compose hot outfits. Perfect basics and strong clothes. So what's your favorite piece of this list lovely ? What about you, what did you bought this month ?
Ma page Instagram : @marieliiily
Ma page YouTube : Marieliiily
Ma page Tik tok : @marieliiily