Après une semaine de pause composée de tri intense de photos et vidéos issues de mes shootings maisons pour le blog et pour Instagram (ICI), le blog est de retour avec notre rendez-vous mensuel. Et oui, il est déjà temps de faire le point sur nos achats du mois précédent ! Ont-ils été aussi utiles que ce que notre tête a essayé de nous faire croire ? Était-ce encore une mauvaise idée qui va finir dans nos placards ou sur Vinted ? Apprenons ensemble à déceler les futurs regrets, p'tit pote, afin de diminuer notre consommation !
English
In fact after, one week of break to classify the homemade pictures and videos for here and for the Gram (HERE), here I am again for our monthly tradition ! Indeed, yes it is already time to analyse the last month purchases to see if they were useful or just doubtful. Let's learn together how to stop buying and consume things that will finish in the regret list !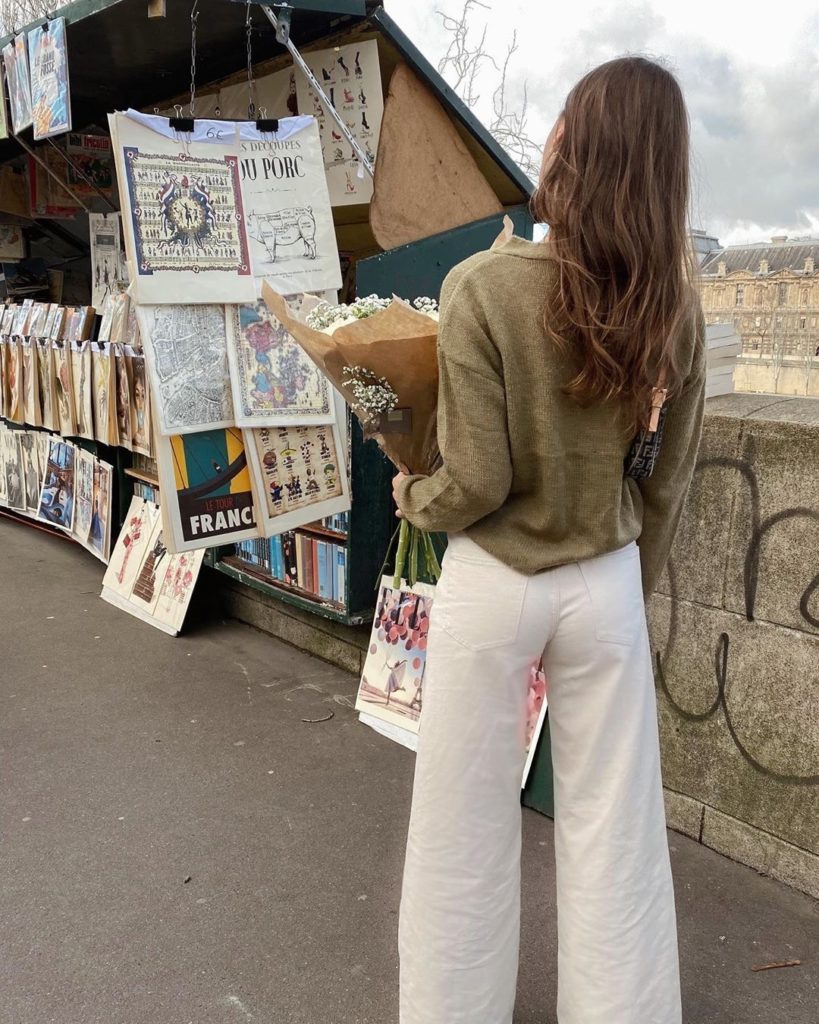 Mes bagues Gigi-Antoinette / Gigi-Antoinette rings
Français
C'est de manière impromptue que j'ai craqué pour trois bagues de chez Gigi-Antoinette ! En effet, après l'achat de mes boucles d'oreilles en juillet (ICI), j'ai été faible en regardant les stories de la marque sur Instagram (ICI)… Je me suis convaincue en justifiant cet achat par mon besoin de bijoux sympas, que je puisse mettre tous les jours sans réfléchir. En effet, je pense peu à m'accessoiriser au-delà des boucles d'oreilles, le seul automatisme bijoux que j'ai. Dès lors, quand j'ai vu ces beautés surcyclées à partir de bijoux anciens au prix de 25€ pièce, j'ai dit oui… Trois fois ! Elles sont bien évidemment mises à la taille de mes doigts par la créatrice (emoji cœur) et je les mets trèèèèèèès souvent (à peu près tous les jours). Du coup, souviens-toi que si tu aimes l'univers Gigi-Antoinette, tu peux utiliser le code « MARIELILY10 » sur le site de la marque. Grâce à lui, une réduction de 10% s'appliquera sur ton panier ! On dit merci à Clara de gentiment nous proposer ce code !
English
Of course, it is by watching stories on the Gram that I instantly crushed on three rings from Gigi-Antoinette (HERE). In fact, after buying my beautiful earrings during July (HERE), I had another weakness for the upcycled jewels Clara is designing from vintage ones. Actually, I thought it was a great idea to buy few rings as I do not own a lot of them. However, that is one of the only piece of jewellery I can easily put to elevate an outfit effortlessly. Moreover, these rings were 25€ each and they were completely adapted to the size of my fingers by the designer of Gigi-Antoinette (heart emoji). In fact, of course, I wear them daily. Finally, remember thatif you love Gigi-Antoinette's mood, Clara kindly offered us a promo code to get a 10% discount by using the code "MARIELILY10" on your basket !
Un ensemble Mina storm (offert) / Mina storm set (offered)
Français
Je suis Mina storm depuis un moment sur Instagram (ICI). En effet, j'ai toujours trouvé que les produits que la marque propose semblaient confortables, de qualité et dans des couleurs pratiques mais désirables. En plus de vendre de la lingerie, des maillots de bain et des culottes menstruelles, Mina storm le fait avec un supplément d'âme grâce à des modèles photos qui ont l'air d'être vrais, des personnes qui nous ressemblent, avec un corps vivants au lieu de simili-corps retouchés. Ceci étant un sujet assez important et une marque vraiment chouette que je tiens à remercier encore une fois pour cet ensemble merveilleux (emoji cœur en flammes), je la mentionne rapidement dans cet article mensuel, mais je pense en faire une revue complète sur cette page ! Dis-moi en commentaire si ça te dit !
English
Again, it is on Instagram (HERE) that I am following Mina storm for a while now. In fact, I always thought their products looked so comfortable, with a good quality and the colours they are choosing are always handy for everyone yet attractive ! Nevertheless, Mina storm is not only designing lingerie, swimsuits and menstrual knickers, they are also showing it with something more. Actually, it is something that makes us feel good about ourselves, without any hang-up as the shootings made by the brand are with true life models, no retouched pictures of fake bodies. Indeed, as it is a hot topic and as the brand is so marvellous, I only mention the set here to say thank you again to Mina storm. In fact, I would like to wrote a whole review on the brand and their products later on the blog ! Tell me in the comments section if you would like it.
Le collier Karma de 26 Juin bijoux / Karma necklace from 26 Juin bijoux
Français
Je possède déjà un bracelet de la marque 26 Juin bijoux que j'ai, encore une fois, découverte sur Instagram (ICI). En effet, il s'agit d'un bracelet mi-perles girlies / mi-chaîne dorée que j'ai eu à noël en 2020. Mais, depuis la sortie des colliers « Amour » et « Karma » avec des perles en Morganite pastel… je louche dessus et j'économise pour me m'en acheter un sans que cet achat ne passe pour un acte irréfléchi (encore un) ! Finalement, j'ai profité de mon anniversaire pour le commander et me le faire offrir (en partie). Je l'ai choisi en version « Karma » (parce que l'Amour ça va 5 minutes). Sans grande surprise je le mets tous les jours tellement il est stylé ! En plus, je suis pas mal branchée lithothérapie – ce qui tourne autour des pierres semi-précieuses et leurs vertus – et la morganite est une pierre qui apporte paix, amour et douceur (tout moi, haha). Je ne suis donc pas déçue de ce deuxième achat chez 26 Juin bijoux puisque la qualité est encore une fois au rendez-vous !
English
In fact, I already own a bracelet from 26 Juin bijoux, a brand I discovered on Instagram (HERE, again and again). Actually, it was a bracelet I had for Christmas in 2020 and it is half princess pearls / half a golden chain. Since, I wear it anytime someone can fasten it around my wrist ! Nevertheless, I was unable to think about another necklace since the "Amour" and "Karma" ones dropped at 26 Juin bijoux. Indeed, they are just gorgeously made with morganite pearls in pastel tones. So, I chose to put money aside to afford it without making it look like an impulse buy. Finally, I was able to offer it to myself for my birthday with a little help. In fact, I purchase the "Karma" version (enough about love) and I can wear it everyday ! Moreover, I love lithotherapy – what revolves around the semi-precious gems – and the morganite is all about love, softness and peace (me in other words, haha). Again, I am not disappointed by 26 Juin bijoux jewels, their design and their quality !
En résumé / To sum up
Français
Je pense qu'il est clair que j'ai réussi à diminuer mes achats de manière drastique pour la première fois depuis que je me suis fixé le challenge !? En effet, la rédaction de ces articles mensuels m'a fait me rendre compte que j'achetais énormément de produits ! Alors, c'est bien joli de parler de mode responsable et de ne consommer plus que ça pour t'en parler encore plus (tu sens l'excuse), mais est-ce que cette démarche suffit pour avoir un impact sur la consommation gargantuesque de mode ?! En réalité, je ne crois pas. Je crois que, certes, acheter de la mode responsable c'est 100 fois mieux que de la fast fashion (voire plus), mais en en consommant autant, mon dressing se remplit quand même et, avec ça, le risque des achats superflus augmente ! Donc, je suis fière d'avoir pu limiter mes achats à deux articles pour ce mois d'août ! Et, spoiler alerte, je crois que je tiens le bon bout pour le mois de septembre !
English
Well, I guess I finally succeed in buying less items in a month, as I wanted to challenge myself a long time ago !? In fact, writing these monthly posts really made me realise how much fashion I was buying ! So, of course the items are only sustainable fashion and it is way better than still buying fast fashion only, but still… Buying is still buying and it is making my wardrobe even fuller which is increasing the risks of fashion wastes and unuseful purchases. Nonetheless, I do not think choosing sustainable fashion is enough to make the fashion market less impacting on the environment if it is chosen excessively… So I am quiet proud of the effort I made during August and, spoiler alert, I guess September will be a good month too !
Ma page Instagram : @marieliiily
Ma page YouTube : Marieliiily
Gigi- Antoinette : gigiantoinette.com
Mina storm : minastorm.com
26 Juin bijoux : 26juin-bijoux.com