P'tit pote, pour tout t'avouer, cette semaine, j'ai mis du temps à trouver le sujet de cet article… Alors, j'ai fouillé les tréfonds de mon imagination et j'allais arriver avec un article très original sur les tendances de cet automne qui à adopter sans risque de regrets. Néanmoins, je me suis dit que ça ne changeais pas trop de d'habitude et, qu'en plus, je n'allais certainement pas avoir le temps de faire des recherches approfondies sur lesdites tendances. Puis, lors d'un dialogue interne avec moi-même, j'étais en train de peser le pour et le contre d'une envie que j'ai contracté il y a quelques mois déjà : acheter des ballerines ! Du coup, m'est venue l'idée d'en parler avec toi plutôt que de continuer ce dialogue interne car, il faut l'avouer, j'ai déjà énormément de conversations avec moi-même à avoir sans cette histoire de ballerines ! Faisons le sous forme d'une série sur les « unpopular opinion », ces choses qu'on aime en secret ou que tout le monde aime mais pas nous !
English
Hey lovely ! I should say the truth by telling you I really had a hard time finding a subject for this week post… Even when searching deep deep down in my imagination I was not able to find anything but the classical post about this autumn trends you can buy without regretting it later. In fact, nothing new. Moreover, I would not have the proper time to make enough research about the aforesaid trends. Suddenly, during a passionate dialogue with myself I was considering buying a new pair of shoes which can totally be classified as a guilty pleasure : a pair of pumps ! That's why I had the idea to talk about it directly with you as the number of chats with myself is way to numerous to add this pumps problem !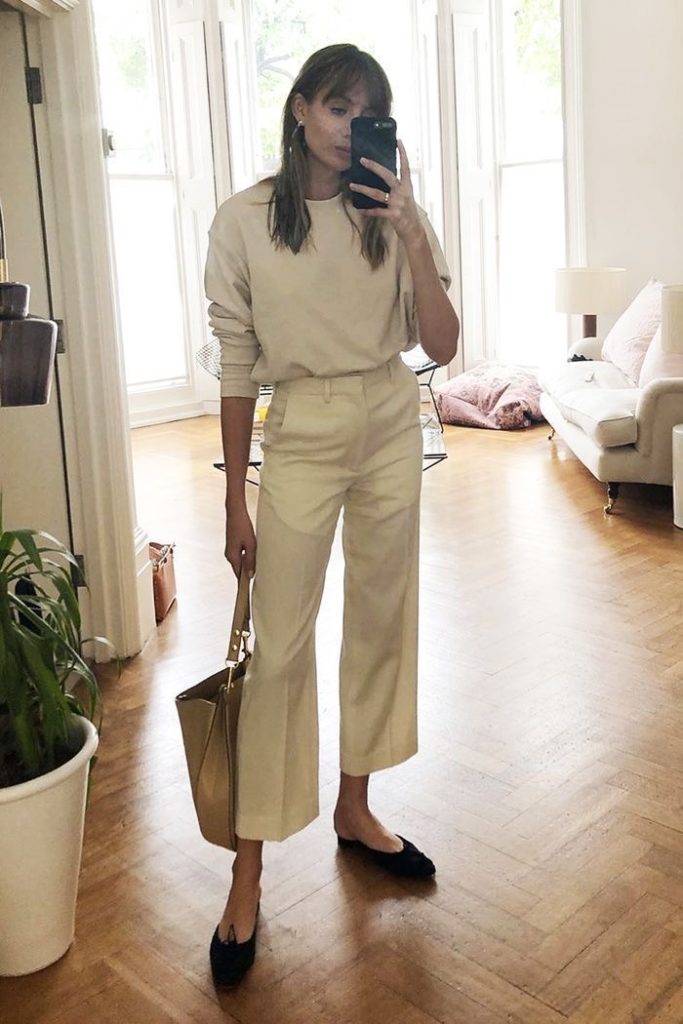 Génèse rapide / Quick genesis
Français
C'est vrai, après avoir été chérie et usée pendant une décennie dans les années 2000, la ballerine a été jetée au placard de la honte, telle une malpropre. Je me souviens que les rayons de la fast fashion étaient remplis de ballerines, elles existaient en moult coloris et déclinaisons de modèles. Aussi, la ballerine Repetto était l'ultime ballerine à avoir ! Rien n'était plus tendance que le combo jeans slim/ballerines ! Et, un jour, patatras ! La ballerine a été montrée du doigt. Il était carrément has been de porter cet objet. La ballerine est devenue une paria et l'ère de la sneakers a commencé. Pourtant, certaines marques essaient aujourd'hui de lui donner un second souffle… Mais rien n'y fait, ça ne prend pas.
English
Well, after a decade being the top of the shoes, the pumps have been considered as trash at the end of the 2000's. Indeed, before being replaced by the sneakers everywhere on the streets, all you were able to see in fast fashion shops were pumps. In fact, multiple colours or multiple designs were showed and the must have were Repetto's ballet flats ! Also, nothing was more trendy than the famous combo slim/ballerina pumps ! Nowadays, wearing pumps is considered as a fashion crime, even when some brands are trying to give it another shot.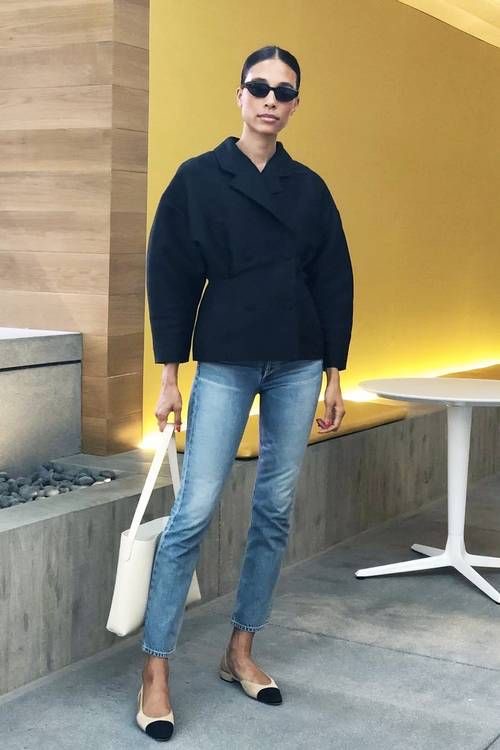 Pourquoi des ballerines / Why ballerina pumps ?
Français
Aujourd'hui, quand on y réfléchit, si on veut porter une paire de souliers confortables, parce qu'on a pas forcément la foi de mettre des talons, tout en voulant avoir l'air plus sophistiquée que quand on met nos sneakers, quelle est l'alternative ? En été, c'est sûr, les sandales nous sauvent la mise ! Mais, si cet automne je n'ai pas envie de me casser la tête à réfléchir qu'elle paire de chaussures plates je vais mettre avec ma tenue, peu importe laquelle, quel autre choix s'offre à moi que les baskets ? C'est vrai, on était super contente quand les chaussures de running et les fameuses Stan Smith n'étaient plus des trucs à porter que pour faire du sport, mais maintenant… On nous dit que les ballerines sont moches. Pourtant, je n'ai pas envie de mettre une bottines ou une botte, je veux passer toute la journée dans mes souliers sans souffrir de martyre… Je fais quoi ?
English
When we think about it, what are the different options when we want to wear confortable shoes because we are not masochistic enough to wear heals but, we also do not want always wearing sneakers ? During summer, clearly sandals are our savoirs, but what about the rest of the years ? What if I do not want to think eternally of which shoes match with my looks every mornings during this autumn ? What if I am done with sneakers and not in the mood for boots ? Of course, we were so happy to see these sneakers being trendy for something else than the running we are not even thinking about doing, but now… I would like to be fancy sometimes you know, a level fancier than with every pairs of white sneakers I own… Ballerinas pumps are supposed to be out of fashion, ugly and forbidden but I would like to be fancy without suffering in my high heels please !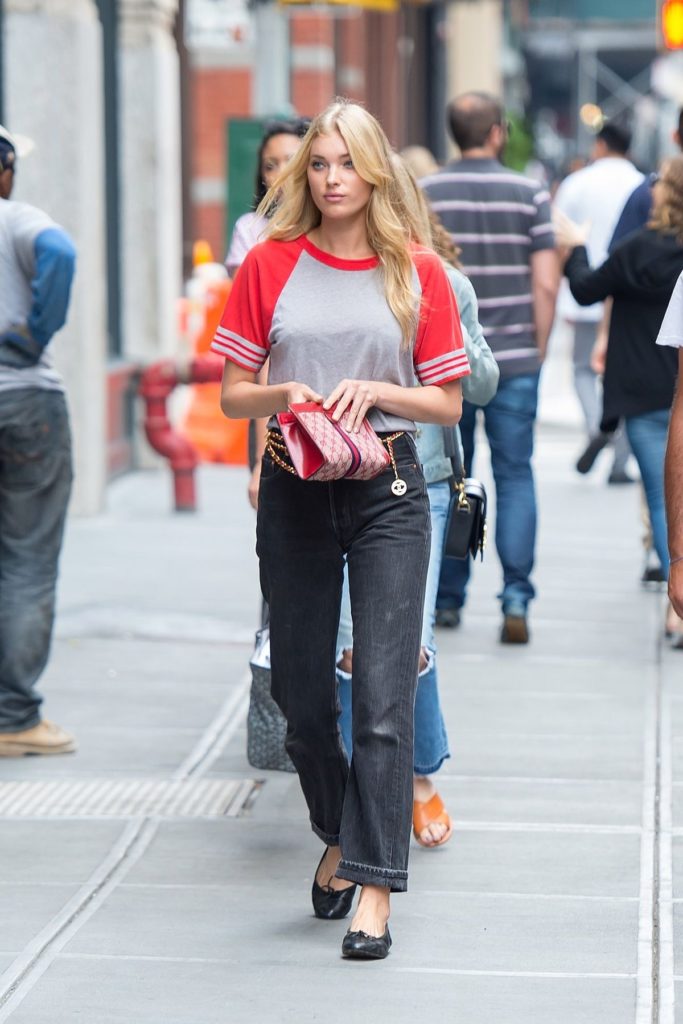 Alors qu'est-ce qu'on fait ? / So, what should we do ?
Français
Pour répondre à la question du dernier paragraphe : je décide d'assumer mes ballerines ! Bon encore faut-il que j'en trouve qui me plaisent. Mais, quand on y réfléchit, la mode est devenu un terrain glissant fait de choses à faire et à ne pas faire, à mettre et à ne pas mettre. Je croyais pourtant que c'était censé être un espace pour exprimer librement sa personnalité et sa créativité, non ? Parce que sinon, coucou nous voilà tous et toutes habillé(e)s pareil ! Bref, si je n'ai pas envie de me prendre la tête en m'habillant, que je n'ai pas envie de mourir des pieds dans des talons, mais que j'ai envie d'upgrader un peu ma tenue au-delà de mes baskets blanches habituelles… Bah je vais me trouver des ballerines noires p'tit pote ! Je vais faire fi des regards méprisants se dirigeant vers mes délicats pieds chaussés de ballerines. Je vais aussi ignorer la règle qui dit que j'aurais l'air d'une naine de jardin du haut de mes 1m59 juchés (ou non) sur des ballerines ! Je vais rechercher des ballerines de seconde main, et je pense me diriger vers une paire de Chanel noires. Autrement dit : on porte ce qu'on veut diantre ! Je veux dire, le bob est bien revenu à la mode alors bon… (haha, j'adore les bobs en plus)
English
That's why – for my own comfort and using less time thinking about shoes in the morning to fatally ending wearing sneakers – I decide to be OK with wanting pumps ! Of course, I need some that appeal me but still… Is not fashion supposed to be this unlimited field where we are all able to express ourselves and our personalities ! It seems like now it is only paved with does and donts ! In fact, I do not want to suffer in my shoes, I do not want to always be wearing the same old sneakers and I do not want to let my shoes get to me in the morning because I do not know what to do just because someone decided one day that we are all done with ballerina pumps, you know. Goodbye scornful looks at my delicate feet wearing pumps ! I do not care if I am looking like a child wearing them as I am only 1m59 ! I will find preloved ballet pumps and embrace them with every great outfits I have in my mind when I am not in the mood of streetwear whatever or feminine with heels bullshit ! In fact, in my mind, it would be gorgeous vintage Chanel pumps in black ! Still, the main thing to know about this whole though is : damn it, wear whatever you want babe ! I mean bucket hats are fashionable again so… (And I also love them)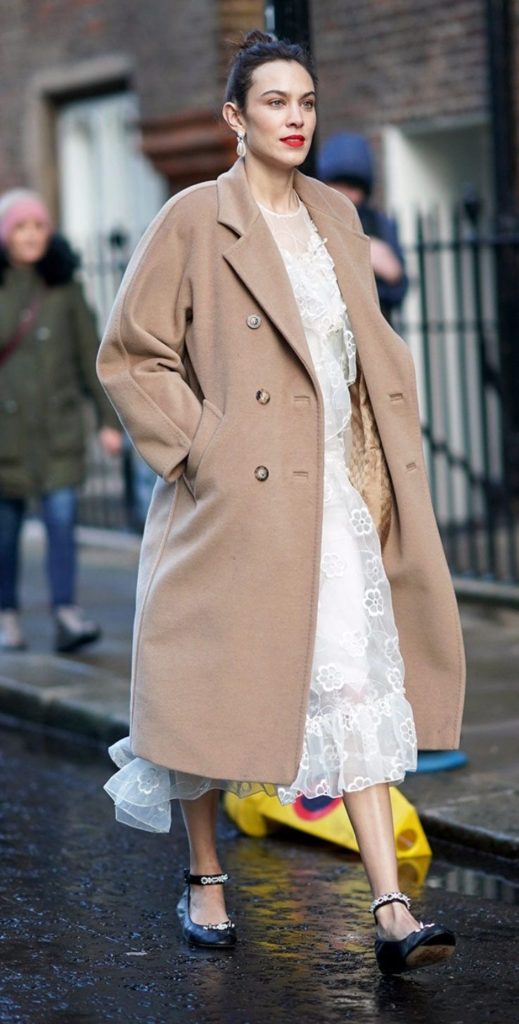 Sélection de seconde main / Preloved selection
En résumé / To sum up
Français
Si cette interrogation autour de la ballerine m'a tourmentée (toujours plus), c'est parce que je me suis rendue compte que ce qui me freinait le plus dans tout ça, ça n'était pas mon propre avis, mais celui des autres. Il faut dire que dès qu'on évoque le mot « ballerines » en société, les gens s'offusquent ! Mais, si moi j'aime bien l'effet sophistiqué et féminin d'une paire de ballerines sur une tenue… Pourquoi me freiner ? Je pensais pourtant avoir dépasser les réflexions en m'habillant pour moi – c'est vrai si tu croise une fille habillée tout en rose avec une jupe à sequins et bien c'est moi ! Mais finalement, parfois, le regard des autres semble malheureusement nous rattraper dans la mode (et pas seulement). Alors, on lui dit d'aller se faire voir et puis on met notre plus jolie pièce démodée ! Et toi ? Tu penses quoi des ballerines ? Tu connais d'autres pièces comme ça qui ne sont pas ou plus populaires ?
English
In fact, if I was bothered by these thoughts about the ballet pumps (never into drama), it is because I just realised I was hesitating to get some just because of other people's opinion, not by my own ! I mean even saying "pumps" during a conversation seems to be offending… But I do like this sophisticated effect of the ballet pumps. Indeed, they are sophisticated but yet relaxed, comfortable but feminine. Actually, they are just the perfect no headache shoes ! Still, I thought I was above other people's opinion negative opinions about me and my style – pink outfit and pink sequinned skirt, it is me… Finally, sometimes it seems like this opinion is always here in the fashion industry (and not only). So let's propose them to get the fuck out of our way and wear our most outdated fashion item with proud ! What about you ? Do you like pumps in a secret way ? Do you also have unpopular opinion with fashion stuffs ?
Mon Instagram : @marieliiily
Ma chaîne YouTube : Marieliiily
Dernier post : Ma wish list responsable de la rentrée