In fact, it is now time for us to detail the different purchases made in May ! So, did I succeed in decreasing the number of items bought, as wished my post for April (HERE) ? Let's see !
Il est temps de faire le point sur les différents achats que j'ai effectué en mai ! Ai-je réussi à réduire le nombre de mes achats, comme évoqué dans l'article du mois d'avril (ICI) ? Le réponse tout de suite !
Maillot de bain Maline (offert) / Maline swimsuit (gifted)
Je te laisse aller voir l'article complet ICI. Et tu as toujours une réduction de 10% sur ta commande avec le code MARIE10.
You can read the whole post about Maline sustainable actions just HERE.
Bulla babies de Nodaleto / Nodaleto Bulla babies
Pourquoi ? / Why ?
Français
Qui est passé à côté de ces chaussures cet automne/hiver 2020 ? J'ai longtemps résisté à la tentation de les acheter étant donné leur prix, même de seconde main. Mais, l'appel a été trop fort et il a été encore plus intense quand elles sont sorties en rose (!!!). Les arguments en faveur de cette paire ne faisaient que s'accumuler : des chaussures à talons qui tiennent bien aux pieds et qui restent stables. Aussi, la plateforme à l'avant semblait largement rendre la hauteur du talon acceptable pour un meilleur confort. En plus, je les imaginais avec beaucoup de tenues toutes saisons confondues. Bref, tu saisis que, depuis l'année dernière, j'ai quand même accumulé pas mal d'excuses pour les acheter !
English
Who missed these high trend shoes during the 2020 autumn/winter ? Of course, after hesitating a while, mostly because of their price, even on the preloved market, I found many excuses to purchase them. In fact, the last straw was definitely when they showed up in pink (I mean !). Indeed, I felt like the fact that they are high heels but still plateforme shoes is a big positive point for me as a petite. Their plateforme make them look stable and comfortable despite their high. Moreover, I have been waiting so much for buying them that I could associate them with so many outfits in my mind before finally taking the plunge !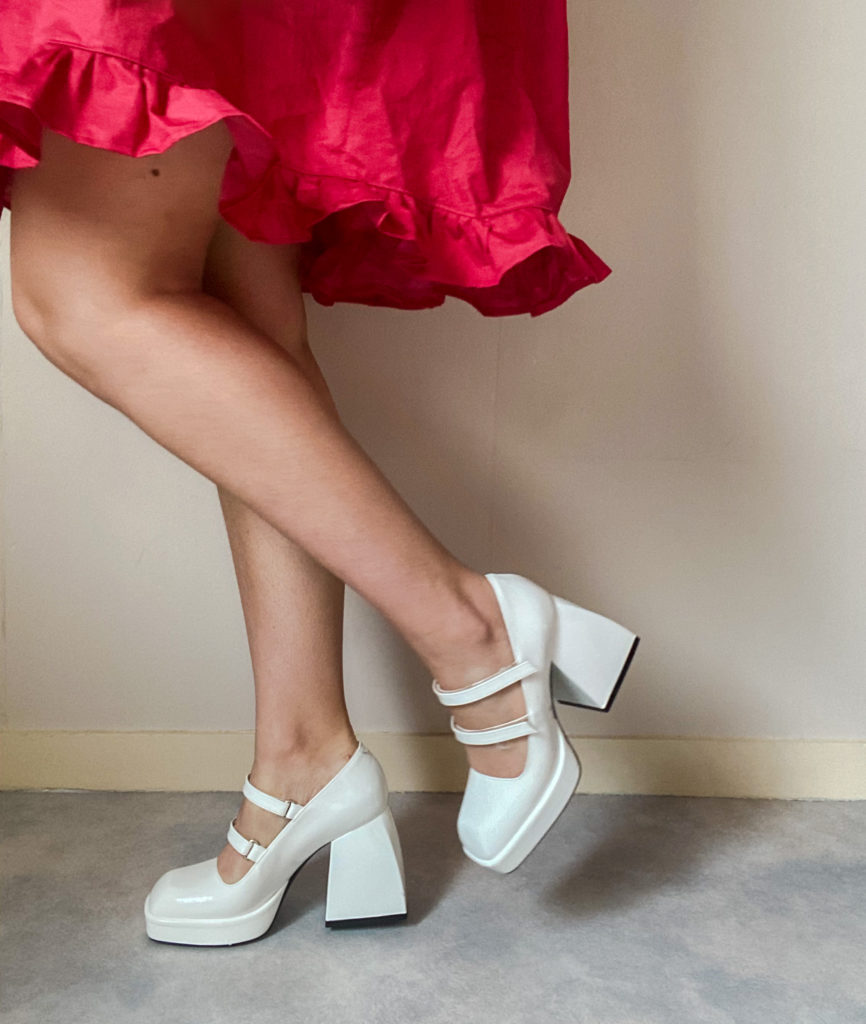 Et finalement ? / And then ?
Français
Au final, je me suis mise à leur recherche sur le marché de seconde main. Même si mon crush était la paire en rose vernis, j'ai dû m'adapter à l'offre. En effet, les paires de Nodelato en 36 y sont rares. Donc, j'avais principalement le choix entre des blanches vernis, des noires ou des oranges en velours. Alors, après une réflexion intense et rapide, le velours étant beaucoup trop fragile pour des chaussures et le noir trop redondant avec mes babies Musier (cf CET ARTICLE), j'ai préféré choisir les blanches vernis. Elles iront avec tout. Je les aime énormément, néanmoins faites attention car elles sont très étroites à l'avant et la fragilité du cuir vernis sur les talons est regrettable pour des chaussures aussi chères…
English
Finally, I decided to look for them on the preloved market. Even if I first crushed on the pink ones, I had to adapt to the offer. Indeed, Nodelatos are quiet rare on the second hand market, especially in 36. That's why I had to choose between white pairs, black ones and orange velvet ones. Nonetheless, after an intense but quick thought, velvet being to fragile for shoes and black too redundant with my Musier babies (cf THIS POST), I preferred the white pair. In fact, I really love them as they match everything. Still be careful as they are really narrow and the leather on the heels is unfortunately too fragile for shoes that are that expensive…
Pourquoi ? / Why ?
Français
Très sincèrement, je n'ai pas de raisons à donner pour cet achat, même en y réfléchissant très fort. Bien sûr, je n'avais pas de blazer en cuir un peu oversize et plus long que celui que j'ai « emprunté » à ma mère, mais ce n'était pas une nécessité immédiate. Donc, encore une fois, l'achat d'impulsion a frappé !
English
In fact, I really had no excuse for buying this blazer, even if I think really hard about it. Of course, we can say I did not own an oversized leather jacket before, but really ? In fact, I do not think it was that urgent. So yes, the impulse purchase is back !
Et finalement ? / And then ?
Français
Quand je l'ai vu sur le compte Instragram de @milochkavintage, impossible de résister ! La couleur, la coupe, tout était si parfait ! Certes, ce n'était ni prévu, ni vraiment réfléchi. Mais je le porte très souvent, car il twiste n'importe quel look ! En bref, le niveau « blazer en cuir oversize » est complété (haha) !
English
When I first saw it on @milochkavintage Instagram page I could not resist ! In fact, when I saw its cut and its colour, I thought it was so perfect ! Of course, it was not planned at all but I am finally wearing it very often. Indeed, it really add something to any of my outfits. In other words, "oversized leather blazer" level : completed !
Box Le Bonnet Paris (partenariat) / Le Bonnet Paris box (partnership)
Français
Le Bonnet Paris est un concept qui propose des boxs mensuelles de lingerie. Tout les mois, tu reçois de la lingerie, du homewear ou un maillot de bain avec un goody lifestyle. En plus, le tout est choisi auprès de marques françaises ou italiennes. Quand la marque m'a contactée pour m'envoyer leur première box au mois d'avril, il m'était impossible de refuser ; en effet, j'ai une addiction pour la lingerie ! Donc, en avril, j'ai reçu un ensemble en dentelle de la marque italienne Cosabella et un scrunchie fait main par Lou and scrunchies. Le bon plan – en plus de recevoir des pièces de qualité avec une production française ou italienne ? L'abonnement mensuel est de 49,90 euros (frais de port compris et sans engagement), tandis que le contenu des boxs est à un prix réel largement supérieur pour le public ! Par exemple, dans cette box, le contenu avait une valeur de plus de 100 euros en magasins ! En plus, cerise sur le gateau, je te propose 10% de réduction sur ta première box avec le code MARIE05 !
English
Indeed, Le Bonnet Paris is a french concept allowing to receive monthly underwear, home wear or swimwear with a lifestyle goody. Moreover, the items are chosen among French or Italian brands. In fact, the brand reached me and I could not but accept to receive their first box as I have an addiction for lingerie. Then, this month I received a Cosabella lace set and a handmade scrunchie from Lou and Scrunchie. Love it !
Robe Marta chez Jolie Rozière / Marta dress from Jolie Rozière
Pourquoi ? / Why ?
Français
Dès la présentation de la collection du printemps par Amandine, la créatrice de Jolie Rozière (dont je parle déjà ICI), j'ai eu un vrai coup de cœur. D'abord pour le tissu et son imprimé, puis pour la robe et sa coupe. Ainsi, j'avais prévu de la commander à ma taille depuis tout ce temps, puisque je savais déjà que je ne possède plus de robe pour les saisons plus chaudes. En plus, j'ai pensé que j'allais pouvoir la porter avec un col roulé noir et des collants quand il ferait plus froid. Ainsi, j'avais planifié cet achat raisonné et raisonnable, dans la mesure où il allait me servir longuement grâce à sa qualité et son design.
English
Indeed, as soon as Amandine showed her spring collection for Jolie Rozière (already seen HERE), I really crushed on the fabric and the print, at first, and then for the Marta dress and its shape. That's why, I planned to buy it made to my size from the start. In fact, I already knew I had no spring/summer dress in my wardrobe. Moreover, I thought I could be able to wear it with a black turtleneck and tights during colder days. Indeed, I would have use the dress a lot in comparison with the price of its purchase. To sum up, it was a reasonable and well-thought move for buying a product that would have last owing to its quality and design.
Et finalement ? / And then ?
Français
J'avais choisi l'option « taille customisée » afin de recevoir un produit qui m'aille parfaitement. Celle-ci m'a coûtée 195 euros, sans frais de port. En effet, elle est dans une magnifique mousseline de soie avec une doublure en coton. En vrai, je la trouve sublime ; la matière est magnifique et la coupe me va vraiment bien. Néanmoins, je te dois d'être transparente, car la réception la robe ne m'allait pas en haut. En effet, le décolleté était beaucoup trop large. Bien sûr, il est impossible de retourner un article fait avec une taille customisée (c'est normal !). Néanmoins, j'ai contacté Amandine afin de lui faire part de mon problème. Ainsi, elle a essayé de m'expliquer de son mieux à distance pour que je reprenne moi-même la robe en faisant des pinces « discrètes » de chaque côté. J'aurais pu aller chez le retoucheur, mais vu le prix de la robe que j'avais demandée à une taille customisée, je n'avais pas envie de faire plus de frais… Ainsi, même si elle me va maintenant mieux, je suis plutôt mitigée quant à cet achat. Bien sûr, elle reste sublime et d'une qualité incroyable, mais j'avais tellement attendu et rêvé cette robe à sa sortie que j'étais plutôt triste face à ce contretemps de taille à la réception.
English
In fact, I chose the "customised size" option in order to have a dress that fits me perfectly. It was 195 euros without the sending fees. Indeed, the dress is absolutely gorgeous in a silk mousseline with a coton lining. Furthermore, the cut looks just perfect on me as the colours do. Still, I have to be honest with you as the dress simply did not fit at the shoulders and the breast when I received it. Indeed, the neckline is way to big for me while I chose a customised size… Of course, I knew from the start that is was impossible to send that kind of sized items back. So I reached Amandine to tell her about this little problem. Finally, she tried to explain everything to me so I could taken in the dress at the shoulder to make it approximately fits. In fact, I could have brought it to the adjuster but I just paid the dress 195 euros with a customised size so… That's why I have mixed feelings about this second purchase. Even if it I find this dress gorgeous and very good quality, I was a bit sad that it did not fit after having dreamt of it since its launch…
Sweatshirt Réuni / Réuni sweatshirt
Pourquoi ? / Why ?
Français
Qui ne rêve pas d'avoir le sweatshirt parfait dans sa garde-robe ? Je t'ai déjà parlé de Réuni et de son système de vente responsable (ICI). Donc, tu dois savoir que j'adore cette marque. Du coup, à chaque sortie d'un produit une question existentielle se présente à moi : dois-je craquer ou ai-je déjà cet essentiel (en aussi bien, si c'est possible) dans ma garde-robe ? Il s'avère qu'en ce qui concerne les sweatshirts, je ne suis pas dotée d'une pièce de qualité qui me va comme un gant. J'ai donc décidé de craquer pour l'un des coloris proposés par Réuni : le lait de coco. Une couleur que je n'ai encore jamais croisée mais qui est clairement sublime.
English
Who is not dreaming of having the perfect sweater in they wardrobe ? I have already talked about Réuni and its sustainable way of selling gorgeous clothes (HERE), so you should know how much I love the brand. That's why, every time there is a new launching I am asking myself the very same question : do I need this or do I already own a similar item (as great if it is possible) in my wardrobe ? In fact, I do not own any great quality sweat-shirts that really fit me. So, when I saw this very unique "lait de coco" shade, I decided to preorder the Réuni first edition sweatshirt.
Et finalement ? / And then ?
Français
En réalité j'avais commandé deux sweatshirts Réuni à l'origine : le lait de coco et le lavande. Néanmoins, une fois reçus, j'ai décidé d'être raisonnable et de renvoyer le lavande. La couleur était sublime, mais peut-être pas aussi lumineuse que je l'aurais voulu avec ma carnation aux sous tons jaunes. Sinon, la qualité est clairement incroyable, la coupe juste sublime et mention spéciale aux détails, car il y a une découpe spéciale en forme de T dans le dos ; cela rend la pièce si particulière. Est-ce que je le porte assez pour amortir les 90 euros placés dans ce sweatshirt en coton certifié et assemblé au Portugal ? OUI, je le porte non stop si j'ai besoin d'une pièce qui réchauffe ! Je vais d'ailleurs à l'emmener avec moi dans ma valise de vacances, c'est sûr !
English
In fact, to be honest with you, I initially preordered two sweaters : "lait de coco" and "lavande" ("lavender"). However, when I received the items, I decided to be reasonable and to send back the lavender one. Even if the shade was stunning, it was not made for me and my yellowish complexion. Nonetheless, the quality is clearly at its best and the shape is so perfect, and also very particular with T stitching details at the back. Do I wear it enough to make this 90 euros sweatshirt made of certified coton profitable ? YES, I cannot stop wearing it, particularly when I need to warm an outfit. I have already planed to pack it in my vacations suitcase !
Pantalon Dégaine Paris / Dégaine Paris pants
Français
Quelle a été ma joie quand Lucille, la créatrice de Dégaine Paris, m'a écrit pour me proposer une de ces créations ! J'ai pu choisir ce pantalon en vichy bleu, ce pantalon de l'amour ! Déjà, le vichy. Ensuite, la coupe et le confort. Bref, la perfection. J'ai fait un réel sur Instagram pour te montrer à quel point il va juste avec tout ! Je l'aime, merci encore !
English
How happy were I when Lucille, Dégaine Paris designer, reached me to offer me one of her designs ! In fact, I were able to choose this beautiful gingham pants ! First of all, the gingham print. Then, the shape and the comfort… I love it ! I have made a reel on the Gram to show you how versatile this garment is. Thanks again !
Jeans Rouje via the Bradery / Rouje jeans via the Bradery
Pourquoi ? / Why ?
Français
Je le confesse, j'ai pêché : j'ai acheté un article neuf qui n'était pas chez une marque responsable ! Néanmoins, si je veux me trouver des excuses, The Bradery permet d'écouler les stocks de marques à des prix réduits, donc quelque part c'est un peu responsable d'éviter le gaspillage, non ? Bref, je possède déjà un jean de la marque Rouje et clairement c'est une bombe ! En effet, je suis à l'aise dedans et, depuis un an, il ne s'est pas dégradé, même si je le porte quasiment non-stop. Alors, quand j'ai vu la vente Rouje (groupie) sur The Bradery, j'en ai profité pour élargir ma collection de jeans – qui est désormais une collection de deux jeans. J'ai choisi le modèle Bastille en bleu foncé au prix de 60 euros (qui peut me blâmer face à une telle réduction – une paire de jeans Rouje se vend autour de 140 euros).
English
Firstly, I have to confess : I have bought an item that was brand new but not from a sustainable brand. However, if I want to find excuses, The Bradery is a website that get previous collections items from stock to lower prices. So, in a way, it is a sustainable purchase as I participated to destocking instead of letting the item being thrown away… Anyway, I already own a Rouje pair of jeans and I really love it. In fact, it is this kind of blue jeans that does not wreck within the time but clearly glows up. That's why, when I saw the Bastille design on The Bradery and it was 60 euros (140 euros when sold in the new collections). Indeed, I chose to buy it and to enlarge my jeans collection from one to two pairs of pants.
Et finalement ? / And then ?
Français
Il est assez aisé de deviner que c'est le genre de pièce qui peuvent être portées sans relâche. En fait, je commence à me connaître et je sais que les jeans un peu évasés en bas me vont mieux que les autres. Aussi, j'ai choisi une couleur plus foncée et sans délavage. Ce dernier aurait eu un effet d'optique plutôt « grossissant » et accentuant au niveau des cuisses. Du coup, il est évident que c'est un achat que je ne regrette pas et que je vais pouvoir porter encore des années étant donnée la qualité de la toile, qui n'enlève rien à son confort.
English
Finally, I think you guessed it was this kind of garments you cannot stop wearing. Moreover, I am starting to know myself more and more and having a clue of what fits me and what does not. That's why, I now understand that flared pants are the best for me. Nonetheless, I chose a dark blue tone and not a shade with washing out parts because it would have had a magnifying effect on my thighs. To sum up, these jeans are clearly not on my regrettable purchases list and I will surely wear it for years from now.
Dad sandals via Vinted
Pourquoi / Why ?
Français
Je ne pense pas avoir un jour fait partie des personnes qui se sentaient mal à l'aise à la vue des fameuses « dad sandals » lancées par Chanel l'été dernier. En réalité, j'ai toujours trouvé qu'elles avaient l'air de mêler élégance et confort. Du coup, tu me connais, je les regardais de loin depuis leur sortie. Et cet été – face au prix exorbitant d'une paire de « dad sandals » de la maison iconique – je me suis décidée à un trouver un dupe en noir. Qui plus est, j'ai vendu mes sandales Gucci de cette couleur ; la règle d'un achat contre une vente a exceptionnellement été respectée (haha).
English
As a start, I have never been part of the people thinking these famous shoes launched by Chanel were ugly. In fact, I thought there were a great mix between elegance and confort. That's why, I have been watching them since they were first showed by the iconic French house. Indeed, I knew it was unreasonably expensive for sandals so I decided to find some dupe of the "dad sandals". Nonetheless, I have sold my Gucci black sandals, so for once I respected the "one bought one sold" rule.
Et finalement ? / And then ?
Français
C'est de manière plutôt inattendue que j'ai trouvé des dad sandals sur Vinted à un prix plus que réduit. En effet, au moment où je ne m'y attendais le moins – étant donné la rareté des dad sandals (en dupe) sur les plateformes de seconde main en 36 – les voici qui sont apparue ! Résultats ? Clairement les chaussures les plus faciles à porter de la terre ! Elles s'adaptent aux pieds plus larges puisque tout est scratché, elles sont confortables et elles vont clairement avec tout. En d'autres termes, c'est un sans faute !
English
Finally, I found dad sandals on Vinted with a more than affordable price. Indeed, it was quiet challenging as these kind of shoes are very rare on preloved plateformes, especially in 36. So, what about this purchase ? Nonetheless they are the easiest to wear but they are also so perfect for larger feet as they are Velcro. Moreover they are so comfy and clearly match everything. In other words, it was a perfect purchase !
Shorty Muse underwear (offert) / Muse underwear shorty (gifted)
Français
Souviens-toi de l'article que j'ai rédigé sur Muse underwear (ICI). Cette marque qui propose des petites culottes circulaires de qualité qui rendent ton quotidien plus confortable et pussy friendly (tout en faisant te sentir bombesque). Et bien, les filles de la marque ont eu la gentillesse de m'envoyer le shorty, le dernier modèle qui me manquait (avant la sortie dimanche 6 juin du boxer). Que dire ? Déjà, merci de nouveau. Ensuite, que c'est mon nouveau modèle préféré ! J'adore le fait qu'il y ait une fronce au dos qui permet de mettre les fesses en valeur. Aussitôt mis, aussitôt oublié ! Clairement je ne me lasserai jamais de cette marque elle est si bénéfique pour nous comme pour la planète ! Encore un grand bravo !
English
At first, remember the post I wrote about Muse underwear (HERE). In fact, the brand offers sustainable and quality panties that make us feel more comfortable daily and are pussy friendly. Moreover, they are made to enhance our beautiful bodies. Indeed, I were kindly gifted a shorty from the girls of the brand ; it was the last design I did not own (before the launching of the boxer last Sunday). So, what can I say ? Firstly, thank you again. Then, I think it is now my favourite style. In fact, I really love the little stitching on the back that makes the booty looks at its best. Also, when you wear the panty it really feels like you are not wearing anything. That's why, I will not get enough of Muse underwear garments as they are so perfect : for us and the planet. To sum up : bravo !
En résumé / To sum up
Français
Si, lors du dernier article à propos de mes achats du mois d'avril, je m'étais fixé pour objectif de les diminuer, il me parait évident que l'objectif n'est pas atteint cette fois-ci. En réalité, il y a eu six achats lors du mois de mai contre cinq le mois dernier. En plus, je tiens à vous dire directement que l'objectif n'est pas non plus atteint le mois prochain (oups). De surcroît, j'ai acheté un article neuf qui n'était pas dans un circuit responsable, même si le destockage évite (quelque part) le gaspillage… (j'essaie vraiment). Dans tous les cas, le point positif c'est que sur six achats, un seul est réellement une déception, quand les autres sont clairement des investissements sur le long terme. Et toi, est-ce que tu réussis à diminuer tes achats ? Quels ont été tes coups de cœur du mois de mai ? N'hésite pas à me suivre également sur Instagram, avec plein de contenu inédit !
English
In fact, in the last post about what I bought during April, I told you I wanted to decrease my purchases. Well, it is clearly a failure for this month. Furthermore, I can already tell you the goal is not reached for next month (oops). Nonetheless, I have bought an item that was brand new and not sustainable, even if purchasing garments from stock is allowing to reduce the wastes. Stil, the good news is I have bought six items and only one can be sort as a disappointment. Indeed, the other ones are clearly investments for the future. So, what about you ? Do you succeed in decreasing your purchases ? What are you May crushes ? In fact, do not hesitate to follow me on Instagram to see more exclusive content !
Ma page Instagram : @marieliiily