Aujourd'hui, dans notre série sur le fait main nous allons nous pencher sur une nouvelle créatrice. Ensemble, découvrons une jolie marque de vêtements : Jolie Rozière.
For this new post about handmade fashion we will focus on a beautiful sustainable brand : Jolie Rozière.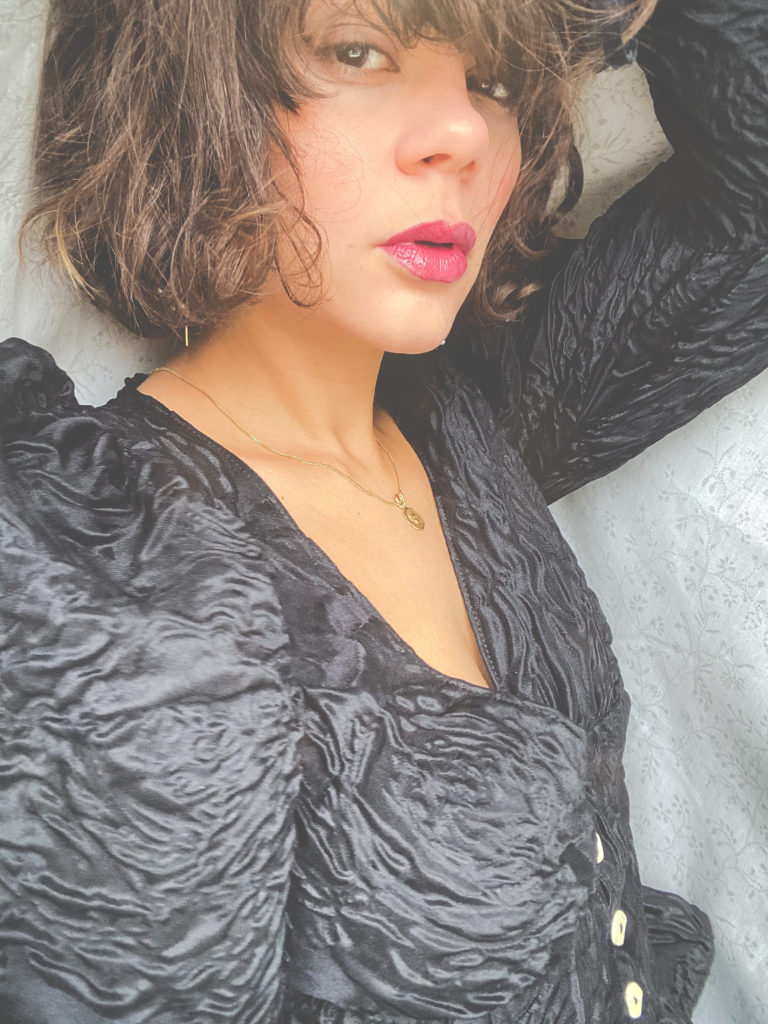 La marque en quelques mots / Few words about the brand
Jolie Rozière est une marque française créée par Amandine. Cette dernière propose des vêtements faits sur commande. Elle se sert de chutes de tissus de grandes maisons ou d'étoffes chinées pour fabriquer de magnifiques pièces féminines et délicates. Elle design et coud dans son atelier les vêtements un à un quand ils sont commandés. Lancée en septembre 2020, Jolie Rozière propose déjà plusieurs modèles en éditions limitées et aux accents romantiques et féminins.
Jolie Rozière is a French made to order clothes brand started by Amandine. She is using leftover and bargain-hunt fabrics to sew beautiful and delicate pieces. Once an order is made, it is immediately made in her french workshop. Since September 2020, Amandine's brand already offers few romantic and feminine designs that are also very limited editions.
Mon expérience / My own experience
La découverte / The discovery
C'est sur le compte Instagram de Pauline Leroy que j'ai découvert Jolie Rozière. Jusque là, j'ai su résister à l'appel des blouses magnifiques que propose Amandine. Cette dernière puise son inspiration autour d'elle et dans les décennies qui nous ont précédées. La femme Jolie Rozière est moderne, romantique et elle aime les couleurs douces. Puis, est arrivée Eve, une somptueuse blouse noire. Proposée en soie ou en velours, Eve a de magnifiques manches bouffantes resserrées aux avant-bras. Eve, c'est aussi un décolleté en V, suivi de jolis boutons nacrés et une taille mise en valeur… Bref, vous aurez compris : en voyant Eve, j'ai flanché.
It is on Pauline Leroy's Instagram that I first discovered Jolie Rozière. Since then, I hardly succeeded in not buying any of the wonderful pieces shown by Amandine. She is very inspired with art and the different decades that arrived before us. The Jolie Rozière woman is modern, romantic and enjoys soft colours. And then came Eve. It is a beautiful black blouse. Either made with silk or velvet, it has puffy sleeves that are more adjusted on the forearm. Also, there is this V neckline, these pearly white buttons and the way Eve accentuate the waistline… Anyhow, I guess you are getting it : I fell in love with Eve.
La commande / The order
J'ai décidé de commander la blouse Eve au mois de février. Pour les commandes, rien de plus simple grâce au site internet Jolie Rozière. Une présentation claire des modèles, une harmonie des couleurs et des photos des articles portés : l'expérience shopping est au rendez-vous. Au moment du choix de la taille, je choisis du 36, mais je laisse quand même un commentaire dans le cadre disponible à cet effet au moment de la vérification de la commande. J'y laisse mes mensurations et un moyen de me contacter pour plus de questions quant à l'ajustement du vêtement dans le cas ou Amandine aurait eu besoin de précisions.
I finally decided to order Eve blouse during February. Due to the website, it was a very easy and simple step. In fact, everything is clear on Jolie Rozière website, we can clearly see the different designs and all of them are shown worn by a model. As for choosing my size before putting Eve in my virtual cart, I made my mind on a 36. Still, I was very happy to find a comments section during the order checking step. Indeed, I was able to leave my mensurations here, but also a way to be contacted by Amandine in case of further informations needed about my size.
La réception / The receipt
J'ai effectué la commande de ma blouse Eve le 1er février. Pour être totalement transparente, celle-ci m'a coûté 210 euros, prix auquel se sont ajoutés 8 euros de frais de port pour la livraison en point relais. Il y a d'autres moyens d'expédition qui peuvent aller jusqu'à 15 euros, notamment le Colissimo. Pour un article fait main – avec des mesures particulières communiquées à Amandine qui m'a gentiment demandé des précisions pour que la blouse m'aille au mieux – j'ai reçu la blouse le 10 février. L'expédition quant à elle avait eu lieu le 5. Comment vous dire que j'avais très hâte d'ouvrir mon paquet. En plus, il était tellement mignon et contenait deux accessoires pour les cheveux fabriqués en vichy rose. Cerise sur le gâteau et sans grand étonnement, la blouse me va à merveille !
I have ordered the Eve blouse the 1st, February. To be 100% honest with you, it was 210 euros, and the shipping fees were 8 euros with mondial relay. When you know it is a beautiful handmade piece of clothes, with very special measures discussed with Amandine, the reception date is unbelievably fast. Indeed, my blouse was shipped on the 5th and received on the 10th. You cannot but imagine how much I was waiting for this order. Furthermore, it came in a beautiful package with two hair accessories : the cutest. Finally, without any surprise, the blouse fits me perfectly.
Mon avis / Quick review
Jolie Rozière est une marque à l'identité visuelle reconnaissable. Les pièces proposées par Amandine représentent à merveille la féminité, le tout avec des couleurs très alléchantes. Qui plus est, les matières sont absolument incroyables. Les étoffes sont précieuses et de qualité. Les finitions sont d'une telle perfection que les vêtements tombent de manière irréprochable. En réalité, toutes les propositions faites chez Jolie Rozière flattent chaque corps féminin. Ceci, grace à des décolletés incroyablement flatteurs, des évasés, des tailles marquées ou encore des manches romanesques. Amandine fait un travail qui dépasse toutes attentes tant il est minutieux. Elle fait le tout avec une gentillesse qui égale ses compétences. Enfin, l'expédition se fait en un temps record et dans un emballage recyclé et/ou recyclable. En bonus, un papier ensemencé de fleurs sauvages.
Jolie Rozière has its own visual identity. Amandine offers colourful items that embody perfectly feminity. Moreover, the fabrics used are stunning. They are precious and their quality is undeniable. Nonetheless the work made on these is remarkable and very accurate. Each pieces of clothes has amazing finish and it fits perfectly. In fact, the clothes made by Amandine are very flattering. From the beautiful necklines, to the underline waist or even the glamour sleeves : everything is made to be suitable for every woman. Her work is beyond expectations owing to its meticulousness. Icing on the cake : Amandine is the sweetest, and she is as kind as talented. Finally, everything is sent in a sustainable package with a little extra : sow paper of wild flowers.
En bref / To conclude
Ainsi, après un coup de cœur pour Jolie Rozière, j'ai eu un coup de foudre pour la blouse que j'ai commandée. Ceci présage une qualité générale des vêtements de la marque. Les étoffes sont majestueuses et transformées en produits au design unique, ce qui justifie le prix final. Il s'agit – encore une fois lorsque nous abordons le fait main – de rétribuer le travail d'un artisan hautement qualifié. Ce dernier propose des vêtements qui ont subi un processus de recherches, de création et de production long et plein d'investissements. A l'issu de ce processus, nous avons entre les mains un produit unique et de qualité qui durera dans le temps. Je vous invite donc à rendre visite à la douce Amandine sur la page Instagram de Jolie Rozière. Attendez-vous à tomber en amour devant chacune des pièces qu'elle nous proposera.
Actually, I fell completely in love with Jolie Rozière, as much as I did with the blouse I ordered. In fact, I think it really shows the quality of every and each Jolie Rozière clothes. The fabrics chosen are majestic and sewn with care into unique products, that's why the clothes made by Amandine have a cost. In fact – and that's what is at stake with handmade products – buying handmade clothes is about remunerating the work of a craft person who invests time, money and energy in the process of creating for others. At the end, it allows us to possess a beautiful piece of clothes that will stay with us forever in our wardrobe. You should definitely visit Jolie Rozière Instagram. But, watch out, you may experience love at first sight with every clothes Amandine will offer.
Jolie Rozière, website : Jolie Rozière Paris
Jolie Rozière, Instagram : @jolieroziere