Enfin ! Depuis la réouverture des terrasses, les restaurants sont de retour en France ! Du coup, c'est l'occasion rêvée pour reprendre nos pauses gourmandes ! La première est toujours en ligne et je t'y présentais le restaurant Table métisse (ICI). Pour ce deuxième épisode, j'ai décidé qu'il était temps de vous présenter le seul l'unique QG : République of coffee !
Finally ! Restaurants are back in France since terraces are open again ! Then, it is time for us to be back to our Gourmet breaks. In fact, the first one is still available on the blog and we are talking about Table métisse restaurant there (HERE). At last, for this second episode I decided to introduce the GHQ : République of coffee !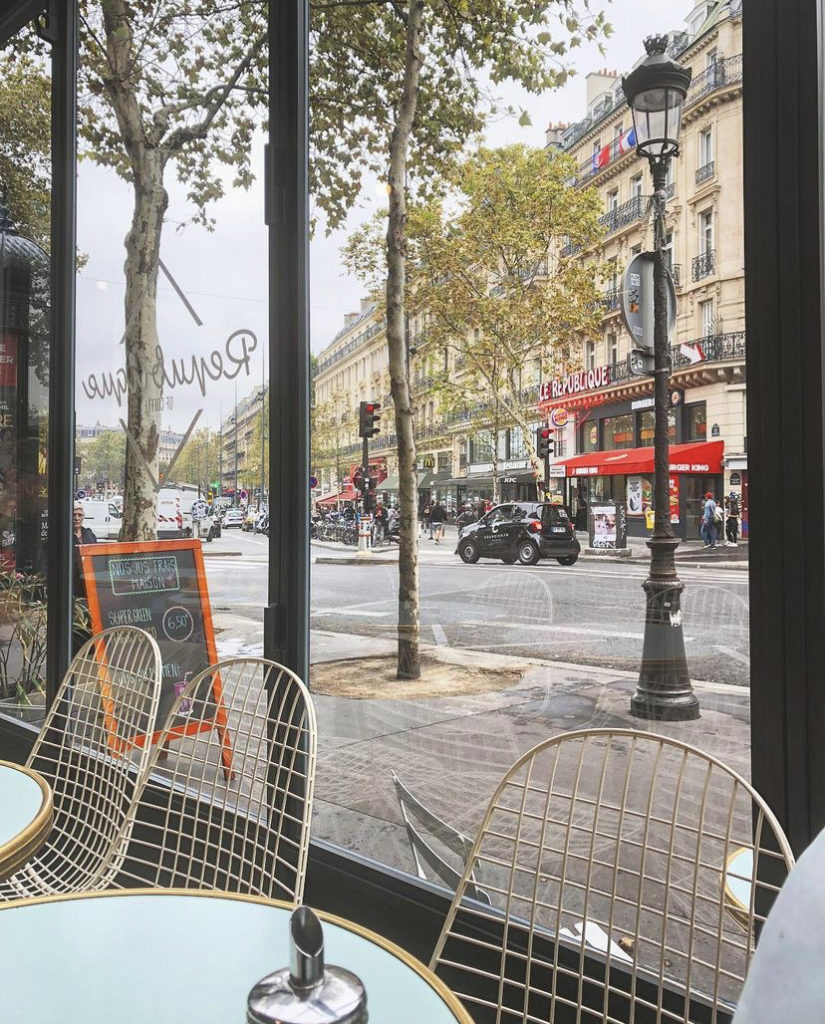 Présentation rapide / Quick introduction
Situé non loin de la place de la République, République of coffee propose de quoi prendre son petit-déjeuner, son brunch et même son goûter. Une enseigne en néon rose flashy, une Super NES installée au fond et une décoration plus qu'instagramable, voici le cadre dans lequel tu t'installes dans le coffee shop. La terrasse extérieure est complétée par une terrasse couverte qui, l'hiver, est une superbe verrière qui permet de scruter les passants en dégustant sa boisson chaude (je sais que tu fais ça toi aussi). Mention spéciale pour le miroir au plafond qui n'a pas fini de me divertir ; il permet de faire encore plus de photos à poster sur son feed Instagram !
Few steps away from la place de la République, République of coffee is a place where you are able to have a breakfast, a brunch or even a snack. Pink neon logo, Super NES at the back and a decoration perfect for the Gram, now the scenery is set. Moreover, there is an outside sitting area and a covered terrace which is closed when winter comes. In fact, it is like a very cute veranda from where you can sip your hot drink while watching passers-by quietly (I know I am not the only one to do so). At last, special note for the mirror ceiling which cannot stop to distract me ; indeed, it is an other excuse to make great instagram shots.
Le menu / The Menu
Français
Entre coffee shop et nourriture saine, le menu de République of coffee propose énormément de plats. D'ailleurs, beaucoup sont totalement compatibles avec un régime végétarien, voire vegan. Un café avant d'aller travailler, des pancakes pour bruncher ou même une patisserie pour le goûter… Le choix ne manque pas ! Pourtant, il n'y a pas d'excès sur la carte avec un nombre de plats proposés plus que raisonnable, sans être restreint. Un plat réconfortant ? Tu pourras choisir, entre autres, un hot-dog vegan, un toast veggie ou même un succulent burger vegan. Quelque chose d'un peu plus sain ? Pas de problème, avec un large choix de délicieux bowls, de poke bowls ou même le classique Avocado toast. Un petit creux ? Mais bien sûr, plutôt carrot cake ou banana bread ? Et avec ceci ? Tu préfèreras un café, un thé, un jus de fruits ou une spécialité à base de lait (latte option vegan disponibles) ?
English
Coffee and healthy food, here is what you can find on the menu at République of coffee. By the way, most of the dishes are veggie or even vegan. In fact, if you need a coffee before your day at work, pancakes to brunch or even a yummy snack, it can be found at République of coffee ! Indeed, the menu is very complete without being overloaded. Do you want a lunch ? Of course, you can choose a vegan hot dog, a veggie toast or even a delicious veggie burger ! Are you looking for something more healthy ? Then, you can have one of the yummy bowls, a poke bowl or the classic Avocado toasts. Maybe in for a snack ? Well, are you more a banana bread person or a carrot cake one ? What do you need to go with this ? A coffee ? A tea ? A fruits juice ? Or maybe a latte specialty (vegan options are in) ?
Pourquoi le QG ? / Why is this the GHQ ?
Français
C'est de mon propre fait que j'ai décidé que République of coffee était mon QG. En effet, il est très possible de m'y voir pour un brunch/déjeuner ou un goûter, pour un brunch/déjeuner et un goûter (tout est possible). C'est l'endroit idéal où je peux manger de bons plats végétariens sans me prendre la tête à me demander où aller pour déguster quelque chose de bon. En plus, tu sais, j'adore tester les brunchs. Et, crois-moi, les déceptions sont nombreuses… Mais pas chez République of coffee ! En fait, s'il y avait une carte de fidélité, j'aurais déjà atteint les dix visites ! Les pancakes et les bowls sont délicieux et me permettent de ne pas avoir faim de la journée (car si je goûte après ça c'est par pure gourmandise je suis démasquée). Le burger végétarien avec ses petites pommes de terre de l'amour : MIAM ! Et mon préféré par dessus tout, mon excuse ultime pour aller chez République of coffee : le vanilla charcoal latte à se damner (carrément) !
English
In fact, it is on my very own initiative that the République of coffee is my official GHQ. Indeed, the probabilities to see me there are more than very high ! Either for a brunch/lunch or a snack, or a brunch/lunch and a snack (I know, everything is possible). To me, it is the perfect place to stop and have amazing veggie food without thinking to much of which place to go to find delicious dishes. I love testing new places to brunch, but there are a lot disappointments… Still, not at République of coffee ! In other words, if there was a loyalty card, the tenth visiting would be checked since a long time now… Pancakes and bowls are mouthwatering and make you wait until the dinner (yeah I know if I take a snack on the same day it is just because I love eating). Moreover, the veggie burger with its little lovely potatoes are so good ! And, at last, the vanilla charcoal latte just tastes like heaven (I am never into drama you are wrong) !
En résumé / To sum up
Français
Entre une atmosphère cosy et design et une carte alléchante et veggie friendly qui permet de déguster des plats à toutes heures de la journée, République of coffee a mérité son titre de QG officiel de moi décerné par moi. En réalité, tout est réuni pour que toi aussi tu en fasses ta « place to be ». Avec un personnel très accueillant et des plats super réconfortants et toujours sains, tout est possible à République of coffee. Quelque soit le repas dont tu as besoin, il y sera délicieux. Je dédie d'ailleurs cet article à @clinemgls qui ne me juge pas quand je lui propose d'aller ENCORE chez République of coffee (haha). Note pour toi-même, pas de réservation possible pour pouvoir profiter de l'endroit. Donc, je te conseille de ne pas y aller un dimanche à l'heure de pointe du brunch ! Si mes souvenirs sont bons, la formule brunch – avec un granola bowl, un plat au choix, un jus de fruits et un café ou un thé – est à 24 euros. Et crois-moi, quand tu auras mangé tout ça, tu n'auras plus du tout faim ! Et toi, tu as un QG ? Tu es déjà allé a République of coffee ?
English
At the end of the day, with its cosy and design atmosphere and its delicious and veggie friendly dishes, République of coffee really deserves its GHQ title, as decided by me. In fact, there is no doubt that you are more likely to do so by considering it as your own place to be ! Actually, with a welcoming staff and comforting and healthy food, everything is possible at République of coffee, no matter the meal you decide having. Indeed, no matter the time of the day, you can be sure you will have something delicious ! In fact, I am also dedicating this post to @clinemgls who never judges me when I tell her I would like to go to République of coffee… AGAIN (haha). Finally, please notice that you cannot book a table there, you will have to avoid the brunch rush ! Indeed, the brunch formula is 24 euros with : a granola bowl, a dishes to choose, a fruits juice and a tea or a coffee. Trust me, you will be gladly full ! What about you do you have any GHQ ? Have you ever been to République of coffee ?
République of coffee, 2 Boulevard Saint-Martin, 75010 Paris (8h-19h30, sauf le jeudi et dimanche 9h-19h30)