Nous le savons maintenant, différentes alternatives existent pour consommer la mode responsablement. Nous avons vu ensemble le fait main avec différentes marques. Puis, nous avons commencé à aborder l'upcycling dans un précédent post. Enfin, nous aurons aussi l'occasion d'approfondir la question de la seconde main. Aujourd'hui, j'ai décidé d'évoquer avec vous un système d'achat particulier et le plus souvent responsable : la précommande. Pour le faire de manière plus concrète, je vais le faire en vous présentant la marque Réuni.
As we discovered together, there are different sustainable ways to buy fashion. We talked about the handmade fashion with many brands. Then, we approached upcycling in a previous post. Finally, we will be able to deal with the preloved fashion market in depth. But, today, I wanted to talk about another way to buy fashion goods : the preordering system. To make it more practical, I will do so by introducing you a french brand called Réuni.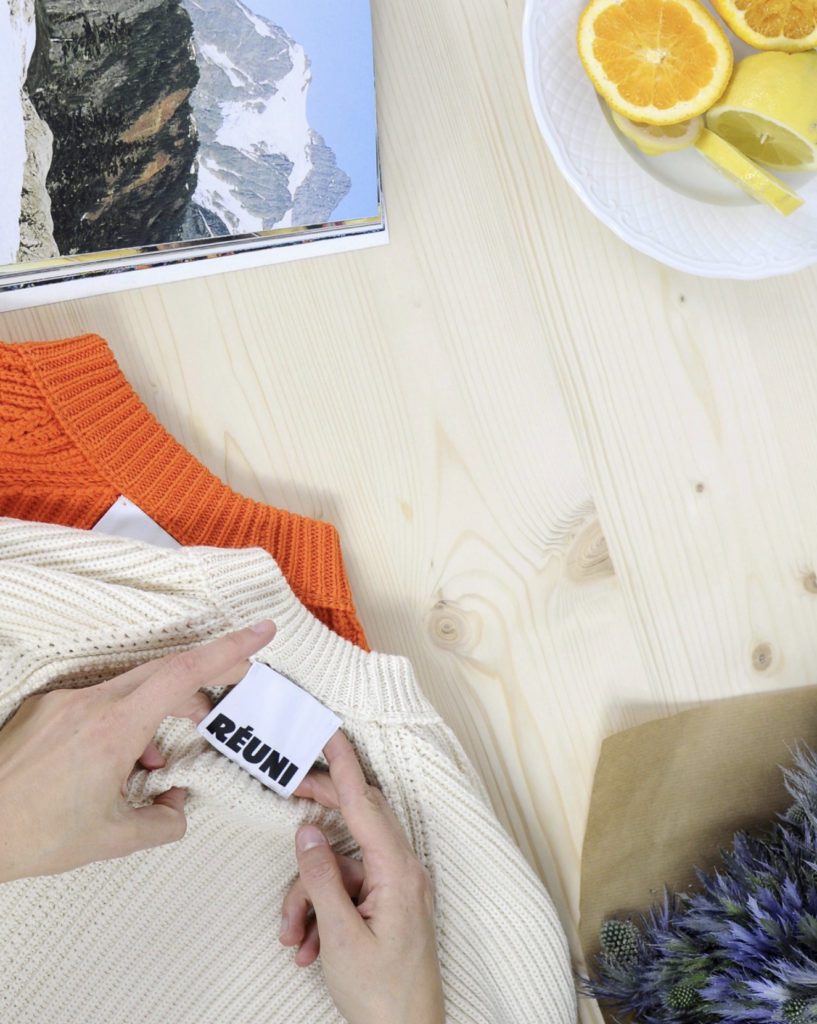 La précommande, pourquoi ? / Why preordering ?
Définition sommaire / Quick definition
En résumé, nous pourrions dire que c'est le fait d'acheter un article qui n'est pas encore fabriqué. En effet, un article nous est présenté mais, en réalité, il n'est pas en stock. L'idée, c'est que seul ce qui est utile sera produit. Parfois, la matière qui servira à la fabrication du produit est déjà commandée, dans ce cas il sera en édition limitée. D'autres fois, la précommande remonte jusqu'à la matière première. Dans ce cas, la demande de tissu à fabriquer est faite en fonction des quantités précommandées. Avec la précommande, le seul stock qui peut exister sera celui de tailles supplémentaires utiles en cas d'échanges au moment de la réception par les clients. Pas de surproduction, ni de surconsommation et donc aucun gaspillage.
To sum up, preordering is buying a garment which is not manufactured yet. Indeed, the item is showed but, it is not in stock. The main idea is to product only the necessary. Sometimes, the fabrics used to made the good is already made so the item will be manufactured in limited quantity. Other times, the fabrics needed to produce the garment will be ordered after the preorder process, so that, only the necessary fabrics is done. With preorders, the only existing stock are extra sizes useful for sizes exchanges when the clothes are received by the customers. No overproduction, no overconsumption so no extra wastes.
Les avantages / Benefits
Au-delà de ça, grâce à ce système d'achat, nous pouvons dégager plusieurs points positifs. En effet, comme seules les quantités utiles sont produites, l'impact de la fabrication en terme de matières et produits utilisés est réduit. En plus, l'absence de stock est une notion qui évite le gaspillage des produits. Enfin, grâce à ce système, une attention particulière est portée sur la matière et sa production, du coup les produits sont souvent de meilleure qualité pour des prix moins importants. D'une part, parce qu'il n'y a pas de coûts de stockage ou de surproduction et, d'autre part, parce qu'il n'y a généralement pas d'adresse physique où sont vendus les produits, donc pas d'impact d'un éventuel loyer sur le prix final.
Owing to preorders, they are many benefits, mostly economical and environmental ones. Indeed, as only the needed quantities are manufactured, there is less impact of the fabrics production on the planet. Moreover, as there is no stock, there is no unsold items waste. Nonetheless, with this process, a focus in made on the fabric and its production so, most of the times, the customer can buy better quality fashion goods at a lower price. In the one hand, owing to the absence of stock, there are no stock costs or overproduction ones. On the other hand, the preordered brands usually do not have any physical reception points, so there are no rent to pay for the brand, then it does not affect the final price.
Réuni
C'est en Octobre 2019 que Réuni lance ses premières précommandes sur Ulule avec le projet du Gros pull d'hiver. Depuis, une deuxième édition de ce Gros pull a été lancée en 2020, tout comme bien d'autres projets de vêtements dont la vocation est de compenser une garde-robe complète d'essentiels féminins.
The first Réuni project was launched on Ulule during October 2019 : the preorders of the knitwear. Since, a second edition of this item has been launched in 2020, as many others projects of Réuni clothes made to compose a feminine wardrobe of essentials.
Un peu plus de détails / Some details
Qualité, prix et éthique, voici les principales volontés des trois co-fondateurs de Réuni. Développer doucement mais sûrement une collection de pièces essentielles au vestiaire féminin. Pour cela, c'est à nous consommatrices que la marque s'adresse par le biais de questionnaires propres à chacune des pièces que l'équipe aimerait développer. Une fois cette co-création clôturée, les étapes suivantes sont lancées : la conception, la recherche de matières, le design, les prototypes et les tests. Puis, ce sont les vêtements finaux qui nous sont présentés avant leur disponibilité à la précommande. En plus, il faut noter que l'équipe Réuni décide de choisir des matières responsables et naturelle au maximum. Bien sûr, le tout produit en Union Européenne, ce qui permet d'aboutir à un produit final à l'empreinte carbone réduite. Au final, ce processus permet l'arrivée d'un nouvel essentiel chez nous, dans un dressing qui tend ainsi à devenir plus responsable.
Quality, price and ethics are the main goal of Réuni three co-founder. Developing gradually and at a reasonable path a collection of essential fashion goods to compose the perfect feminine wardrobe. That's why, we are asked, as customers, to answers questions about the future items the team would like to design. Then the the next steps are launched : the conception, the fabrics research, the design and the prototype tests. Finally, after all these steps we can see the final garments and preorder it. Furthermore, the Réuni team chooses mostly sustainable and natural fabrics, all of them manufactured in the European Union in order to reduce the carbon footprint of the brand. In fact, it allows us to receive a new fashion essential at home that makes our wardrobe more sustainable.
Mon expérience / My customer experience
J'ai connu cette marque grâce à l'ancien podcast de Valérie Tribes : Chiffon. L'un des co-fondateurs de la marque y était invité. Puis, après avoir vu le Gros pull, le Cardigan et la Chemise sur Valérie Tribes, je me suis abonnée au compte instagram de Réuni. Dès lors, je me suis prise au jeu des questionnaires, car ne rêvons nous pas tous de porter des vêtements faits exactement comme nous les imaginons ? Qui plus est, des vêtements designés dans des matières durables, que nous pourrions nous approprier des années durant grâce à leur qualité et leur intemporalité. Depuis, de nombreux projets ont été lancés, et c'est pour la Petite jupe que j'ai craqué en passant ma première précommande Réuni.
I first heard about Réuni owing to a podcast : Chiffon by Valérie Tribes. Then I saw her wearing the Gros pull (knitwear), the Cardigan and the Chemise (shirt) on instagram, so I choose to subscribe to the brand's Instagram page. I filled many of their questionnaires because aren't we all dreaming about wearing clothes that look exactly how we imagine them ? Nonetheless, sustainable clothes that we will be able to claim for ourself during years owing to their quality and their timelessness. Since, several projects have been launched, and I felt for the Petite jupe (little skirt), my first Réuni preorder.
Le système de commande / The ordering system
C'est en février que j'ai choisi la Petite jupe en noir. Je l'ai fait pendant le temps imparti lors de chaque précommande : souvent une semaine. En effet, les présentations du prochain produit lancé sont faites en amont (vidéos ou photos) et à partir du dimanche suivant les précommandes sont ouvertes. Jusqu'ici celles-ci ont duré entre une à deux semaines. Toutefois, les deux dernières pièces proposées (le Top en maille et le Pantalon) ne l'étaient pas lors de précommandes à durée définie par le temps, mais plutôt par la quantité. Du coup, elles se sont pratiquement immédiatement terminées. Au-delà de ces considérations, les précommandes sont faciles à passer et le paiement Alma en trois fois est ouvert à partir de 100 euros pour nous permettre d'acquérir une nouvelle pièce responsable née d'une grande co-création.
I ordered the little skirt in black during February. I had one week to preorder it, as it is usually the case for the Réuni garments. Indeed, every time, there are presentations (with pictures or videos) of the future item to be sold before the preorders are launched. Usually, these preorders lasts one to two weeks, but lately the limit was not the time but the quantity of the items available. Then, the preorders were really short. However, this is a very easy system to make a purchase and you can pay the order in three instalments to allow us to purchase a sustainable fashion good born from a co-designing process.
Le produit et sa réception / The item and the delivery
A chaque précommande, une date de livraison est annoncée. Pour les grandes étapes de production, un mail est aussi envoyé. Enfin, vient la réception du vêtement. Il est emballé dans des matériaux recyclables ou/et biodégradables avec un minimum de plastique. Il est possible de retourner ou d'échanger le vêtements précommandé dans les 14 jours suivants sa réception. Mais, pour ma part, aucun souci avec ma Petite jupe. Avec toutes les informations délivrées lors des présentations les risques d'insatisfaction quant au produit reçu sont largement réduits. D'ailleurs, je tiens à faire une mention spéciale aux ultimes lives instagram donnés sur la page Réuni. En effet, ils permettent de poser toutes les questions qui trottent dans nos têtes et de voir les produits sous toutes leurs coutures. Autant te dire que, maintenant, j'attends les Sweatshirts que j'ai précommandé au début du mois d'avril avec impatience !
When preorders are launched, a final delivery date is given. Then, every big steps of the manufacturing process are announced by a mail. Finally, the item is delivered. It is packed with recyclable and/or biodegradable materials and with a minimum of plastic. You can send the product back or exchange its size within 14 days after the delivery. As for me, no need to return the little skirt. With all the informations given during the presentations, there is only few chances to be disappointed. By the way, I would like to make a special note about the final Instagram lives on Réuni's Instagram page, as you are able to ask every and each questions in your mind and see the clothes from every angle during it. Now, I am just waiting to receive the wonderful sweat-shirts preordered during April !
En résumé / To sum up
Réuni est une marque responsable, et ce n'est pas seulement grâce à son système de précommande. C'est aussi une marque participative, puisqu'elle nous permet de définir collectivement le produit idéal. Tout est donc réuni (t'as capté) pour faire des produits de la marque des essentiels bien coupés, indémodables et qui dureront dans le temps. En fait, Réuni est une marque qui nous permet de compléter le vestiaire féminin par des pièces responsables. Moins produire, avec des collections très réduites et plus éthiques, faites de matériaux naturels et sans utiliser de stock, voilà les clés de l'éco-responsabilité pour la marque. Que penses-tu de ce concept de précommandes ? Connaissais-tu Réuni ? N'hésite pas à tout me dire en commentaires !
Réuni is a sustainable brand, but not only because the preordering system is preferred. It is also a participatory brand, as it allows us to define together what is the perfect item in our minds. Everything is gathered (in french "réuni") to allow the brand to design perfectly fitted essentials, which will also be timeless and never out of fashion. In fact, Réuni is a brand made to complete our féminin wardrobe in a, eco friendly way. Less manufacturing with less collection made of natural fabrics and without any stock, here are the main keys of the brand sustainability. SO what do you think about preorders ? Did you know the brand ? Tell me in the comments section !
Site internet : reuni.co
Page Instagram : @reuni.co